College Football Fantasy Picks Week 2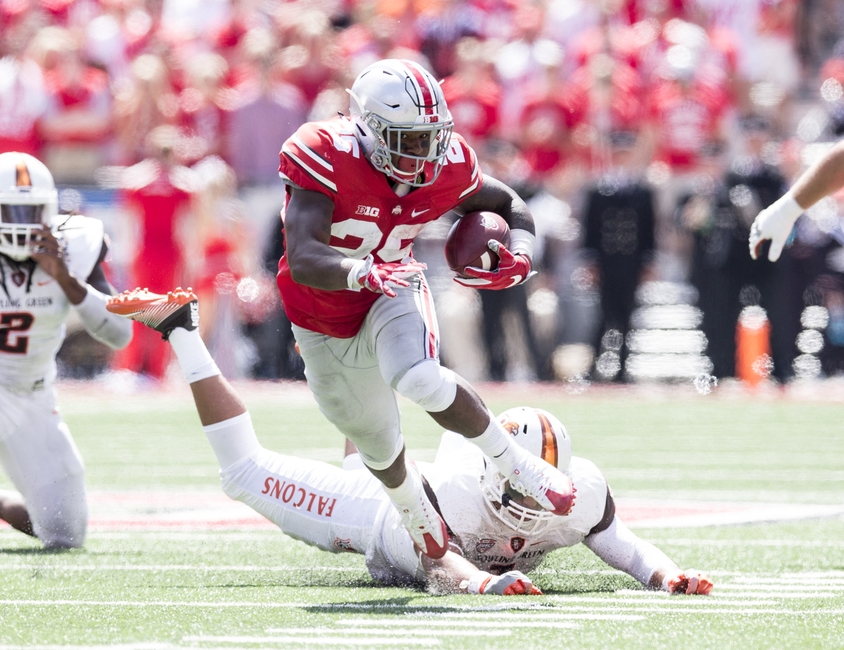 Top fantasy picks for the second week of the season.
With DraftKings and FanDuel announcing the suspension of all college sports at the end of this past NCAA basketball tournament, fantasy college football players have had to turn to either season long college football, or the single remaining daily fantasy site offering college football, FanPicks.com. This article will aim to shed some light on some college fantasy picks whether you made the move to FanPicks like me, or are looking for some additional info to use in your season long CFB league.
I will include salary pricing based on FanPicks for the DFS players out there. And if you are not playing daily fantasy college football anymore and would like to, I encourage you to  sign up on FanPicks and help fill some tournaments.
QB
After the pick six on the first drive last week J.T. Barrett ($6,700) settled in to set a school record for most total touchdowns in a game. If you are playing DFS on FanPicks he is greatly underpriced for how much the Ohio State offense relies on him. With Urban Meyer's willingness to score quick
and often, along with the offense Tulsa has to offer, this could be another high scoring game all around and I look for J.T. to once again have a big day.
The next quarterback I like this week is Josh Rosen ($6,500). Although he did not have the best day last week against Texas A&M, he didn't play terrible all things considered. A&M brought pressure all day, and Rosen had no help from his receiver who seemed to drop ball after ball, including an overtime pass which would have found the end zone and likely tied the game after the extra point to send the game to a second overtime.
Rosen will also be facing a UNLV team who has yet to be tested as they rolled over Jackson State last week, but gave up nearly 240 passing yards a year ago. From a daily fantasy standpoint we can get him for a fairly cheap  price.
If you are thinking of sitting or starting him in a season long league, I wouldn't be too worried about last week. Hopefully his receiver got the first game jitters out of the way and the drops don't become a season long issue.
Other Options: Tommy Armstrong Jr.($7,700), C.J. Beathard($6,200), Shane Buechele($4,000)
RB
At running back I am going to  Tennessee, a team who many think is either overrated, or under-performed last week against Appalachian State. Jalen Hurd($6,800) ran for 110 yards and a score on 28 carries against App State.
This week he will be facing a Virginia Tech team which gave up 180 yards per game last season. With Tennessee dropping eight spots in the national rankings from 9 to 17, they know they will have to perform well against Va Tech and I expect another good game from Hurd.
I will go back to The Ohio State Buckeyes for my second running back option. I actually like both of the Buckeye backs this week Mike Weber($2,000), and Curtis Samuel($3,600).
Samuel provides dual upside as he led the Buckeyes in receiving last week with 177 yards on 9 receptions, while adding 84 yards on the ground on 13 attempts. Weber lead the buckeyes in rushing with 136 yards on 19 carries.
In Weber's first game as a buckeye, he didn't just run for over 100 yards, but the majority of them were grown man yards. Weber was fighting through defenders for most of his yards and even ran over a defender while he was stumbling, displaying his immense power.
They will also be facing Tulsa who gave up just more than 238 yards per game in 2015, If Tulsa still can't stop the run there will be plenty of yards for both of these backs.
Other Options: Joe Mixon($6,100), Ke'Shawn Vaughn($5,000), Wayne Gallman($6,800)
WR
River Cracraft($5,500) is the first receiver I like this week. Anyone in the Washington State offense is in play nearly every week, and with the numbers Gabe Marks put up last week, much of the Boise State defenses attention will be on him.
His price tag is also much higher than Cracraft and hopefully QB Luke Falk can find Cracraft for some big plays this week. The volume the Washington State's offense provides draws some of my attention nearly every week and I will have Cracraft stacked with Falk.
I know this might anger some followers of this site, and it pains me deeply to write this, but Jehu Chesson($5,900) could be set up for a big game this week. His price is down due to only catching three passes last week, which may also deter some season long fantasy players from playing him this week.
He did show big game potential late last season, including a 4 TD performance against Indiana. He will be going up against a UCF defense that gave up 264 yards per game last year, good for the 20th highest average in FBS.
Travis Rudolph($5,300) and the Florida State Seminoles are coming off of a dramatic second half
win over the Ole Miss Rebels this past Monday night. Deondre Francois seemed to find his groove in the second half of his first career game as a Seminole. I expect the FSU to carry the momentum into a week two matchup against FCS opponent Charleston Southern University. The Seminole offense should roll to a high scoring week and I think it is likely that Rudolph will find the end zone.  My only worry is that he gets benched early in a blowout.
Other Options: Ricky Seals-Jones($4,400), Jordan Westerkamp($6,000), Jaylen Samuels[TE]($6,900)
This article originally appeared on