CFB AM: Collector finds iconic Rose Bowl coach's trophy in pile of trash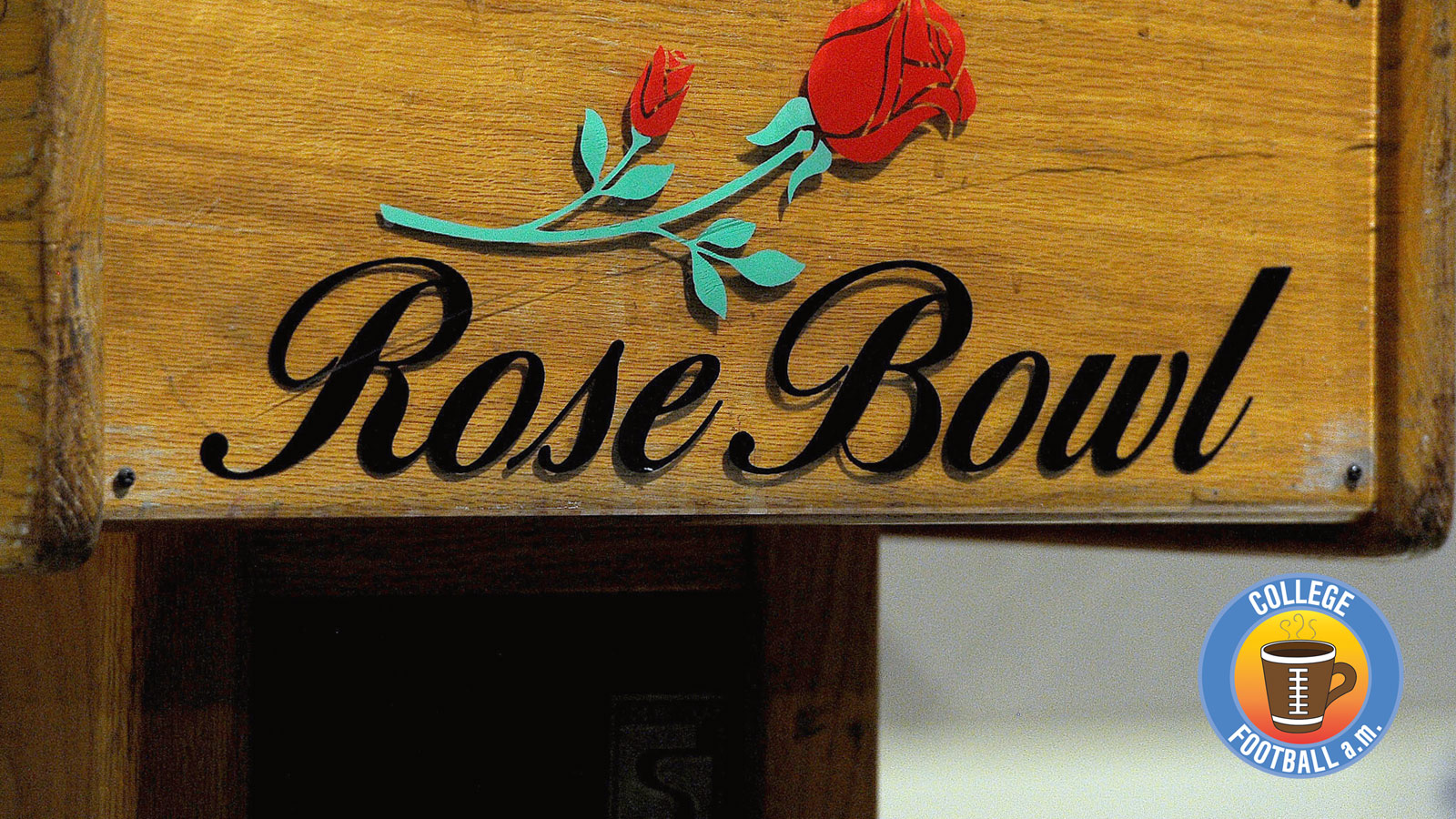 The Rose Bowl is synonymous with Pasadena, California, and the bright blue skies we see across our TV screens on New Year's Day every year.
But did you know there's a "lost" Rose Bowl of sorts?
In 1942, the game was moved from Pasadena and played in Duke's stadium in Durham, North Carolina. It's the only time in 100 games the Rose Bowl wasn't played in Pasadena. After the Pearl Harbor attacks of Dec. 7, 1941, there was concern about holding a sporting event as big as the Rose Bowl on the West Coast. So Duke, set to play Oregon State, offered to host the game.
Now, 72 years later, a junk collector in North Carolina believes he's found an iconic piece of memorabilia from this game.
Duke lost, but its coaches apparently were still given trophies. Digging through a pile of junk that was going to be tossed out recently, the collector, who wouldn't give his name to the local news, called the North Carolina Museum of History and said he found the trophy he believes belonged to Eddie Cameron, who was an assistant coach on Wallace Wade's staff. Cameron was also Duke's basketball coach at the time and went on to be an administrator and is credited for founding the Atlantic Coast Conference. Duke's famous hoops arena, Cameron Indoor Stadium, is named after him.
The collector has had the trophy for four months and is trying to get it appraised, as he believes it's worth thousands of dollars, if not more. He said he will cash in on the trophy once he gets it properly valued and will give Duke University the first chance to buy it from him.
Here's ABC news' video report on the story.
THREE THINGS YOU NEED TO KNOW
1. Don Van Natta Jr. reports the NCAA and Louis Freeh's firm communicated closely while Freeh conducted his now-unraveling investigation of Penn State. The problem here is Freeh's firm was hired by Penn State to conduct an independent investigation into what went on at the university during the Jerry Sandusky years. Those findings shouldn't have been influenced – however they may or may not have been – by the NCAA. There's a lot of detail in the piece, and this thing is so bogged down in a game of legal badminton that it can be difficult to separate what's normal business operations and what seems fishy.
But between this and the previously released emails that show a division inside the NCAA's offices over whether it was really within its jurisdiction to punish Penn State like the institution did, there is no reason to have any faith in the way the NCAA handled this case. Which, of course, isn't surprising when a collegiate athletics organization is trying to deliver justice on one of the most despicable crime cases we've seen in recent years. All along, the NCAA felt out of place.
2. Jameis Winston's Florida State hearing has been delayed two weeks after the retired judge presiding over this case granted the request from one of Winston's attorneys, reports Kevin Vaughan. Here's how this works: The hearing has been pushed back to Dec. 1. Major Harding, the retired judge, has 10 school days to render his decision after the conclusion of the hearing. If the hearing takes more than four days to complete, Florida State's winter break could save the football team. Classes end on Dec. 12 for the semester and don't begin again until Jan. 7. If Harding uses all 10 school days at his disposal to make a decision – and things unfolded according to this timetable – his decision wouldn't come down until Jan. 13.
Jan. 13 is also one day after the national championship game, at which point the Seminoles and Winston will have officially survived this mess and Winston could just drop out of school and declare for the NFL draft, which would then destroy this case since it's a university case and not a criminal one. Yeah, I'm sure all of this is a mere coincidence.
In other positive FSU news, running back Karlos Williams won't be charged after a domestic battery investigation.
3. Bowling Green clinched the MAC East division Wednesday night with a win over Kent State and now wait for Northern Illinois to come out of the West so the two teams can square off again for the conference title game. Bowling Green beat NIU in the MAC championship game last season, spoiling the Huskies' hopes of playing in a BCS bowl.
And if you have nothing to do tonight, we have three football games! East Carolina at Cincinnati (7 p.m. ET, ESPN2), Southern Miss at UTSA (8 p.m. ET, CBSN) and Cal at USC (9 p.m. ET, ESPN).
THREE THINGS YOU SHOULD KNOW
1. Former Michigan and current Arizona Cardinals linebacker Larry Foote says the Wolverines need to "go back to the hood" in recruiting because "they got too many trust-fund babies in there."
2. Coy Wire explains why Alabama's defense is nasty – it all begins with the defensive line — and why Dak Prescott will need to have the game of his life through the air if the Bulldogs want to beat the Tide. Great stuff here. As I've said many times before, Coy's work makes you a smarter fan.
Also, because we like college football and having fun, we took the top 16 teams in the College Football Playoff rankings and put them into a bracket. Go vote if you're not satisfied with the current rankings.
3. Former UNC coach Butch Davis – one of many buried in the middle of this atrocious UNC academic scandal – apparently said once while he was a coach there, "If y'all came here for an education, you should have went to Harvard."
Sigh … Davis tries to explain what he meant by that in this interview.
THREE THINGS YOU MAY WANT TO KNOW
1. With Todd Gurley set to return to our lives this weekend, here are 10 ways we've all changed since he's been gone.
2. Burt Reynolds will plant the spear at the Florida State game on Nov. 22. This has to be funny.
Burt Reynolds returns to Doak Campbell Stadium on Nov. 22 and will plant the spear. #Noles #TheBanditIsBack pic.twitter.com/cPLxkLQnRO

— FSU Football (@FSU_Football) November 12, 2014
3. Tim Beckman – who's 10-23 in two-plus seasons at Illinois – said the school's academic standards are hurting recruiting and thus on-field success. It may be true, but when is that ever a good look for a coach? I think Stanford, Notre Dame and others have destroyed the "academics impede football" excuse forever.
LASTLY
* It's snowing in Minnesota now, and to prepare for the game against Ohio State this weekend, the Gophers are offering $10 an hour to anyone 18 years or older to help shovel snow in their stadium.
Have a great Thursday, all.
Teddy Mitrosilis is an editor and writer for FOXSports.com. Follow him on Twitter @TMitrosilis and email him at tmitrosilis@gmail.com.