Clemson @ Wake Forest: Inside the Numbers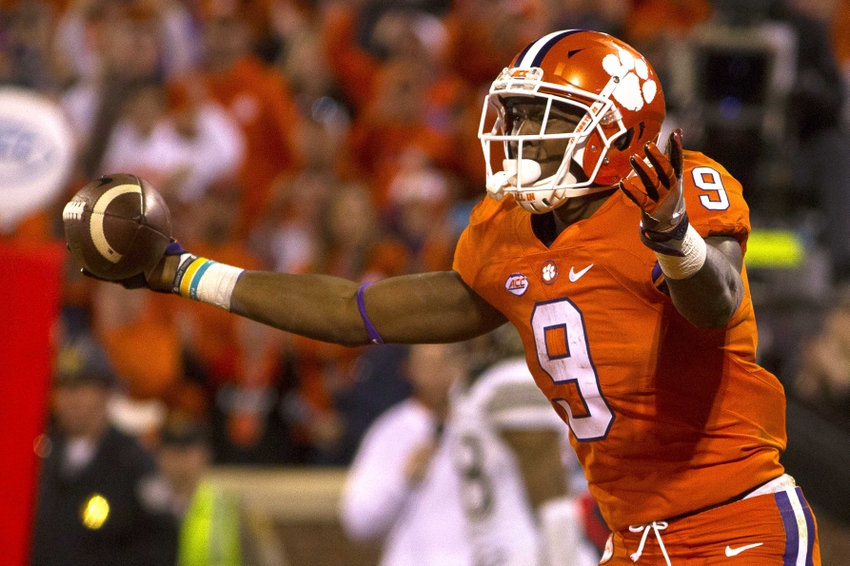 Well, are you over it yet? I guess I've shaken it off. This team has lived on the edge all season. The mindset of, we can win no matter what happens, just fell by the wayside. I sat inside the comfy confines of Death Valley Saturday afternoon and watched the Tigers score, almost at will. I kind of expected that. I also watched Pitt score at will. That, I didn't expect. I knew Connor was a good running back. I did not know that Pitt would confuse the Tiger defense with more shifts than a straight drive in stop and go traffic. There have been a lot of finger-pointing in the media, defense, Watson, coaching, refs, lack of focus. Whatever happened, happened, it's over, let's move on. All of the goals that the Tigers have set out to accomplish are still out there for the taking. So I'm flushing last week, and looking forward to playing Wake Forest, Saturday night and hopefully, winning an ACC Atlantic Division Championship, and punching a ticket to the ACC Championship game in Orlando. So today let's preview Clemson @ Wake Forest: Inside the Numbers.
Saturday night will be the 82nd all time meeting between the Tigers and the Demon Deacons. Long time ACC members, and before that, Southern Conference members, this game dates back to 1933 when Jess Neely took his Tigers to Charlotte to take on Jim Weaver and the Demon Deacons for the very first time. That game was a 13-0 Clemson win, if you were wondering. Clemson holds a 63-17-1 all time record vs Wake. As you can see, Wake has been sort of a whipping boy for the Tigers over the last three-quarters of a century. However, Wake has always seemed to sneak in and grab a win or two here and there, at the most inopportune times. Just ask Tommy Bowden. As a matter of fact, the last Wake Forest win versus Clemson was the last game Bowden ever coached at Clemson. A 12-7 Wake win, in mid October 2008 put the wheels in motion, that led to where Clemson is today. Clemson, winners of the last seven games versus Wake Forest can capture the ACC Atlantic Division crown by stretching that streak to eight games on Saturday night. Let's look at the Wake Forest offense and how it stacks up against the Clemson defense.
Wake Forest is led by junior quarterback John Wolford. He does a little bit of everything. On the season he's throwing at 56.7% completion rate for 1454yds, 5 tds and 7 ints. He is also their 2nd leading rusher with 454yds and 6 rushing touchdowns. Watch for a running back by committee approach by the Deacs too. Matt Colburn and Cade Carney both tote the rock. Soph. Colburn is the leading rusher with 490yds, while Fr. Carney has 416yds and 4 tds. As you can see, between the three main ball carriers, Wake has nearly 1,400 yds of ground production. The Deacs will run out a very experienced offensive line. They have good size too. Three red-shirt sophomores and one red-shirt senior will have the task of slowing down Clemson's really big, really athletic defensive line. Wake average 6'4″ 305 across their offensive front, but that's where the good news ends. They are very thin on o-line. After the starters, there are a lot of undersized freshman. Wake is averaging 20.4 points per game and 319 yards per contest. Neither of those numbers have any wow factor to them, however, they are +9 in the turnover margin, and they are rarely penalized. They play clean, and they don't shoot themselves in the foot. Defensively Clemson is allowing 18.4 points per game. A little bit of Jekyll and Hyde the last couple of weeks. After shutting out Syracuse, the Tiger defense gives up 43 points, and looked hapless versus Pitt. One has to wonder if Wake Forest will throw a few deep balls toward Tankersley, maybe on third and long, to try to entice the inevitable pass interference flag that seems to jump out of the refs pocket when Tootie is in coverage. Focus must be at an all time high for the Clemson defense in this game, if they intend on bringing that Atlantic Division trophy home for a second straight season.
Defense is where Wake has made their living this season. They allow 21 points per game, and a total of 382 yards per game. That's pretty good. They also play in the opponents backfield. They average nearly seven tackles for loss per game. Only about one less than Clemson's defense is averaging. NC State, Army (triple option), and Louisville are the only teams this season that have successfully ran the ball on Wake's defense. They also give up 229 yards per game through the air. That's really good too. They have picked off their opponents 11 times and recovered 12 fumbles
on the season. Offensively, it's no surprise, Clemson is going to take what the defense gives them. Last week, Pitt kept 6 or 7 players in the box, daring Clemson to throw. So they did. For an ACC record 70 attempts, and another ACC record 580 yards. However, redzone turnovers, took points off of the board for the Tigers and led to Pitt points. If Clemson is going to avoid another embarrassing loss, they are going to have to find something that resembles a running game. The Tigers are averaging 156 yards per game. That's not very good. I hate to keep comparing this year's team to last years team, but just to show you how big the drop off has been in the running game for Clemson this season, last season, the Tigers averaged 223 yards per game. That's 67 yards, per game, difference.
I hate predicting game scores. The minute I say it'll be a shoot out, it'll end 3-0. The minute I feel like it'll be low scoring there will be 100 points and 1,000 yards in the game. However, I just have an ugly game feel about this one. Wake has an opportunistic defense and Clemson has been haphazardly giving the ball away this season. I'll be very interested to see if Clemson comes out with their lip poked out, or if they have a fire lit under their rear end. Only time will tell. I do know that a ticket will be punched Saturday night. It'll either say Orlando, or Clemson. While I love Clemson. I REALLY love Florida in early December.
More from Rubbing the Rock
This article originally appeared on