Clemson vs Pitt: Inside the Numbers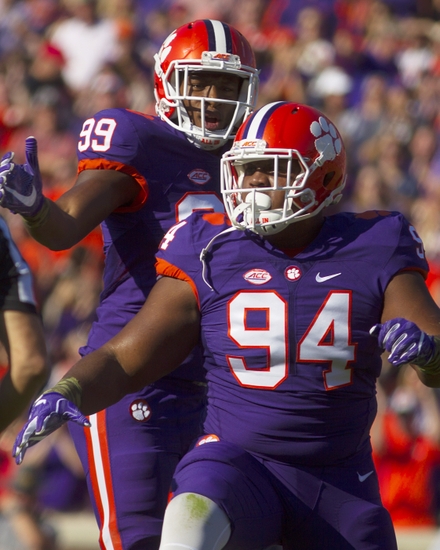 I think we all collectively took a deep breath last week as it became evident, sort of early on,  that Syracuse just didn't have the horses to compete with Clemson. Clemson was bigger, faster and stronger and it showed on the scoreboard. We also collectively held our breath as Watson left the game, with what they are calling a shoulder bruise. Hopefully it won't affect his throwing motion this week as the Panthers of Pitt make their inaugural visit to Death Valley. Today I'll break down the match-ups and take a look at Clemson vs Pitt: Inside the Numbers.
Clemson and Pitt have only met one other time in history. It was the 1977 Gator Bowl. Jackie Sherrill brought his Panthers down south to take on a Charley Pell led Clemson team. It ended ugly for the Tigers. A 34-3 Pitt victory. Clemson finished 8-3-1 that year, but went on to go 11-1 the following season riding the big arm and smooth running of the original number 4, Steve Fuller.
So, 39 years later, here we are with the 2nd ever meeting between the two schools. Pitt joined the ACC's Coastal Division in 2013. They haven't exactly set the world on fire. 7-6, 6-7, and 8-5 records since joining the ACC have put them toward the bottom half of the conference. Pitt was once a powerhouse football program. They school claims nine national championships, the most recent in 1976, they are 20th in all time wins. Pitt has produced some big name alumni as well. Mike Ditka, Marty Schottenheimer, Tony Dorsett, Dan Marino, Derrell Revis, Larry Fitzgerald, Joe
Flacco, and the list goes on and on. However, with no on campus stadium to call their own, and with Pittsburgh being a pro sports town, the heyday for Pitt football is long gone. They just don't have the support system to keep up with the arms race in the new age of college football. There are some good players on this years Pitt team, and here's how they stack up against our Tigers.
The good news for Pitt is they can put some points on the board. 28 points is their lowest output for the season. However, it came in a game where they gave up 51 points to Miami. Pitt is averaging 37 points per game this season. They make no bones about it. Pitt is going to line up and run the ball right at you, and they have a handful of running backs that can run between the tackles and get to the edge if needed. James Connor is the name everyone knows. He battled and beat Hodgkin's disease and found his way back to the football field. He picked up right where he left off as well. Connor has 712 yards and 11 touchdowns this season. He averages about 80 yards per game and 4.6 yards per carry. Pitt's offensive line has had a little to do with that. Two seniors, a junior and two sophomores will line up against a stingy Clemson defensive line. Pitt averages 6'5″ 320lbs across the line. So it's not for a lack of size or experience if Pitt can't move the ball. Nate Peterman, a 6'2″ senior quarterback will get the start in Death Valley. He's completing 60% of his passes on the year. Not great, but not bad. He's accumulated 1806 yds, 14 tds and 4 ints on the season. He's more of a game manager than anything else. Don't look for him to beat you with his feet as he only averages 21 yards per contest.
The story of this game in my opinion will be can the Clemson defensive line clog the running lanes enough to make Pitt throw. If so, that's a big win for Clemson. Also, Pitt's pass defense is, well, bad. They give up on average 317 yards a game. Oklahoma State torched them for 540 yards through the air, North Carolina burned them for 453, and even pedestrian passing teams are tossing the ball for 300+ yards per game. That's been the story of the season for Pitt. Again, pick your poison. Cram the line of scrimmage to stop Clemson's running game and get burned in man coverage, or drop eight into coverage and watch Gallman and company run wild all afternoon. Pitt has a tall task ahead of them, couple that with the largest crowd they'll play in front of this season and this one could get ugly, quick.
More from Rubbing the Rock
This article originally appeared on