Clemson vs Ohio State: Comparing offenses
With just three days left until the College Football Playoff there are still some things we have to discuss about Clemson's match-up with Ohio State. We have already compared their respective defenses. Today we are going to compare Clemson and Ohio State's high powered offenses starting with the offensive line.
Offensive line:
The unsung heroes of nearly every team is the offensive lineman. Without these big boys upfront, guys like Deshaun Watson and J.T. Barrett wouldn't be able to put up their record breaking numbers.
Ohio State
The Buckeyes offensive line is lead by senior center Pat Elflein. The rest of the Buckeyes offensive line is as follows, Jamarco Jones (LT), Michael Jordan (LG), Billy Price (RG), and Isaiah Prince (RT). Price and Elflein have been mainstays on this Buckeyes offensive line for the past two seasons. The pair deserves a fair share of credit for the development of the rest of this young offensive line.
Ohio State currently ranks 9th in rushing offense with 258.33 yards per game. Effectively running the football is nearly a requirement in an Urban Meyer lead program. Meyer's championship teams have been riddled with talented rushers such as, Percy Harvin, Chris Rainey, Ezekiel Elliot, and Tim Tebow. This Ohio State team is no different, Curtis Samuel, Mike Weber, and J.T. Barrett all get in on the action.
The Buckeyes offensive line has struggled in pass protection at times this year, allowing 25 sacks on the season. I will say that most of the pressure has come from Isaiah Prince's edge. Prince will be a fine offensive lineman as he develops, however, he is going through some growing pains this season.
Clemson
The Tigers offensive line has taken some flack this season for their toughness. Clemson has struggled to run the football this season, averaging just 173.08 yards per game, which ranks 67th nationally. Despite the Tigers yardage being down from a season ago, I do not think the entire blame should be placed on the offensive line. I attribute Clemson's rushing problems to play calling. Co-offensive coordinators, Jeff Scott and Tony Elliot have gotten away from running the football at times this year.
Clemson's pass protection has been outstanding this season. The Tigers have allowed just 14 sacks on the year. Clemson's offensive line has done a great job of handling all different fronts and running-back Wayne Gallman consistently picks up blitzing linebackers.
Edge- Ohio State
Physicality is a mentality that is built over time, not developed in a day. While Ohio State's offensive line may have one glaring issue in pass pro (Isaiah Prince), the Buckeyes are better at run blocking. In my opinion, running the football is more important than throwing the ball in a Championship setting. Clemson's defensive line is great, however, Ohio State was able to rush for 206 yards and three touchdowns against another stout defensive line in Michigan.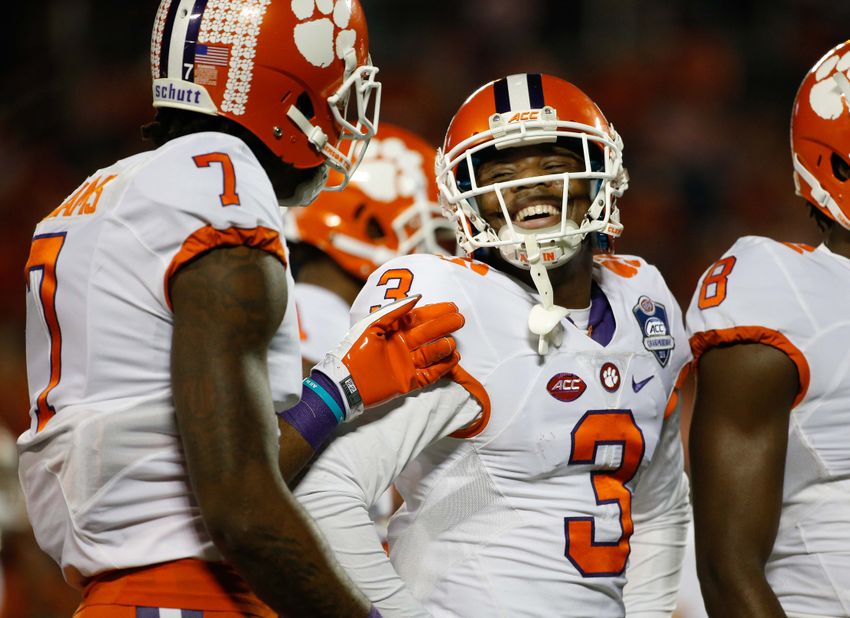 Weapons
Play-makers are the guys you can throw a short bubble too trusting that he will take it 80 yards to the house, or a guy that will make a play when your team needs a spark.
Ohio State
This Buckeye's offense is young at majority of their skill positions, whether it be running back, H-back, wide receiver, or tight end. That being said, those young fellas can play some football.
Curtis Samuel is one of the most dangerous players in the country. Samuel has excelled at running back, wide receiver, and H-back. There is not much the junior from New York cannot do. Curtis Samuel has 1,526 total yards from scrimmage and 15 all-purpose touchdowns.
The Buckeyes also have talented play makers such as Mike Weber (RB), K.J. Hill (WR), and Marcus Baugh (TE), who can alleviate some of the pressure off of Curtis Samuel in times of need.
Clemson
While the Tigers may not have the overall youth that Ohio State does, they are no-less talented. Clemson has the most dangerous receiving core in the country headlined by projected first rounder Mike Williams.
Williams is so difficult to cover because of his blend of size and acceleration out of his brakes. Mike has 84 receptions 1171 yards and 10 touchdowns on the season. Although Williams has been dominant he is far from all the Tigers have.
Deshaun Watson can toss it to Artavis Scott, Deon Cain, Jordan Leggett, Hunter Renfrow, or Ray-Ray McCloud, all of which bring their own ability to the table. Let's not forget Clemson's bruising running back, Wayne Gallman. The junior tailback is also leaving early for the NFL draft and for good reason. Gallman has had another strong season rushing for 1002 yards and 15 touchdowns on the year.
Edge- Clemson
The Tigers have the most lethal offense in the country chock-full of talented playmakers. It doesn't matter who you put up against Clemson, as far as weapons go the Tigers take the cake.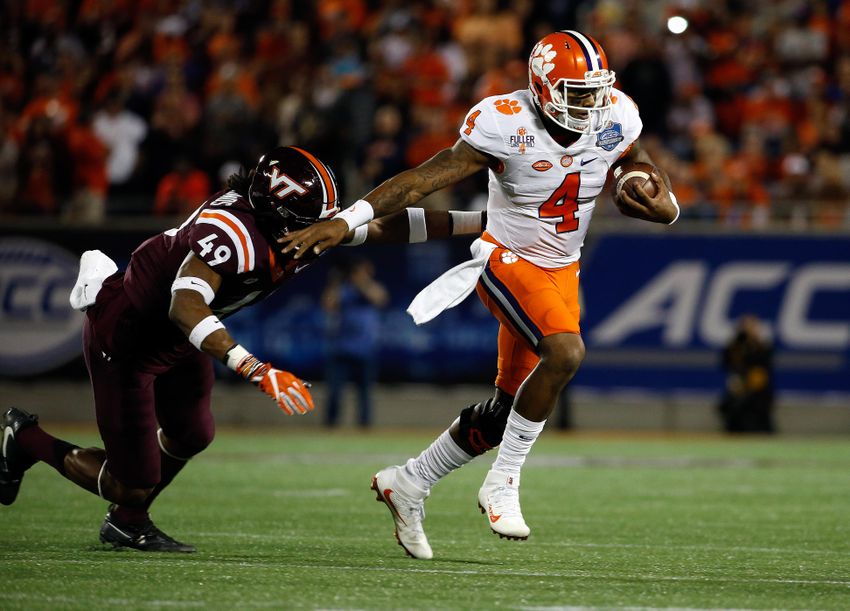 Quarterback
Also referred to as the signal caller, the general, or just plain, the guy. The quarterback is responsible for not only orchestrating the offense, but, more importantly leading the team.
Ohio State
J.T. Barrett is a household name in the state of Ohio. Barrett has lead the Buckeyes to their second consecutive 11 win season.
J.T. has thrown for 2,428 yards and 24 touchdowns on the year while also rushing for 847 yards and nine touchdowns. Ohio State has leaned on Barrett to lead this relatively young offense this season and he hasn't disappointed. Barrett came up big for the Buckeyes with the game winning touchdown pass in overtime against Michigan and a key fourth down conversion in overtime against Michigan.
There is not much that will rattle Barrett, he is a very calm and determined leader. Being thrown into the fire as a redshirt freshman after Braxton Miller went down caused Barrett to grow up fast. The Buckeyes are going to need Barrett to impact the game equally through the ground and the air to defeat Clemson.
Clemson
Deshaun Watson has Clemson back in the College Football Playoff for the second straight season. Watson has been inconsistent at times this year, however, there is no questioning his talent. Watson is not shy about his talent, describing himself as "the best player in the country".
Deshaun has completed 67.6 percent of his passes for 3,914 passing yards and 37 touchdowns while also rushing for 529 yards and 6 touchdowns. Clemson's offense has been on hyper-drive this year averaging 40.2 points per game.
Watson has been clutch for Clemson, leading comebacks against Louisville and Florida State while also holding off the likes of Virginia Tech and Auburn. Deshaun has gained the respect of nearly every coach in the country, including Ohio State head coach, Urban Meyer who stated Watson is "Not a good player, a great player".
Edge- Clemson
While J.T. Barrett is great in his own right, Watson is in fact the best player in the country. Watson has the best blend of passing ability and running ability in the country. Just ask Nick Saban who called Deshaun "the best player in college football since Cam Newton".
This article originally appeared on