Clemson vs Alabama: Comparing offenses
Anthony Messenger/FanSided via Rubbing the Rock

Fansided
Clemson and Alabama have both trudged all the way back to the National Championship for the second consecutive season. This game is the most anticipated rematch in recent history. Clemson and Alabama are two of the most consistent programs in all of College Football. Leading up to game day we are going to be analyzing each team. Who has the edge on offense? Let's take a look.
Offensive line:
The big boys upfront often decide the game. Alabama has been notoriously good in the trenches under Nick Saban. Clemson has steadily built themselves into a force in the trenches under Dabo Swinney.
Alabama:
As I previously stated, Alabama has consistently been one of best teams in the country on the offensive line under Nick Saban. This season is no exception, Alabama has a very physical group of offensive lineman.
There is a clear divide between Alabama and Clemson as far as running the football goes. The Tide are 11th in the country in rushing offense with 246. 71 yards per game, while Clemson ranks 62nd in rushing offense with 174.35 yards per game. While that may be true, I don't think it is an indication of a talent gap between Alabama and Clemson, rather a result of scheme. Alabama's offense is predicated on running the football, while Clemson is more adept at throwing the football.
Alabama's offensive line has been average in terms of protecting the quarterback. The Tide rank 44th in sacks allowed with 24 on the year. The issues in pass protection are not a result of a lack of talent, Alabama has two book-end tackles in Cam Robinson and true freshman Jonah Williams.
Clemson
Dabo Swinney and his staff have done a great job of improving the talent along the offensive line. This influx of talent has paid dividends for the Tigers. Clemson is one of the best units in the country in pass protection allowing just 16 sacks on the season. It certainly helps to have a quarterback like Deshaun Watson who can create with his legs when he gets in trouble.
Clemson's offensive line has been lacking in physicality at times this season. As a result, he Tigers have not ran the ball as effectively this year. Co-offensive coordinators Jeff Scott and Tony Elliot are the reason for Clemson's issues; Scott and Elliot have not made an effort to establish the run, because of the talent that Clemson has on the edge.
Clemson's offensive line is the key to this National Championship. Alabama's front seven is deadly, guys like Tim Williams and Jonathon Allen have been wreaking havoc on opposing offenses all season long. In order for Clemson to win, this offensive line must protect Deshaun Watson first and foremost. From there, the Tigers must be able to open up holes in the running game for Wayne Gallman.
Edge- Alabama
The Tide have the luxury of experience. Alabama has faced a plethora of talented defensive lineman in guys like Derek Barnett, Arden Key, Carl Lawson, Caleb Brantley, and even an injured Myles Garrett. I am giving the Tide a slight edge over Clemson on the offensive line.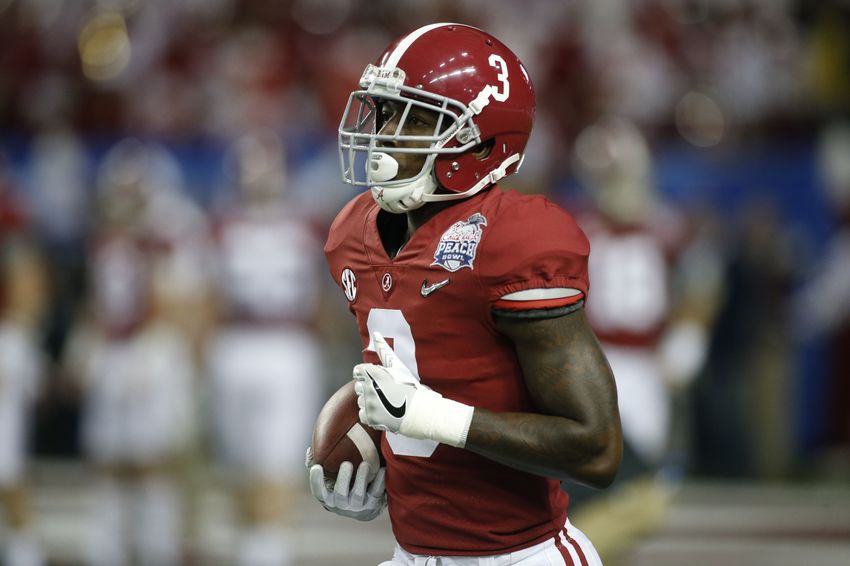 Weapons
Both Alabama and Clemson have their fair share of weapons. Points have not seemed to be an issue for either team coming in to this match-up.
Alabama
Nick Saban and his staff have built the foundation of this Alabama team with five-star recruits. This Tide team has one of the deepest running back stables in the country. Bo Scarbrough, Damien Harris, and Josh Jacobs are a three-headed monster to be reckoned with.
Scarbrough ran wild against Washington, racking up 180 yards and two touchdowns on 19 carries. Scarbrough is eerily similar to Derrick Henry in stature. There are not too many 6'2+ guys who can run with the speed and elusiveness that Derrick Henry could, it is just ironic that Nick Saban found himself another one in Bo Scarbrough.
The Tide have two weapons on the edge in Calvin Ridley and ArDarius Stewart. Both receivers are a threat to score every time they touch the football. Though Ridley and Stewart have been great this season, the biggest threat to Clemson is tight-end, O.J. Howard. Tight-ends are an issue for Clemson because of Ben Bouleware's ability in coverage.
We saw what O.J. Howard was able to do to Clemson last year, hopefully Venables will make the necessary adjustments in this game.
Clemson
The Tigers have the best offense in the country in my opinion as I stated going into the Ohio State game last week.
At wide receiver alone Clemson has Mike Williams, Artavis Scott, Hunter Renfrow, Deon Cain, and Ray-Ray McCloud, there are not many, if any, teams that can boast a receiving core that deep and talented. From there, Clemson has one of the best tight-ends in the country in Jordan Leggett.
At running back the Tigers have Wayne Gallman and C.J. Fuller who burst onto the scene against Ohio State with 3 catches for 45 yards and 1 touchdown. Clemson does not run the ball as often as last season, however, when they do Gallman has shown the ability to churn out yards against nearly any defense.
Edge- Clemson
Over the past two seasons, Clemson has been one of the best offenses in recent memory with nearly 40 points and 500 yards of total offense per game. Alabama is great defensively, but, Clemson's 40 point performance against the Tide in last years National Championship is proof that they can score on nearly anybody.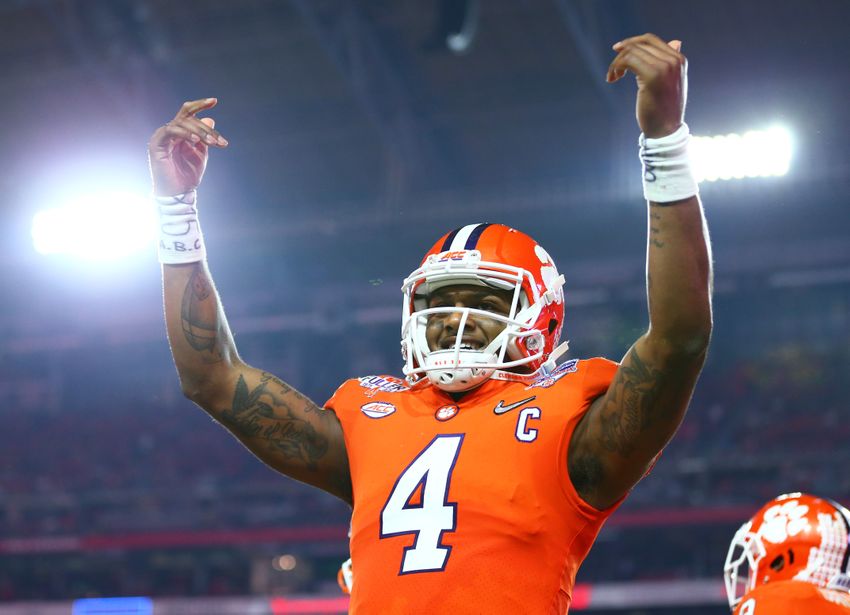 Quarterback
This is a match-up of the present and future in College Football. Deshaun Watson is the definition of dual-threat quarterback, while Jalen Hurts is more of a Tim Tebow mold with his brute strength and running ability.
Alabama
Jalen Hurts may be a true freshman, but, he certainly doesn't play like such. Nick Saban would not start a true freshman at quarterback unless he had complete trust in him. For Hurts to earn Saban's trust is impressive in itself. More impressive is the fact that Hurts has thrown for 2,649 yards and 22 touchdowns, while running for 891 yards and 12 touchdowns this season.
Should Jalen Hurts run for over 100 yards against Clemson, it is going to be difficult for the Tigers to beat Alabama. Clemson cannot let Jalen Hurts get out on the edge and run for chunk yardage. If the Tigers can force Hurts to beat them with his arm I like their chances. Jalen Hurts has yet to effectively throw the ball from the pocket in his young career.
LSU and Washington both highlighted Hurts' shortcomings as a passer by containing him in the pocket and not letting him gash them with his legs.
Clemson
Deshaun Watson has been one of the most dominant players in College Football over the past three seasons. Since he stepped foot on Clemson's campus, Deshaun has elevated the Tigers to elite status as a program. In his three years at Clemson the Tigers have never won less than 10 games in a season and have been to back-to-back National Championships.
Watson is the best dual threat quarterback in the country. Whether it be through the air or on the ground, Deshaun Watson can seriously hurt opposing defenses. Alabama is fully aware of the damage that Watson can do. In last season's National Championship Deshaun threw for 405 yards and four touchdowns, while rushing for 73 yards as well.
I get that Alabama is great defensively, but, Watson is too balanced to completely shut down. If the Tide take away his ability to run the football, Watson can beat them from the pocket and if Alabama gives him space to run the football Deshaun will make them pay.
Edge- Clemson
Deshaun Watson is the best quarterback in the country as evident in his masterful performance against Ohio State's defense. It is important to note that Ohio State had not given up 30 points to any opponent all season long coming into the Fiesta Bowl. The Buckeyes had also allowed just one quarterback to complete at least 60 percent of his passes. Watson completed 64.9 percent of his passes and put up 31 points on the Buckeyes.
Alabama has given up at least 30 points twice this season to the likes of Ole Miss and Arkansas. Since taking over at Alabama in 2007, Saban is 7-8 in games where the opposing team scores at least 30 points. As long as Clemson doesn't have a complete meltdown on defense, I like Clemson's chances in this one.
More from Rubbing the Rock
This article originally appeared on