Clemson's title chances are not over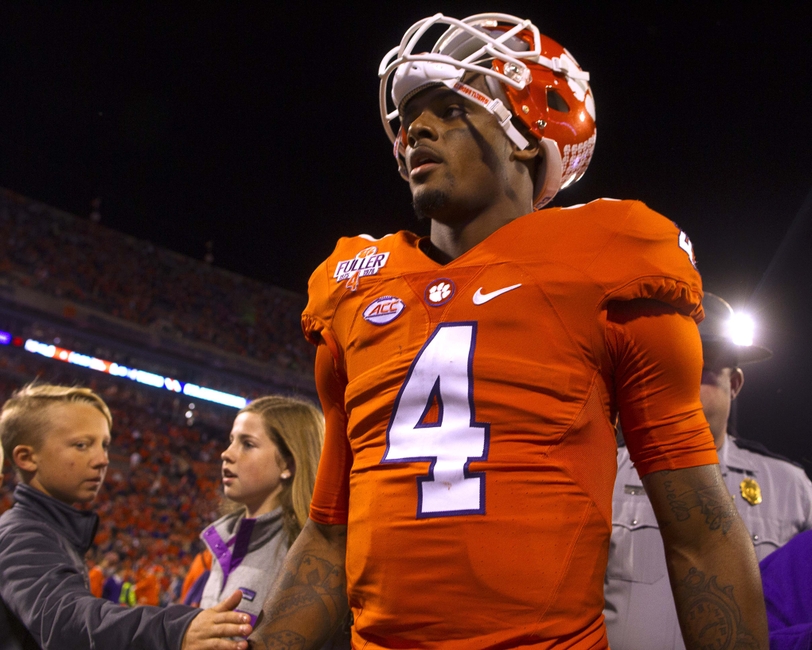 After the Tigers' defeat of the Seminoles, it seemed like the road to the CFP was all but assured. Despite a flukey loss to Pitt, Clemson still has a shot at a national title.
Clemson may be down, but they aren't out.
Let's face it, Saturday wasn't pretty. Clemson had to feel like their season had crashed and burned in a spectacular fashion. The running game has been an issue all season, and this weakness finally caught up to a Tiger team that has had one too many white-knuckle wins this season. This doesn't mean that the Tigers don't have a shot at the CFP-it just means that they cannot afford any more mistakes.
It is highly possible that we could have another week of chaos, and Louisville could lose another game. A random meteorite could fall from the sky and take out all of Tuscaloosa, too, which is frankly the only way that Alabama is going to go down this year. (Okay, maybe Auburn still has a shot. A very little one.)
Luckily for Dabo Swinney's team, the two of the other four top contenders-Michigan and Washington-also lost in Week 11. The shakeup in the CFP rankings that ensued transformed a rather humdrum weekend of football into a crazed bacchanal of chaos. Yet Clemson should likely win out the remainder of the season. If they do, they will have clinched the ACC Atlantic berth, and a win at the title game might still ensure them a spot in the top 4. This would also mean that the ACC has a shot at TWO playoff contenders in 2016.
Head-to-head performances weigh heavily with the playoff committee, and Clemson's defeat of number 3 Louisville will mean a lot, as will a win in the ACC Championship game. The Tigers have a 93 percent chance to win the ACC Championship game, according to ESPN. If the Tigers can indeed finish their season 12-1 with an ACC title in hand it would be punitive in the extreme for the committee to vote them out.
This past weekend was a bad one for Tiger fans because it exposed the team's vulnerabilities. Yet Dabo Swinney has always been brilliant at making adjustments. Expect to see rapid improvements in the run game. One loss doesn't mean that the season is over-Alabama won last year with a 14-1 season. The Tigers cannot afford any more errors, and the CFP committee may still make some bizarre choices. Nevertheless, if the Tigers learn from Saturday and finish out the season with only one loss, they still have a great shot at another CFP game.
More from Rubbing the Rock
This article originally appeared on