Clemson's Dexter Lawrence named ACC defensive freshman of the year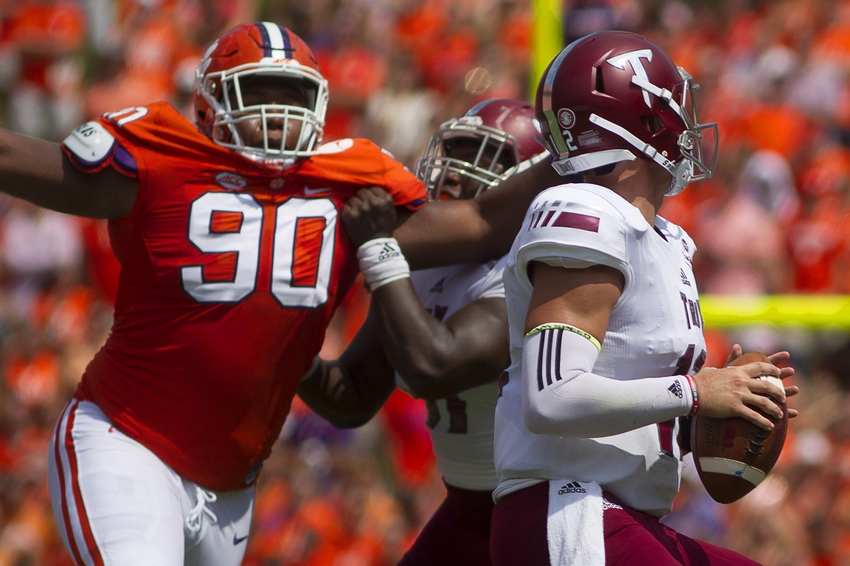 The ACC recently named Clemson's Dexter Lawrence their defensive freshman of the year. Any Clemson fan knows the huge impact that Lawrence has had on this team. Clemson has had its fair share of instant impact players, but, most played skill positions i.e, Sammy Watkins, Deshaun Watson, and Artavis Scott.
Dexter Lawrence dominated the line of scrimmage as a true freshman. Hearing that sounds far fetched, but, after seeing his massive 6'5, 340 pound frame it removes all doubt.
BREAKING: Dexter Lawrence is not small. 342 pounds! 💪 🐾

More from the Big Weigh-In –> https://t.co/tofc9RRN9f pic.twitter.com/Yo09jzg9zR

— Clemson Football (@ClemsonFB) August 1, 2016
Clemson DC Venables named as Broyles Award Finalist
Dexter finished the regular season fourth on the team in total tackles with 54 and second on the team in sacks with 4.5, he also recorded 7 tackles for loss, and 2 blocked kicks. Lawrence's impact reaches far beyond his statistics; he drew double teams from the vast majority of offenses that Clemson faced, which allowed his teammates to get to the quarterback. Clemson currently ranks third in the country in sacks with 42.  Dexter also helped anchor the defensive line against the run. Clemson is allowing just 127.75 rushing yards per game.
Clemson continues to build on their rich tradition of defensive lineman with Dexter Lawrence. The Tigers defensive line may be the key to the rest of their season. With the ACC Championship and potentially the College Football Playoff coming up, Clemson's defensive line must create havoc for opposing offenses.
At the end of the day I am glad Big Dex is playing for Clemson and not the other guys. In the words of Brock Huard- "that's a lot of inertia".
More from Rubbing the Rock
This article originally appeared on