Clemson's biggest bowl wins under Dabo Swinney
Dabo Swinney has successfully elevated the Clemson Football program to the elite status since 2008. While it may be hard to remember the days when Clemson didn't win at least 10 games every season or a new years six bowl. Leading up to the College Football playoff we are going to be looking at the biggest post season wins under Dabo Swinney.
2014 Russell Athletic Bowl – Clemson 40 Oklahoma 6
While this may not have been a BCS caliber bowl game, it was significant nonetheless. Deshaun Watson was a freshman in 2014, however, he did not start in this bowl victory because of a knee injury. Instead Clemson was lead by senior Cole Stoudt.
The morale wasn't very high going into the 2014 Russell Athletic Bowl due to Deshaun Watson's inability to play. Clemson fans were not sure what to expect with Stoudt starting. A simple win would have been enough to appease Tigers fans, however, Clemson completely steamrolled the Sooners.
Stoudt was magnificent in his last game as a Tiger completing 26 of his 36 passing attempts for 319 yards and 3 touchdowns. Stoudt also ran for one touchdown. Mike Williams and Artavis Scott were also great against the Sooners combining for 17 catches for 226 yards and 2 touchdowns.
This game should a change in this Clemson program as the defense carried the Tigers to this victory. The Tigers forced the Sooners to throw three interceptions. Brent Venables and company completely debilitated Bob Stoops offense.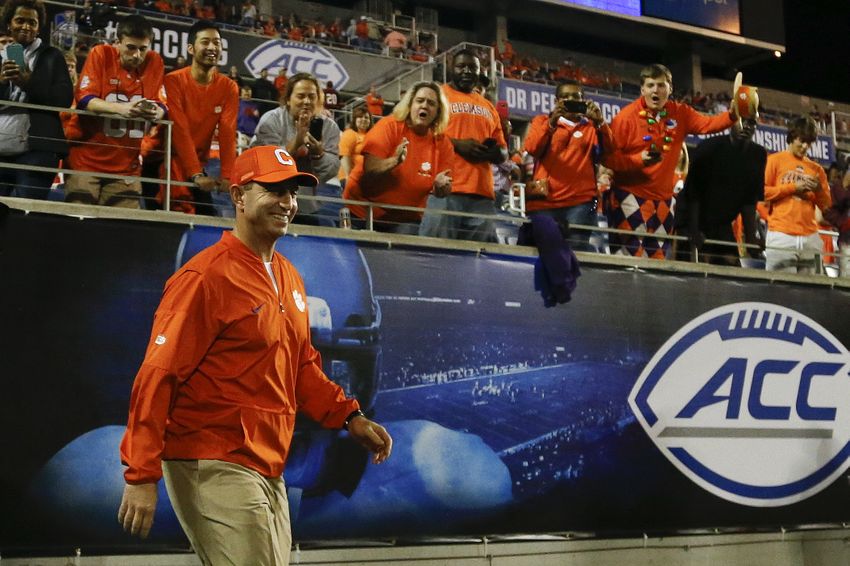 2009 Music City Bowl – Clemson 21 Kentucky 13
This game signified Clemson's first bowl victory under Dabo Swinney. The Tigers were no where near their current talent level, however, they did have C.J. Spiller who is one of the best to ever play at Clemson.
If it wasn't for C.J. Spiller I'm not sure Clemson would have won this football game. Spiller carried the ball 26 times for 67 yards and 1 touchdown, he also recorded 3 catches for 58 yards. This game would set the stage for Clemson's rise to national prominence.
The Tigers were a good team in 2009, however, this was Dabo Swinney's first full season as a head coach and after losing to Nebraska in the 2008 Gator bowl Dabo had another opportunity to prove that he could finish in the post season. Which he did.
No matter the score, a win is a win. Dabo Swinney hasn't looked back since, Clemson has consistently been one of the best teams in the country in terms of winning close games.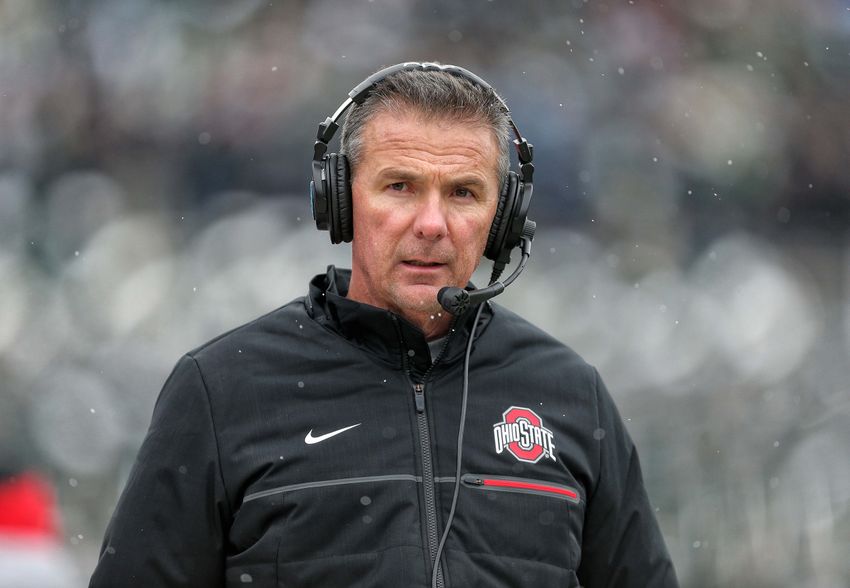 2013 Orange Bowl – Clemson 40 Ohio State 35
This victory put Dabo Swinney in the conversation as one of the elite head coaches in the country in my opinion. Defeating a historically good program like Ohio State is big in itself, but add in the fact that they are lead by the second best coach in the country in Urban Meyer and that says a lot about Dabo Swinney as a coach.
The Tigers took the fight to Ohio State right from the start jumping out to a 14 -9 lead in the first quarter. Ohio State would battle back to take the 22-20 lead going into half-time. Ultimately, Tajh Boyd and Sammy Watkins would prove to be too much for Ohio State to handle.
Boyd was dominant against the Buckeyes throwing for 378 yards and 5 touchdowns through the air while adding 127 yards and 1 touchdown on the ground. Sammy Watkins had arguably his best game in a Clemson uniform grabbing 16 catches for 227 yards and 2 touchdowns against a stout Ohio State defense.
The victory over Ohio State sealed the second straight 11 win season for Dabo Swinney and the Tigers. Hopefully history will repeat itself on December 31st.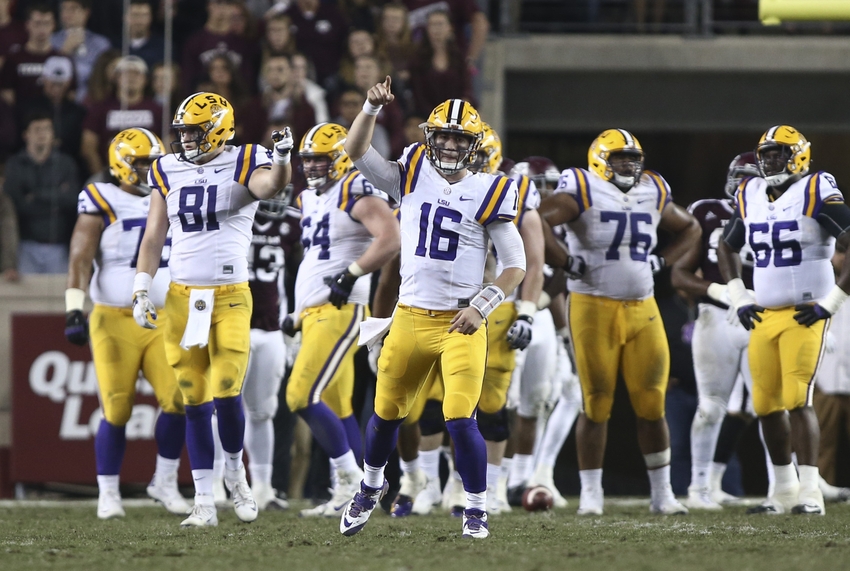 2012 Chick-Fil-A bowl – Clemson 25 LSU 24
This was a huge victory for Clemson because of the opponent and the way in which the game transpired. LSU was consistently one of the most talented teams in the country under head coach Les Miles.
While Clemson was ranked 8th in the country at the time, the Tigers had yet to prove that they could consistently compete with the top dogs in College Football. Despite their inexperience against top tier opponents, Dabo's Tigers showed no fear against LSU, especially down the stretch.
Tajh Boyd was great in this contest as well, one throw in particular will go down as one of the best plays in Clemson football history. The score was 24-22 LSU. Clemson was facing a 4th and 16 with under two minutes left in the game and Tajh Boyd threw and absolute dime on a seam route to Nuk Hopkins for the first down. The Tigers would go on to kick the game winning field goal as time expired.
I wonder how close this game would have been had Sammy Watkins not left the game with an ankle injury.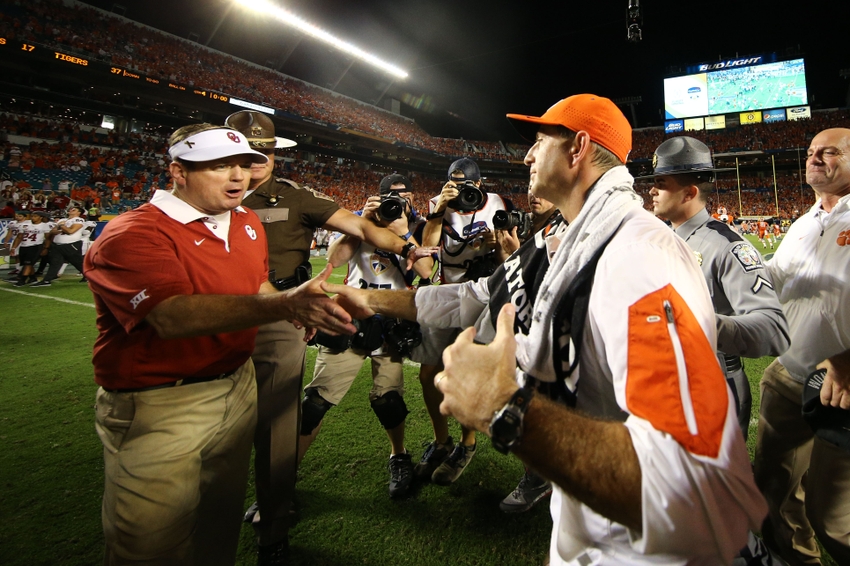 2015 Orange Bowl- Clemson 37 Oklahoma 17
This is Clemson's biggest bowl win under Dabo Swinney because of precedent. Clemson had never been to the College Football Playoff before (granted this was only the second College Football Playoff ever) making this a huge opportunity for the program historically.
The Tigers started off a little shaky, but, eventually found their rhthym en route to a twenty point win over the Sooners. Dabo Swinney would move to 2-0 against Bob Stoops in bowl games.
More from Rubbing the Rock
Deshaun Watson solidified himself as one of the best players in the country with 187 yards through the air 145 yards on the ground and 2 total touchdowns. The Tigers defense shut down the Sooners once again, allowing them to score only 11 more points than their previous meeting in 2014. What is even more impressive is the fact that they did this without arguably their best defensive player in Shaq Lawson.
Clemson looked 20 points better than Oklahoma in this one, the Tigers were physically dominating the Sooners. This victory is a testament to how far Dabo Swinney has brought this Clemson program.
This article originally appeared on