Clemson must get Jordan Leggett involved against Alabama
Anthony Messenger/FanSided via Rubbing the Rock

Fansided
O.J. Howard was a forgotten weapon coming into the National Championship last season. All Howard managed to do was gash Clemson for 5 catches, 208 yards, and two touchdowns. Clemson tight-end, Jordan Leggett has the talent to have a similar impact against Alabama this time around.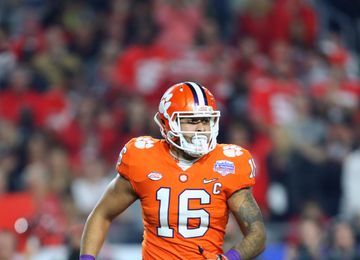 Clemson must get Jordan Leggett the football against Alabama. The Tide's defense is extremely fast as a whole, however, Leggett has the size to provide a mismatch against smaller defensive backs and slower linebackers.
You can expect Alabama to place an emphasis on stopping Mike Williams and for good reason. Mike has been one of the best wide receivers in the country this season amassing 90 receptions for 1267 yards and 10 touchdowns. The Tide will likely use Marlon Humphrey their best cover corner against Williams.
Leggett's match-ups
Should Alabama shadow Mike Williams with Marlon Humphrey, Jordan Leggett could be lined up against corners, Anthony Averett and Tony Brown, or, safeties Minkah Fitzpatrick, and Ronnie Harrison.
Steve Sarkisian will serve as OC in the National Championship
Fitzpatrick is the best cover guy out of those four, he is playing safety out of necessity. Leggett could have trouble getting open against the technique of Minkah Fitzpatrick. I think Leggett would have a favorable match-up against each of the four from a size standpoint.
Ronnie Harrison is a talented young safety, however, I think Leggett could give him fits in coverage because of his patience as a route runner and his ability to box defenders out with his 6'5, 260 pound frame.
This Alabama defense has very few weaknesses. Of the players on this Tide defense, Anthony Averett and Tony Brown are the two I would attack. Averett has received increased playing time due to Eddie Jackson's season ending injury and Brown has been inconsistent throughout his career in Tuscaloosa. Jordan Leggett is much larger than both and has the technical skill to beat them in coverage.
More from Rubbing the Rock
This article originally appeared on