Clemson Football vs Troy: Scoring Predictions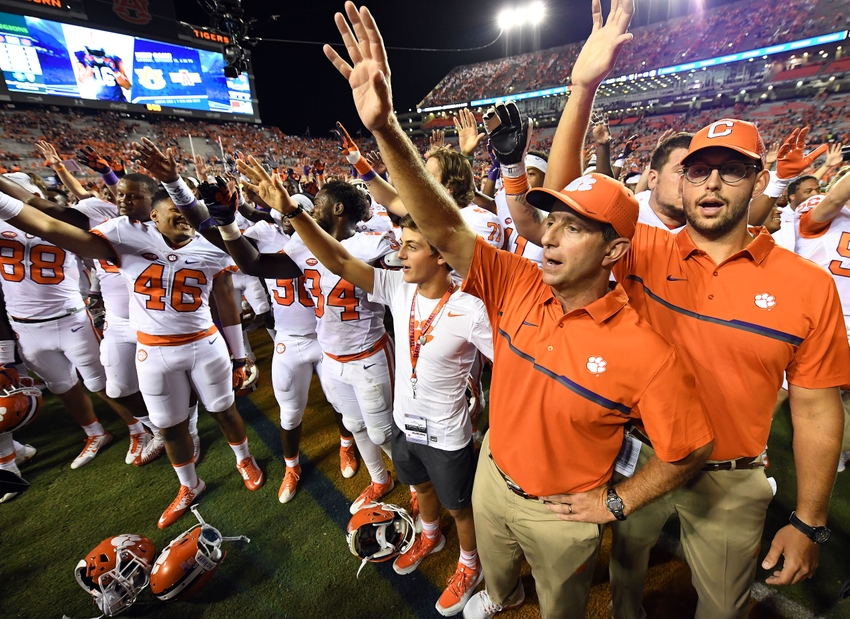 Here are our staff Clemson football scoring predictions for the Tigers' match-up with the Troy Trojans on Saturday, September 10th.
The Rubbing the Rock staff will give you our scoring predictions for each Clemson football game this season.
Clemson football begins their home slate of games with a match-up against Troy.
Here is what our staff has to say about the game.
Andrew Boardwine
Score: Clemson 52, Troy 17
Reason: Clemson football gets the offense going and comes away with a blowout victory. Troy scores a couple of times, but by the third quarter, the game is over.
Tyreese Ingram
Score: Clemson 55, Troy 14
Reason: The Clemson offense will work out the kinks from last week against a weaker opponent. The vertical passing game was missing against Auburn, so expect a bomb or two in the first offensive series. 
More from Rubbing the Rock
The defense played well against Auburn, but Troy will test the inexperience secondary with its spread attack. They want to prove that they can shut down any type of offense, and Saturday will be a good test for them.
Ben Greeson
Score: Clemson 41, Troy 10
Reason: Too much fire power on the Clemson side of the ball.  The Tigers are bigger, faster, stronger and deeper.  A total mismatch.  A lot of young guys should get to play Saturday.
Cole Little
Score: Clemson 47, Troy 16
Reason: The Tigers will be looking to make a statement following last week's offensive letdown. Expect Watson to play a phenomenal game.
Travis Pettigrew
Score: Clemson 45, Troy 17
Reason: Clemson has too much talent on offense and defense for this to be close. The offense gets it in gear this week and posts big numbers.
What would your scoring prediction be for the Clemson football match-up against Troy? Do you think the offense gets going or is there still a lag? Comment below with your predictions and thoughts about the home opener.
This article originally appeared on