Clemson football recruiting: Week 7 impact tracker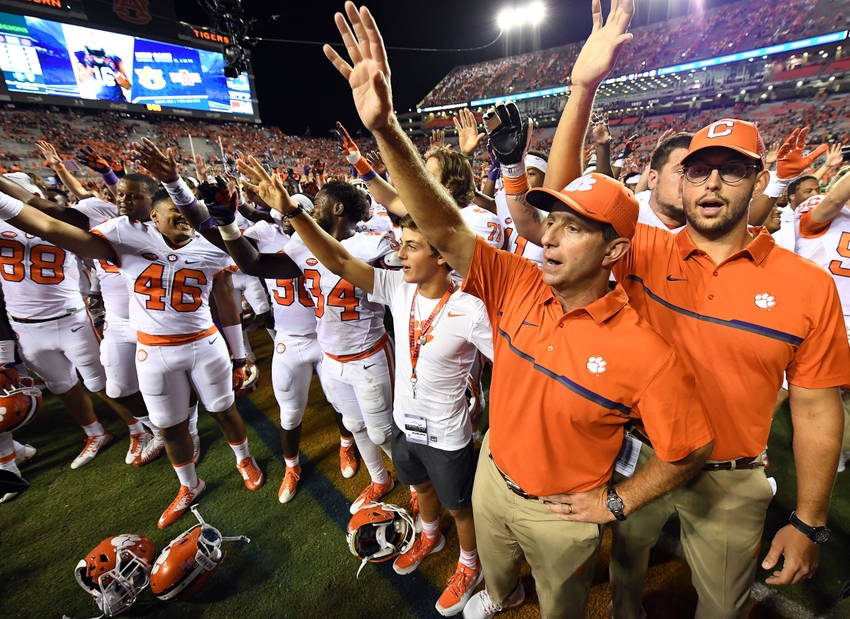 Clemson football recruiting has been consistent under Dabo Swinney. The Tigers staff does a great job of identifying kids that fit what they do. Clemson isn't always in the top 5 of the recruiting rankings, however, they get the most out of each prospect that they sign. Lets break down Saturday's performance against NC State by class.
2012 recruiting class:
There is not many players from the 2012 recruiting class left, in fact there is only three. Carlos Watkins, Jay Guillermo, and Andy Teasdall.
Statistics are limited for offensive lineman, but, Guillermo (C) and the Tigers offensive line did a decent job of protecting Deshuan Watson. Clemson only gave up 2 sacks in their win over NC State.
Carlos Watkins (DT) was a force on the interior of Clemson's defense. The redshirt senior recorded 6 tackles, 1.5 sacks, and 1.5 tackles for loss. Watkins was chosen as one of the players of the game by the coaching staff for his performance. Carlos is playing his way into the NFL draft this season.
Teasdall punted the ball twice for 52 yards.
2016 recruiting class:
The 2016 recruiting class was an extremely talented class, especially on the defensive side of the ball. Clemson signed Shaq Smith (LB), Trayvon Mullen (CB), Tre Lamar (LB), and Dexter Lawrence (DT), all of which ranked in the top 100 in the country regardless of position.
Down the road this class is going to be special, however, with the talent that is already on the roster, not to many true freshman get valuable playing time.
Dexter Lawrence and K'Von Wallace were the only two true freshman to have a substantial impact against NC State.
Dexter Lawrence is not your average freshman, this mammoth of a man stands 6'5, 340 pounds. Oh and he is nimble. Think of him like a tip toeing grizzly bear. Against NC State Lawrence recorded 3 tackles, and 1 sack. That brings him to 33 tackles and 2 sacks on the year, not to shabby for a true freshman.
K'Von Wallace continues to see more time as the season progresses. Against the Wolfpack Wallace snagged his first career interception. K'Von also, recorded 3 tackles and 1 tackle for loss. It will be interesting to see how the coaches handle Wallace when Adrian Baker returns from his injury.
2015 recruiting class:
The 2015 recruiting class already has a national championship appearance under their belt. By the time its all said and done this class will have plenty of other awards to show for.
Ray-Ray McCloud's improved route running was on display against NC State, recording 6 catches for 51 yards.
Deon Cain also pitched in 2 catches for 17 yards.
Mitch Hyatt (LT) and Jake Fruhmorgen (RT) helped anchor the Tigers offensive line.
Defensively
Van Smith (S) lead the way for the 2015 recruiting class, logging 7 tackles and 0.5 tackles for loss.
Smith has a nose for the ball, the sophomore is second on the team in tackles with 56. Van Smith leads the team in solo tackles with 41. That is quite impressive for a defensive back of his size.
Christian Wilkins (DL) better known as "slash" continues to impress with his versatility. Against NC State, Wilkins ran the football for a 10 yard gain. 310 pound lineman should not be able to move that way. Wilkins also blocked a field goal and recorded 4 tackles.
Clelin Ferrell (DE) who stepped up in the absence of Austin Bryant logged 3 tackles.
Austin Bryant (DE) made his return from a broken foot, though he was not in for an extended period of time. Bryant recorded 1 tackle and 0.5 tackles for loss.
2013 recruiting class:
This is the last ride for many members of the 2013 recruiting class and they are making the most of it. Mike Williams would have been in the NFL if not for his injury and Cordrea Tankersley could have entered the draft after his junior campaign last year. Both are back and playing lights out.
Mike Williams led the team in receiving with a whopping 12 catches for 146 yards and 1 touchdown.
Jordan Leggett was second on the team in receiving with 5 catches for 56 yards.
Tyshon Dye pitched in 1 catch for 11 yards.
Wayne Gallman was knocked out of the game with a concussion, however he still managed to record 1 catch for 18 yards and 2 carries for 14 yards.
Tyrone Crowder (RG) helped anchor the Tigers offensive line.
Defensively
Plenty of Tigers from the 2013 recruiting class got in on the action against NC State.
Ben Bouleware lead the way with 10 tackles. Bouleware currently leads the team in tackles with 57.
Jadar Johnson followed suit with 7 tackles. Johnson has been impressive in his first year as a full-time starter. He currently leads the team in interceptions with 3.
Cordrea Tankersley recorded 5 tackles.
Ryan Carter pitched in with 3 tackles.
Scott Pagano logged 3 tackles, 1 sack, and 1.5 tackles for loss.
Marcus Edmond came up big once again. Edmond snagged the game sealing interception in overtime. Marcus also recorded 2 tackles in the game.
2014 recruiting class:
The 2014 recruiting class had the best performance against NC State. It was very close, but, as always Deshuan Watson was the difference.
Deshaun Watson completed 39 of his 52 passing attempts for 378 yards and 2 touchdowns. Watson also ran for 35 yards and 1 touchdown.
C.J. Fuller was forced to step up after Wayne Gallman's injury in the first quarter. Fuller answered the bell with 16 carries for a team high 56 yards rushing.
Adam Choice helped carry the load, running for 14 yards on 5 carries.
Hunter Renfrow was great in his brief return from a broken hand, recording 6 catches for 53 yards. Unfortunately Renfrow would leave the game with another undisclosed injury.
Artavis Scott added 4 catches for 23 yards and 1 touchdown. Scott also returned 2 punts for 36 yards.
Trevion Thompson pitched in 1 catch for 8 yards.
Taylor Hearn (LG) helped anchor Clemson's offensive line.
Defensively
More from

Rubbing the Rock
Kendall Joseph was the only Tiger from the 2014 recruiting class to see time on defense. Joseph lead the Tigers in tackles with 11. That brings Joseph to 50 tackles on the season.
Special Teams
Greg Huegel hit 1 field goal from 26 yards out and was a perfect 3/3 on PAT's.
Want your voice heard? Join the Rubbing the Rock team!
The class of 2014 was tops against NC State. Now the Tigers have a bye week to rest up before their annual showdown with Florida State. The Tigers college football playoff hopes are riding on this one, I hope they can pull out a win in Doak Campbell.
More from Rubbing the Rock
This article originally appeared on