Clemson Football Opponent Scouting: Troy Offense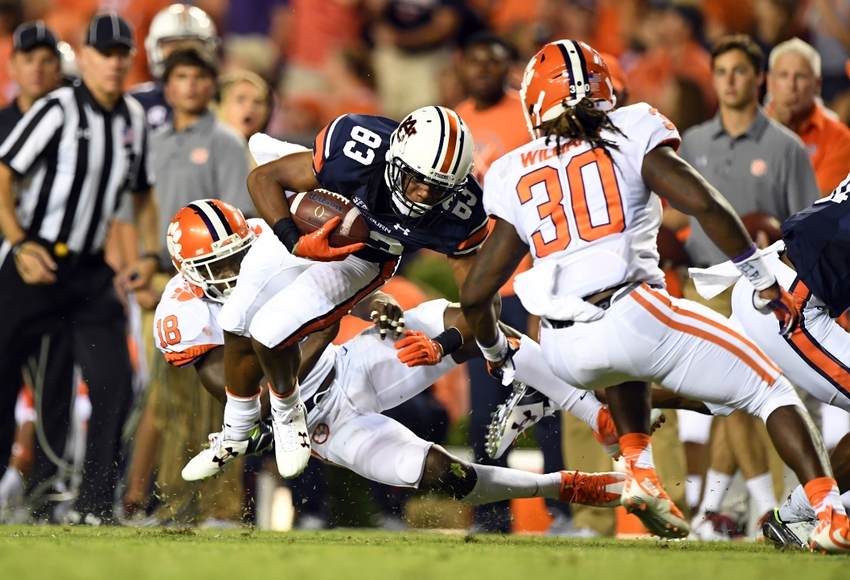 Each week we will scout Clemson football's opponent. This week we'll start with the Troy Trojan offense.
Each week we'll take an in-depth look at Clemson's opponent. Today we'll look at the offensive side of the ball as the Troy Trojans come to Death Valley for a 12:30 kickoff this coming Saturday.
It's the home opener for the Tigers 2016 campaign and I'm sure Death Valley will be rocking when this Troy offense takes the field. Let's get started.
Troy is 1-0 on the season. They defeated Austin-Peay State University this past Saturday by the score of 57-17. Troy had its way with the severely out-manned APSU Governors.
Now, I'm not saying that Clemson football should be on "upset alert" as it was literally every week last season. However, I am saying that this Trojan offense can't be taken lightly.
There are some teams in CFB that couldn't score 57 points in a practice. Troy has some capable play makers, and it was evident this past Saturday when they compiled 706 total yards in their win. They averaged almost 9 yards per play and basically raced up and down the field all afternoon.
Brandon Silvers is the catalyst that makes the Trojan engine run. He's a 6'3″ junior from Orange Beach, AL. He's a three-year starter and distributes the ball quite well. Saturday he went 20-27 for 229 yards and two touchdowns.
Over the last two seasons he's amassed 4,214 yards passing, 33 touchdowns and 10 interceptions. He is an accurate passer as he's connected on 65.8% of his
passes over his career. Watch for him to distribute the ball to his skill players, early and often. Silvers set an NCAA record as a freshman at Troy by completing 70.5% of his passes for the season, breaking Sam Bradford's record at Oklahoma.
You will not however, have to worry about him running the ball. He's a pocket passer and only averages about one yard per carry over his career.
If Clemson does not generate a pass rush, and flush Silver from the pocket, the Clemson football defensive backs will have their work cut out for them. Silver is very capable of putting the ball in the right spot at the right time.
The Trojans racked up 383 yards rushing and 5 touchdowns this past Saturday. Jordan Chunn, a 231 pound junior from Gurley, AL was responsible for the majority of the carries and yards.
Offensive coordinator Kenny Edenfield, whom has been the Troy offensive coordinator for the last 9 seasons, gave Chunn the rock 16 times for 161 yards and a score. Chunn, who red-shirted last season due to a season ending injury will see the majority of the snaps at running back. Junior running back Josh Anderson will also see time in the backfield for the Trojans. He's going to be a first year starter.
More from Rubbing the Rock
Ismail Saleem, No. 16, is a speedy wide out that Silvers will target often this coming Saturday. He caught 7 balls for 106 yards and a touchdown vs APSU.
The real disadvantage that I see with the Troy wideouts is their size. Their biggest receiver is only 6'1″. The two leading receivers from last weeks game are both 5'8″. They are quick, but at this level of college football, everybody is quick.
I look for the Clemson defensive backs to out muscle, and loom over the smaller Trojan receivers.
While Troy has a good quarterback in Silvers, the offensive line is going to have trouble blocking the big and athletic Clemson defensive line.
The game, for Troy will have to be won in the trenches and let's be honest. Clemson has one of the best and deepest defensive lines in the country. If Silvers had time to hang in the pocket and choose his targets unpressured, I'd be worried, but that won't likely happen.
Also, Clemson's bigger secondary will high-point the ball over the smaller Troy receivers, they'll use their bigger frame to "box out" Troy's pass catchers and put themselves in position to knock the ball down or get in position for interceptions.
In summary, when Troy has the ball: Advantage Tigers.
This article originally appeared on