Clemson Football: Clemson v. Wake Forest preview and staff predictions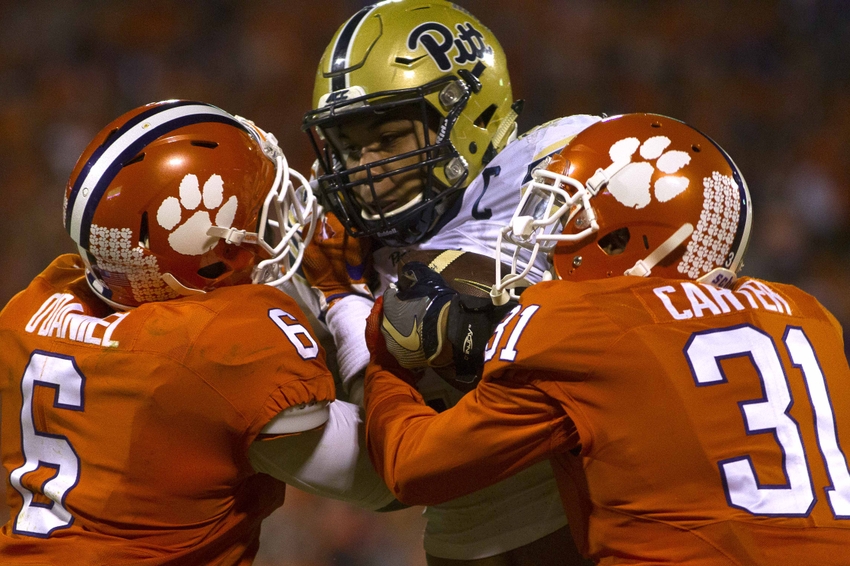 ---
Clemson needs to play a great game this Saturday because the Wake Forest Demon Deacons have nothing to lose. Here is our take on the Clemson v. Wake Forest matchup this weekend.
When: Saturday, Nov. 19 – 7:00 p.m. ET
Where: BB&T Field, Winston-Salem, NC
TV Broadcast: ESPN
The Clemson Tigers have been white-knuckling it all season. Last week showed the Tigers' vulnerabilities as they lost 43-42 to Pitt in a heartbreaker at home. Pitt broke Clemson's record-breaking 21-game home win streak. Clemson was the clear favorite in that game as they were ranked No. 2 in the College Football Playoff rankings. The Tiger's fate was sealed when Pitt kicker Chris Blewitt slammed a 48-yard field goal with six seconds left.
The Wake Forest Demon Deacons proved that they can play with the big boys–they maintained a 12-0 lead over Louisville in the first half. Unfortunately, for Wake Forest, they allowed Lamar Jackson to get the ball.  After that, the Cardinals came screaming back to score 41 points in the second half. The game ended in another Louisville blowout, with the final score at 44-12.
In last year's game at Memorial Stadium, Deshaun Watson threw three touchdowns and rushed for another to lead the Tigers to a 33-13 victory.
Clemson Information
Even when Clemson loses, Deshaun Watson shows grace under pressure. He threw for 580 yards and three touchdowns on 52-of-70 passing. Unfortunately for the Tigers, he also threw three interceptions. Clemson still controls its destiny, and if they can avoid another loss they can ensure a spot in the CFP for a second consecutive season. If the Tigers defeat both Wake Forest and South Carolina and take the ACC title, the Tigers should have a spot in the Top 4 in the final CFP rankings.
Wake Forest Information
The Demon Deacons' offense just doesn't have Clemson's firepower. In last year's matchup, Wake Forest threw a measly113 yards. Wake  Forest's defense looked great in the first half against Louisville, even managing a sack on QB Lamar Jackson. The Deacs led in the first half but imploded in the second half. Regardless, Wake Forest became bowl eligible for the first time since 2011, so they have nothing to lose here. Can an upset be in the works? Not likely, but the Deacons should make it a fun game.
Advantages
Offense: Clemson. The Tigers average over 500 yards per game, mostly due to Deshaun Watson's poise and tenacity.
Defense: Clemson. Last week didn't show how Tiger defense can tear apart any offensive attack; therefore, they will have something to prove on Saturday.
Special Teams: Clemson. Special teams has been stellar in both kick coverage and punt returns. Sophomore Ray-Ray McCloud is second nationally in yards per punt return (25.3) and the Tigers are No. 10 overall. Clemson's kicking game is also solid.
Betting Odds
Spread: Clemson -21.5
Clemson vs. Wake Forest Predictions
The Tigers need to prove to the CFP that they are playoff caliber. With Louisville's loss yesterday, Deshaun Watson has a much better shot at the Heisman, but he needs to put on a stellar performance this Saturday. It shouldn't be an issue–the Deacs have an average passing game at best.
| | | |
| --- | --- | --- |
| Name | Pick | Score |
| Collins |   |  24-21 |
| Sickmon |   |  36-14 |
| Greeson |   |  20-3 |
| Messenger |   |  35-3 |
| Little |   |  N/A |
More from Rubbing the Rock
This article originally appeared on