Clemson Football: 5 keys to the College Football Playoff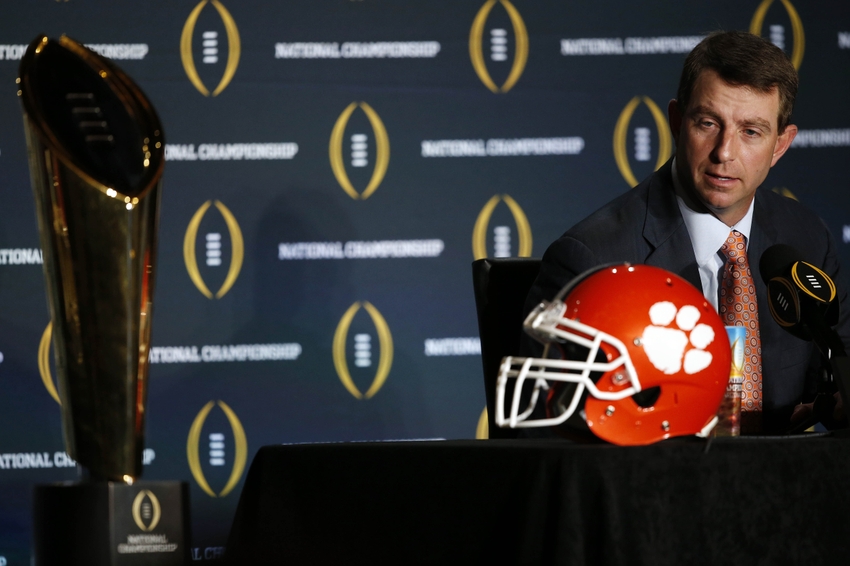 Clemson fell 5 points short of a national championship last season. The road back to the College Football Playoff has been tough thus far. The Tigers had a few guys get banged up, most notably Austin Bryant, Adrian Baker, Hunter Renfrow, and recently Wayne Gallman. Clemson has also had to deal with the insurmountable expectations of the college football world.
Road back to the playoff
Despite all of this adversity, Clemson sits a perfect 7-0 going into their match-up with Florida
More from Rubbing the Rock
State. Clemson's performance through the first seven weeks of the season was okay at best. The Tigers have consistently found ways to win ball games; however, they have also consistently found ways to turn the ball over.
It will be interesting to see what adjustments the coaching staff makes leading into the ladder half of the season. November is the time where elite teams begin to separate themselves from the pack. Do the Tigers have another playoff run in them?
1. Going undefeated
While winning every game is an obvious answer, for Clemson is it especially important. With only one ranked opponent left on their schedule (Florida State), Clemson cannot afford to lose late. Dropping a game this late to an unranked opponent would look bad in the eyes of the committee.
At this point in the season, the playoff is a game of hypothetical's. Alabama, Ohio State, Washington, and Michigan all look like legitimate playoff contenders at the moment. However, there are a couple of teams lurking in the shadows in Texas A&M and Nebraska. If A&M can pull off the upset of Alabama this weekend, the conversation surrounding this Aggies team will completely change. Along the same lines, Nebraska has opportunities to make statements against Wisconsin (10) and Ohio State (2) coming up.
The only sure-fire way to ensure a playoff spot is to run the table. While it will surely be difficult, the Tigers have the talent to accomplish such a feat.
2. Taking care of the football
Clemson has had an issue with turnovers through this point in the season. The Tigers have thrown eight interceptions, along with eight fumbles.
Luckily for Deshuan Watson and company, the Tigers defense has been there to bail them out. Clemson's defense has accounted for 16 takeaways thus far. While turnovers have not cost Clemson a game yet this season, that carelessness will not go unanswered against elite teams.
The Tigers must fix this problem going into next week's match-up with Florida State. If Clemson plays clean football they should have no problem handling the reeling Seminoles. 
3. Defense
The defense has been playing exceptionally well all season. The Tigers are only allowing their opponents to score a mere 15.3 points per game. Clemson has a strong group of leadership on defense including, Ben Bouleware, Cordrea Tankersley, Jadar Johnson, and Christian Wilkins. Clemson will need there defense to be stout come playoff time.
Barring any unforeseen injuries, Clemson's defense should only improve moving forward. With playmakers like Austin Bryant, Adrian Baker, and Jalen Williams getting healthy, Clemson will have even more depth on the defensive side of the ball. With the playoff so late into the season, depth will be crucial. Injuries are inevitable.
Defensive coordinator Brent Venables will surely do his part to keep his players motivated. Now it is up to Ben Bouleware and the other leaders of the defense to maintain their focus throughout the home stretch of the season. If defense really does win championships then Clemson has as good a shot as anybody.
4. Wayne Gallman
Much of the attention on this Clemson team surrounds Deshuan Watson and his explosive receiving core; however, Gallman does most of the dirty work. Without Gallman, Clemson lacks that physical presence on offense. Gallman is a tough runner who consistently fights for extra yards.
Gallman is sidelined right now do to a concussion he suffered against NC State, however, he is expected to be back for Clemson's game vs Florida State.
The Tigers need the "Wayne train" to help set the tone in each game. Gallman is also vital to closing out games. Clemson will need to be able to grind out the tough yards come playoff time. Clemson's other backs have no where near the experience that Gallman does. When Deshuan Watson is having an off night, the Tigers can always fall back on Wayne Gallman; without him Clemson's offense is more one dimensional.
It will be difficult to properly execute the zone read without Wayne Gallman as well. With Gallman in the game, opponents are forced to respect both him and Deshuan Watson as runners. Take Wayne out of that equation and teams will begin to pin their ears back and key on Deshuan.
5. Special Teams
Special teams play is the reason Clemson does not have a 2015 National Championship trophy to show for. In order to get to a college football playoff, you must cover all of your bases.
Special teams is one of the best ways to gain and squander momentum in a game. Clemson knows this all to well. The Tigers have performed well on special teams this year, ranking 10th in the country in blocked kicks with two.
More from Rubbing the Rock
Production is not the purpose of special teams, prevention is. It is not vital that you block five kicks a year, rather, it is vital that you allow zero blocked kicks a year. Special teams is a way for teams to beat themselves. Majority of the roles on special teams are protective in nature. For instance, protecting the punter or kicker, protecting your end-zone, protecting field position.
Clemson has done a sound job on special teams thus far and I am positive Dabo Swinney will continue to harp on special teams as the stakes get higher.
This article originally appeared on