Clemson channels their frustrations into Wake Forest in big win.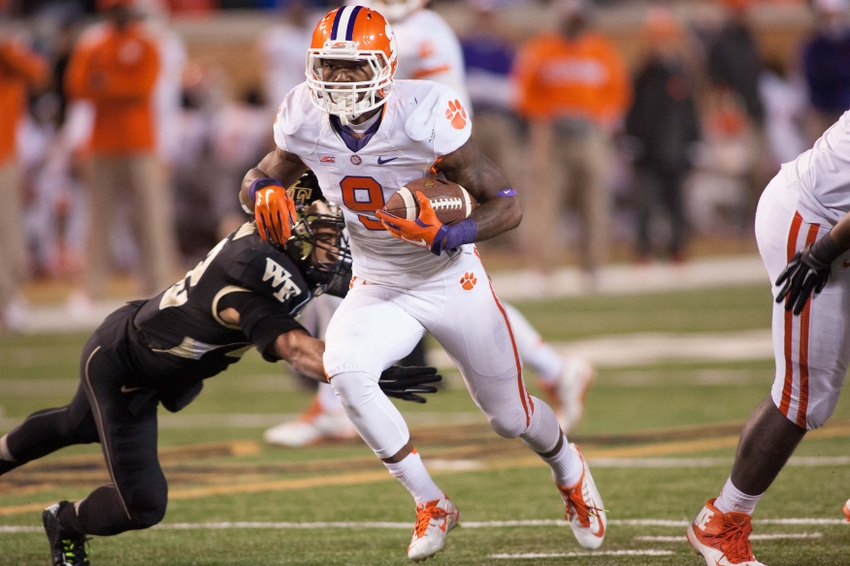 I felt bad for Wake Forest in this one. From the onset it was clear that all of the disappointment from the loss to Pittsburgh was being let out on the Demon Deacons. Clemson did a much better job of running the football, three of their first four touchdowns came on the ground. Wayne Gallman logged 22 carries for 161 yards and 2 touchdowns.
The Tigers appeared to have a strong hold on the game early on, until Ray-Ray McCloud muffed a punt. That muffed punt turned into a field goal for Wake. The Demon Deacons controlled the momentum for the ladder portion of the first half, cutting the lead to 28-10.
Clemson allowed Wake Forest to hang around in this game. The Tigers offense was stagnant for most of the 2nd and 3rd quarter. Regardless of the inconsistent play, Clemson was never in any real danger in this one. With the 35-10 win over Wake Forest tonight, the Tigers punched their ticket to the ACC championship and Dabo Swinney notched his 6th straight 10 win season.
Game notes
More from Rubbing the Rock
Brent Venables almost passed out on the sidelines
Cordrea Tankersley should have had two interceptions, one he dropped, the other was negated by a penalty.
Gallman was put to much better use in this game. Jeff Scott and Tony Elliot jump started the running game in this one.
Nearly passed out when Ben Bouleware went down with the ankle injury.
Love Ray-Ray McCloud but why is Artavis Scott not returning punts
Offensive line was much more physical in this one. It showed in the run game.
Mark Fields looks like the Tigers best cover corner at this point in the season.
Tigers went for it on multiple 4th downs. Play calling was aggressive at times.
Open field tackling beginning to become a concern
Dabo Swinney didn't love that ice bath too much.
This article originally appeared on