Clay Helton, USC Need an Unthinkable Turnaround After 1-3 Start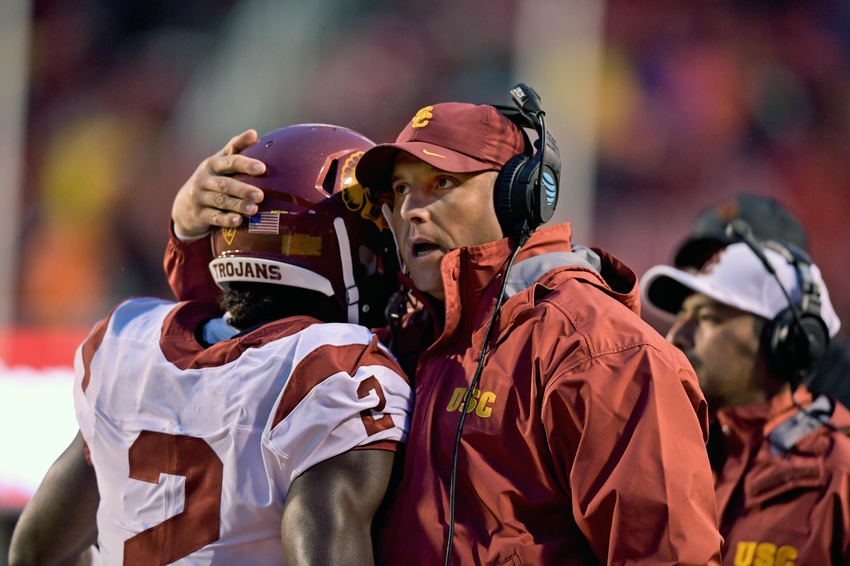 USC football is 1-3 for the first time since 2001, when failed NFL head coach Pete Carroll started 1-4. But is this Clay Helton team even capable of turning it around like that team?
After blowing a 14-point lead to Utah on Friday night, the Trojans find themselves in a spot they didn't want to be in: saddled with a 1-3 record while playing with the nation's toughest schedule.
Yes, USC has lost to three ranked teams away from home. They're three respectable losses to three well-coached teams. Alabama, Stanford and Utah are three teams that could beat just about anyone in the country.
All in all, it vaguely resembles the 2001 season.
That year, the Trojans were led by first-year head coach Pete Carroll. He wound up at USC after failing miserably in the NFL and despite being Mike Garrett's pick well after Mike Bellotti and Mike Riley turned the job down.
Much like this year, Carroll's team got out to a 1-4 start after losing to three ranked teams: No. 12 Kansas State, No. 7 Oregon and No. 11 Washington.
They then miraculously turned the season around in the second half, on the backs of a Kris Richard pick six late against Arizona. It sparked a four-game winning streak capped off with a 27-0 win over No. 20 UCLA to make USC bowl eligible at 6-6.
It was redemption at its finest, and ultimately set the stage for what Pete Carroll would do in his next seven seasons.
SEE MORE: The 30 Biggest Wins Since USC Hired Pete Carroll
Fans in the Thundering Herd section carried 'We Believe' signs, and there was a sense of accomplishment in how the Trojans found a way to play good football after being 1-4.
That's encouraging for this year, right? Not exactly. USC's 1-3 record is not the problem. Context matters.
It's how they've found a way to get there; by what is seemingly Clay Helton being in over his head and unqualified to be a head coach at Bowling Green, much less of a program with 11 national championships.
The 2001 team, despite being 1-4, lost to three teams ranked No. 12 or higher by a combined nine points.
Helton's three losses have been by 67 points, while his offense has scored just three offensive touchdowns in three games against Power 5 opponents.
RELATED: Grading USC's Offense vs. Utah
Turning it around won't be easy.
However, on paper, in a vacuum and without any knowledge of how poorly the Trojans have been coached, there's somehow still a pathway for redemption in 2016.
USC's next four games are against teams they should be favored against: Arizona State, Colorado, Arizona and Cal. Three of those are at home, despite a trip to Tucson being the worst possible environment for a road game during that stretch.
And so, on paper, in a vacuum and without any knowledge of how poorly the Trojans have been coached, they should be no worse than 3-1 in October.
---

Having trouble? Listen on Soundcloud, iTunes, Google Play or Stitcher.
---
Then comes a November slate that isn't looking as daunting as maybe it once was.
Oregon's lost several players due to injury, Washington has yet to prove they are worthy of their Top 10 ranking, UCLA is good but not great and Notre Dame has been highly disappointing.
If you've had the game film of the 2016 Trojans eliminated from your brain by world-class surgeons, there isn't a reason that USC can't be 2-2 during that stretch.
Even 3-1 would be in reach if Men in Black treated you with a neuralyzer. That of course is if the Irish implode, the Bruins become mediocre and the Ducks can't get a Nike-generated De'Anthony Thomas clone to suit up on Saturdays.
If USC does that, turning it around and finishing the season 7-5 on the heels of a strongish November with wins against rivals and highly respected foes, then sure –they can be the 2001 team.
But the reality is that there's more ifs in that scenario than last year's Turbo Tax Deluxe.
And that doesn't even include the simplest of ifs: IF USC decides to play 60-minute games with regularity, while not shooting themselves in the foot with astounding coaching decisions and poorly timed penalties.
That's how the 2001 team flipped the switch.
That's how the 2011 team bounced back.
The reality is that you can't just make the game-deciding troubles disappear overnight.
But that's an incomprehensible possibility with the 2016 team.
At least for now.
At least until Clay Helton, his staff and his players prove that those things can be eliminated from their game, just as quickly as playing Devil's advocate can toss aside their play from your brain to create an If-a-palooza.
This Trojans team has gotten better from week to week on offense. They will likely only continue to have success if touchdowns and points weren't factors in games.
But the reality is that you can't just make the game-deciding troubles disappear overnight, with a coaching staff married to their bad strategies.
Pete Carroll's 2001 instilled new ways of thinking of from Day 1, before the hard-fought losses to good teams.
Clay Helton's staff needs to look at themselves in the mirror and create alter egos if USC's going to turn it around.
Because new philosophies are the only thing that can prevent this cursed ship from sinking.
This article originally appeared on