Clay Helton's USC Quarterback Change Put Max Browne Out to Dry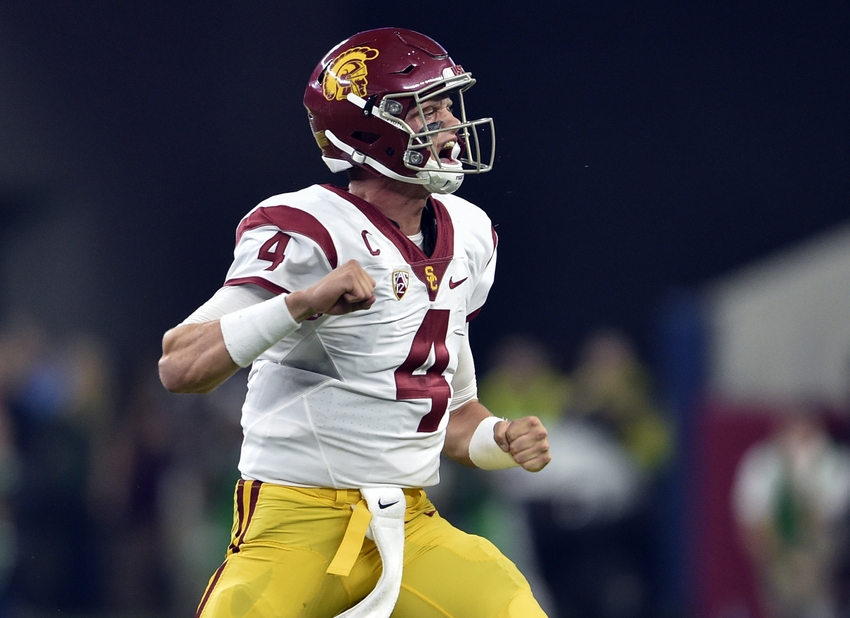 Four years after pledging to be the next great USC quarterback, Max Browne shaw his opportunity cut short by Clay Helton in a desperation move.
Max Browne committed to Preseason No. 1 USC. He then stayed true to his commitment after Lane Kiffin's Trojans face-planted and finished 7-6 in 2012, giving a slew of recruits reason to ditch their verbals.
Browne stuck with the cardinal and gold.
After enrolling in the spring of 2013, Browne lost a quarterback battle to Cody Kessler that he didn't have a good chance of winning, and sat behind him for three years.
He never wavered. He constantly balked and talk of him transferring, even when his stature grew in 2015 as Steve Sarkisian's 'alternative starting quarterback'.
Browne did everything ever asked of him.
Eventually, it won him the starting job at USC in August of his redshirt junior season, only to be thrown to the wolves of No. 1 Alabama.
Without an offensive identity, horrific play from an offensive line hyped as one of the nation's best and a game plan akin to the French invasion of Russia, the Trojans lost 52-6.
Browne then bounced back against Utah State to complete 77 percent of his passes, and even looked mostly steady in USC's 27-10 loss to No. 7 Stanford, which was a result of the same self-inflicted offense around him.
He wore it.
Browne had the upmost of class, dignity and strength, even back when extraneous noise said he should transfer to avoid a shiny new toy named Sam Darnold.
He stayed course and was an ideal Trojan, much in the manner of the loyal quarterbacks before him, in Matt Barkley and the aforementioned Kessler.
But what's Browne have to show for it?
After Monday's decision by head coach Clay Helton to strip Browne of the starting quarterback job in favor of Darnold, he's got an ugly win-loss record and a dresser full of mostly clean team gear.
"The way [Browne] competed and performed was more than honorable," Helton said. "But the realism of football is when you're 1-2 and you've scored one touchdown against Alabama and Stanford, I want to see a spark in our offense and hope that Sam can bring that."
A first-year head coach unwilling to concede incompetence over a punt with nine minutes remaining in a 17-point game, went back on his word and practically shouted out to the world that he made a mistake in starting Browne over Darnold.
And now Browne, a quarterback who did everything ever asked of him and saddled with offensive line play that couldn't have allowed Johnny Unitas to thrive, must sit on a bench, eagerly waiting for the season to end so he can transfer.
There won't be any special packages for Browne.
There won't be any quotes from coaches lauding his potential.
There won't be anyone rooting Browne on, because the USC coaching staff gave up on him.
They went elsewhere, in a time they needed to rally and regroup internally, to correct the in-game decisions that helped lead them to the struggles placed on Browne's shoulders.
"I know how these things work," Browne said. "Usually once the young guy goes, you know how it is. But i'll be ready. I owe it to my teammates and the guys I've been with here for four years."
Four years, not even to be allowed to make it to a fourth game.
And now, Helton's future as the Trojans' head coach is solely tied to the success of Sam Darnold.
Darnold can open up USC's offense with zone read capabilities and could be the face of the offensive direction the Trojans want to go in as a program.
But if he doesn't lead the team to wins, it's only Helton that can be benched going forward.
Make due.
This article originally appeared on