Clay Helton Picked Sam Darnold as USC Quarterback Too Late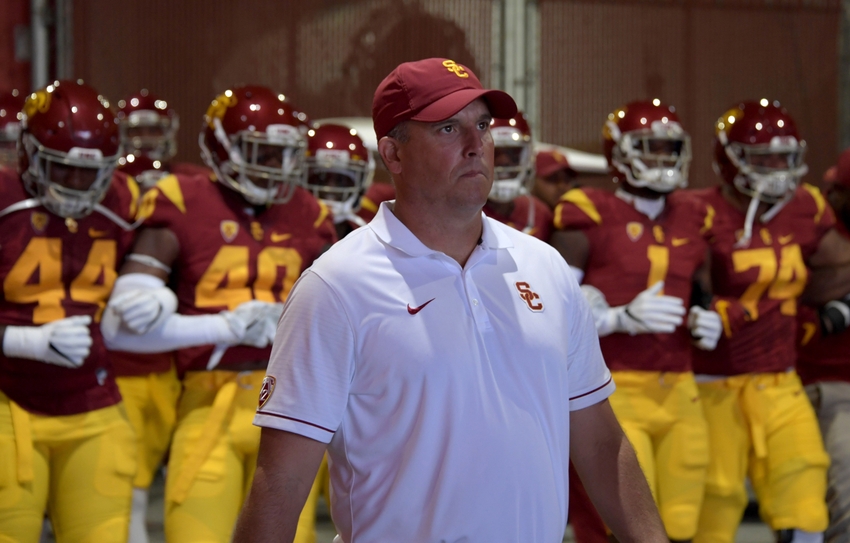 Sam Darnold is the right man to lead USC football, but Clay Helton bungled the USC quarterback situation by not realizing that from the beginning.
Sam Darnold is USC's starting quarterback. And Max Browne is not a scapegoat.
That is the narrative Clay Helton would have you believe after announcing the quarterback change ahead of USC's Week 4 match up with Utah.
"[Browne] is not the reason we are 1-2," Helton said shortly after announcing his decision to hand Darnold the reins. "He is not the scapegoat here."
Helton is right about one thing. And very wrong about the other.
The redshirt junior is the fall guy for a USC offense that could not score more than one touchdown against Alabama and Stanford, an offense rife with ineptitude up front, head-scratching play-calling and overwhelmed by mental mistakes.
The true narrative which cannot be obscured, is that Helton made a mistake, even if he doesn't want to admit it.
"I'll never doubt my decision. I'll never regret going with that young man, Max Browne, to start off with," Helton said.
"But I also have to make really really tough decisions being the head coach and doing what's best for your football team and sometimes that means making a decision that hurts one member of your family."
Helton's decision hurts Browne now, but his decision in August hurt the entire Trojan team.
Helton's decision hurts Browne now, but his decision in August hurt the entire Trojan team.
There was a problem with USC's quarterback battle from the beginning. Darnold and Browne are two very different quarterbacks and the Trojan offense took on a different identity with each at the helm as they battled throughout fall camp.
It's true that Darnold progressed faster than anyone could have expected. But that is in large part because the offense USC chose to run under Helton and new offensive coordinator Tee Martin seemed tailor-made for a quarterback of Darnold's abilities.
Observers of practice noted the impressive flow of the offense under Darnold, whose running ability and big arm gave the attack an added dimension.
Meanwhile, Browne, like Cody Kessler before him, ran zone reads he was never going to keep.
Still, the veteran quarterback's natural talent and experience allowed him to lead USC's offense well enough and with enough gravitas to earn the starting job and the captaincy.
After insisting that Browne was his man, Helton took the first chance to undermine his position by using Darnold for a drive in the third quarter of USC's opener against Alabama, then again in the fourth quarter of the Trojans' loss to Stanford.
Instead of adjusting the struggling offense to suit Browne's skills, USC coaches conceived of more ways to use Darnold as the spark plug. Instead of focusing their attention on fixing problems with the offensive line and an overwhelming lack of offensive identity, they made a single change to the offensive line up — the quarterback.
The job of any coach is to get the most out of his players by putting them in the position to succeed.
Browne never really got that chance because USC never truly invested in him.
Looking back, it's clear that USC shouldn't have bothered naming Browne the starter with the near certainty of a 1-2 record and the specter of Darnold's exciting talent looming. It's not the benefit of hindsight to call the quarterback change an inevitability.
That mistake has set back Darnold's progress as well.
Now, the redshirt freshman will make his first start in one of the most hostile environments in the Pac-12, at Rice-Eccles Stadium against a Utah squad eager for revenge after last year's upset at the Coliseum.
Instead of having three games under his belt, building chemistry with USC's receivers in real time, Darnold has just a handful of drives of experience.
Darnold will also be playing in front of a line which still warrants concern, throwing towards receivers too often prone to drops, and led by a first time playcaller who can't seem to decide what kind of offense he wants to run.
That's the troublesome part, USC's offensive problems can't all be solved by No. 14.
With any luck, however, they can be smoothed out by having a quarterback more suited to the system the Trojans intend to utilize.
For that reason, Helton does deserve credit for making a difficult decision and exposing himself to criticism.
"I'm always going to do what I feel is in the best interest of our team and right now being in the situation we are in, I thought it was time to make a change," Helton said.
This is the right move. It's just coming three weeks late.
The head coach should own that.
This article originally appeared on