Christian McCaffrey Left Wide Open by USC for 56-Yard Stanford TD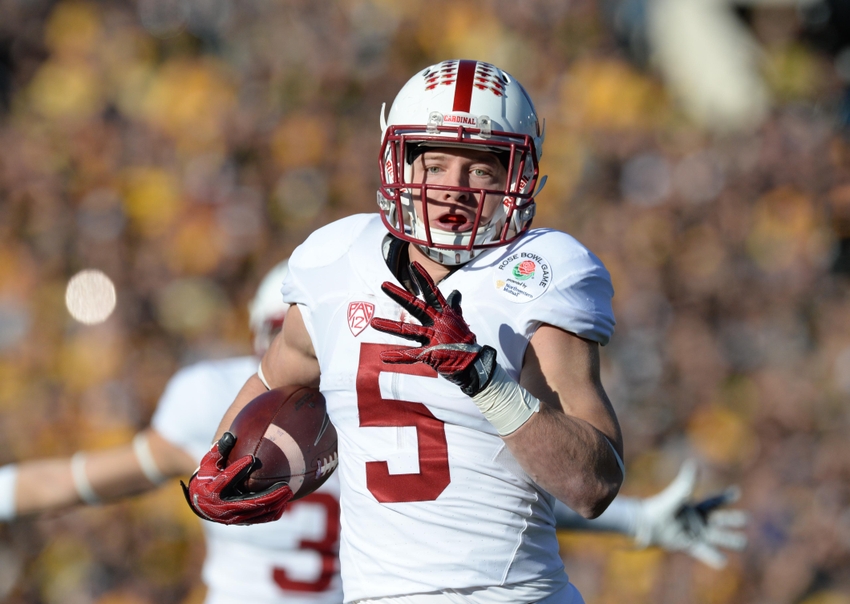 The USC Trojans made the mistake of leaving Christian McCaffrey unguarded for a 56-yard touchdown early in their matchup against Stanford.
After a season where he had more than 2600 yards from scrimmage and another 1100 return yards, one would think that defensive coordinators would stress the importance of keying in on Christian McCaffrey at all times and making sure that they have someone shadowing him on every play. USC had other ideas, allowing the all-purpose threat to break uncovered down the left sideline for an easy 56-yard touchdown reception to put Stanford up 7-0 in the first quarter.
On the play McCaffrey streaked out from the backfield, and everybody on the Trojans defense seemed so focused on watching Stanford quarterback Ryan Burns take the snap that they missed the 2015 Heisman finalist darting right behind their final line of coverage. Burns lofted the ball to McCaffrey in stride, and he was able to effortlessly streak down the sideline and across the goal line for the first touchdown of the contest.
Last year McCaffrey had big games both times he faced the Trojans. When the two teams met at the Los Angeles Memorial Coliseum in September, the do-everything running back had 249 all-purpose yards but no touchdowns. He made up for it with 472 all-purpose yards and rushing, receiving, and passing touchdowns in the Pac-12 Championship Game at Levi's Stadium in Santa Clara.
On his first 11 touches of the game, McCaffrey already has 130 yards and the touchdown. Perhaps the Trojans will start paying more attention to Stanford's most dangerous weapon moving forward.
This article originally appeared on