Christian McCaffrey Goes Airborne for Second Stanford TD vs. USC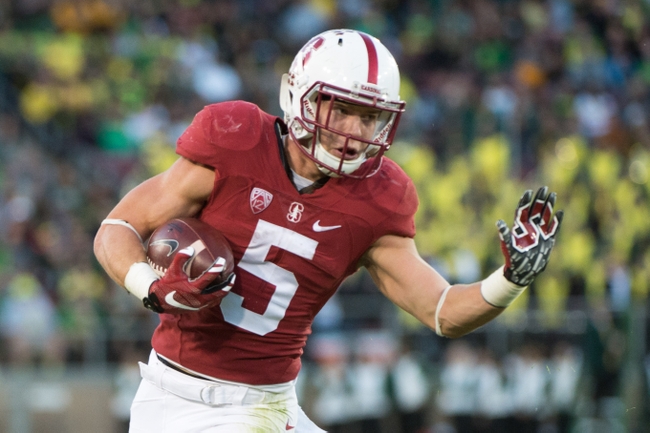 After scoring his second touchdown in the first half against USC, Christian McCaffrey has doubled his season total.
You would think that USC would have become a little more alert about Christian McCaffrey after leaving the all-purpose offensive threat wide open in the first half for a 56-yard touchdown reception. They did the exact opposite, allowing the Heisman hopeful to rush seven straight times (six for positive yardage) on the way to his second touchdown of the game.
McCaffrey set up his second score of the game by getting Stanford into the red zone with a 33-yard run to the USC 5. He picked up two yards on first down and another two on second down before being stuffed for no gain on third and goal.
David Shaw didn't hesitate, keeping his offense on the field against the Trojans defense rather than bringing on the field-goal unit. McCaffrey repaid his coach's confidence by leaping over the offensive and defensive lines across the plane and into the endzone for his second score of the game.
The touchdown put Stanford up 17-3 against USC at halftime. McCaffrey finished the first half with 195 all-purpose yards (20 carries for 101 yards and a touchdown, three receptions for 72 yards and a touchdown, and one kick return for 22 yards) in the first 30 minutes of play. If he keeps up this pace, McCaffrey could finish with nearly 350 yards from scrimmage and nearly 400 total yards on the night.
USC receives the ball first in the second half, and will hope to get some points to stave off Stanford's momentum.
This article originally appeared on