Chop Chat's College Football 2016 Game Picks: Week 8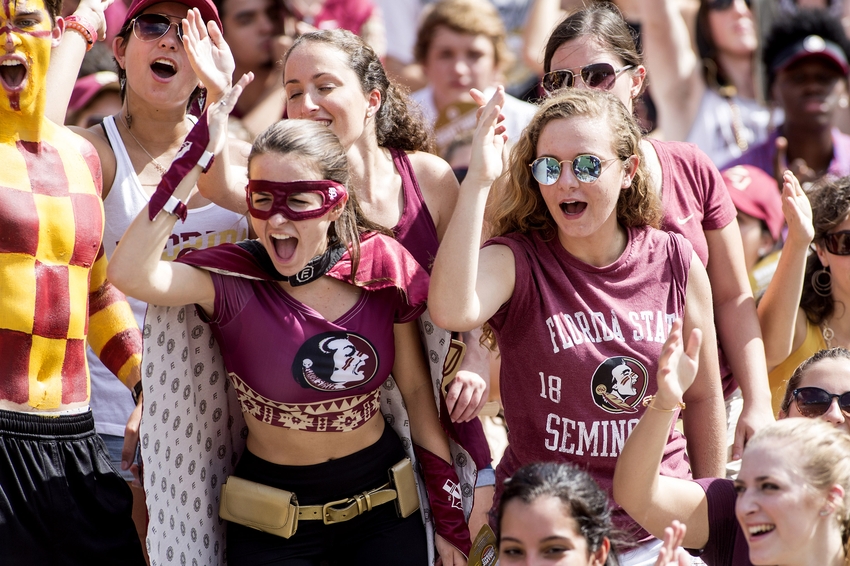 Here's a look at this week's top college football games and who the Chop Chat's staff thinks will win each of the showdowns.
     "You're playing and you think everything is going fine. Then one thing goes wrong. And then another. And another. You try to fight back, but the harder you fight, the deeper you sink. Until you can't move… you can't breathe… because you're in over your head. Like quicksand."
       – Keanu Reeves, The Replacements (2000)
No quote describes what took place last week with these picks than the one from "Shane Falco" in one of the most underrated football movies out there. It started when Mississippi State laid an egg against a BYU team they had no business losing to. Then, it was Miami…and then Notre Dame…and then Arizona State.
Needless to say, Kelvin padded his lead in a big way and now sits in a comfortable position heading into the second half of the regular season. It isn't over, but myself and Kyle have some work to do if we want to keep the title in the Sunshine State…and we get to welcome Brad back to the party after being M.I.A. for a few weeks!
Here's a look how everyone did last week and the updated season standings.
Season Standings
Kelvin Hunt – 53-17 (.757)     Last Week: 9-2
Jason Parker – 47-23 (.671)     Last Week: 5-6
Kyle Albritton – 47-23 (.671)     Last Week: 7-4
Brad Johnson – 41-29 (.586)     Last Week: 4-7
Miami at Virginia Tech (Thursday) – Just a week ago, this looked like a game of two ranked teams that was likely going to be for the Coastal Division championship. Now, you've got Miami looking to avoid a third straight loss and a Hokies team that got embarrassed at Syracuse last weekend…yikes. The home field advantage and better defense means the 'Canes will officially be in a slump.
Preseason Pick: Virginia Tech     Jason, Kelvin and Kyle's Pick: Virginia Tech     Brad's Pick: Miami
Hampton at FAMU – It's homecoming for our friends from the south side of Gaines Street as the Rattlers look to get this thing called a winning streak against the Pirates. I loved going to FAMU's homecoming during my time in Tallahassee, this competition is for bragging rights and titles – and the Rattlers aren't the better team in this one.
Preseason Pick: N/A     Jason and Brad's Pick: Hampton     Kelvin and Kyle's Pick: FAMU
North Carolina at Virginia – Okay, let me defend why I picked the Cavaliers at the start of the year. I really, really thought they were going to be much better this season than where they are now. There is a decent chance that the Tar Heels are going to put at least 50 points on them in this one.
Preseason Pick: Virginia     All Pick: North Carolina
Utah at UCLA – Once again, I really thought that the Bruins were going to be a team competing for both the Pac 12 title and a spot in the College Football Playoff. Now, it's the Utes who look like they are the new favorite in the South Division along with Colorado…two teams nowhere close to the Pacific coast, but we'll worry about that later.
Preseason Pick: UCLA     Jason, Brad and Kyle's Pick: Utah     Kelvin's Pick: UCLA
Ohio State at Penn State – Coming off an overtime win last week against Wisconsin, the Buckeyes are now setting themselves up for an explosive battle at the end of the season against hated rival Michigan. Needless to say, the Nittany Lions stand ABSLOTULY no chance of winning this one…you can mark that down right now.
Preseason Pick: Ohio State     All Pick: Ohio State
TCU at West Virginia – Don't look now, but the Mountaineers are still unbeaten after going on the road and taking Texas Tech to the woodshed last weekend. I really wanted to have a reason to pick the Horned Frogs in this one, but there is just too much good things going on from Morgantown to go against WVU at this point.
Preseason Pick: West Virginia     All Pick: West Virginia
Arkansas at Auburn – The Fighting Pumbas got a signature win last weekend when they took out Ole Miss at home (more on that later) and now take on another underachieving team from the SEC West. Throughout the course of the year, the Tigers have been beyond inconsistent, so I'm going to stick with the hot hand right now (and, apparently, I'm the only one).
Preseason Pick: Auburn     Jason's Pick: Arkansas     Brad, Kelvin and Kyle's Pick: Auburn
Ole Miss at LSU – Okay, I know that we at FSU haven't had a great season…but tell me how the Rebels are still ranked as they have three losses before the second half of the season. I'll be honest, I really want to be wrong with this pick more than the rest just because I want the overrated Rebels to be done with.
Preseason Pick: LSU    All Pick: Ole Miss
N.C. State at Louisville – If the Seminoles are going to have any chance of winning the Atlantic Division this season, they are going to need plenty of help from other teams knocking off both the Cardinals and Clemson Tigers. This may be the last game that Louisville can lose without it being considered a monumental upset (see the Wolfpack's game against Clemson last week). Correction…this is the game I want to be wrong with more than the rest.
Preseason Pick: Louisville     All Pick: Louisville
***GAME OF THE WEEK*** Texas A&M at Alabama – When the Aggies first joined the SEC in 2012, they went into Tuscaloosa and shocked the world to get the upset win. Even with that, the Crimson Tide still won the national title and have won the last three games over TAMU by an average of 28 points each year – including a 59-0 win the last time they hosted the Aggies. Do I have to say any more?
Preseason Pick: Alabama     All Pick: Alabama
This article originally appeared on