Chop Chat's College Football 2016 Game Picks: Week 7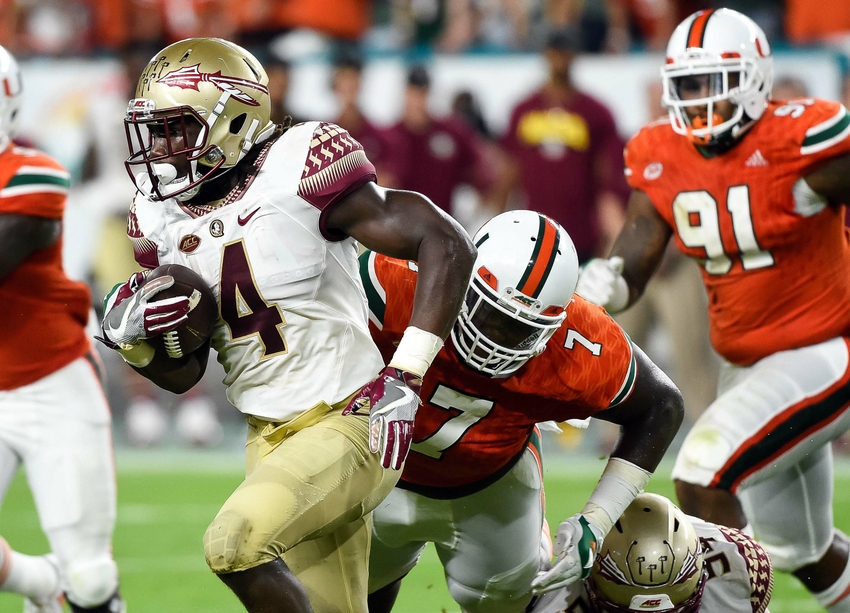 Here's a look at this week's top college football games and who the Chop Chat's staff thinks will win each of the showdowns.
It looked like just an innocent special teams play in a game that was much lower scoring than people expected when the game started inside that ACC stadium. But all it took was one play – one hand to block the ball after it was being kicked – to change the fortunes of one team and shock the college football world.
I wish I was talking about DeMarcus Walker's blocked extra point in FSU's win over Miami last weekend. Instead, I'm talking about the blocked punt for a touchdown in a driving rainstorm that allowed N.C. State to hold on for the 10-3 win over Notre Dame, moving Kelvin up another game in the standings.
Now with a two game lead, the question remains if Kyle and I will go slow with our comeback or try to do it all in one week…and also, we'll find Brad before it's all said and done. In addition, you'll notice 11 games on the slate this week – thanks to Florida and LSU being afraid of some weather three days after Hurricane Matthew went through.
Here's a look how everyone did last week and the updated season standings.
Season Standings
Kelvin Hunt – 44-15 (.746)     Last Week: 7-2
Jason Parker – 42-17 (.712)    Last Week: 6-3
Kyle Albritton – 40-19 (.678)     Last Week: 5-4
Brad Johnson – 37-22 (.627)     Last Week: 4-5
Mississippi State at BYU – Last season, this would have been a great game between the SEC's Bulldogs and a Cougars team that seems ready to join a conference any day now. In 2016, it seems to be more of a game you watch if there is nothing else on – hence its spot as the top game we get out of the way.
Preseason Pick: Mississippi State     Jason's Pick: Mississippi State     Kelvin and Kyle's Pick: BYU
West Virginia at Texas Tech – For those of you who haven't been paying attention to the middle of the road Big 12 standings, the Mountaineers are actually unbeaten this season while the Red Raiders come in with two losses. Sound familiar, FSU fans?
Preseason Pick: Texas Tech     All Pick: Texas Tech
Missouri at Florida – The Crocs get back on the field this week against a Missouri team that has played them tough since joining the SEC, winning two of the last three including a thumping in Gainesville two years ago. It won't happen again this year, but it would be nice to watch them lose week after week like it was 2013 all over again.
Preseason Pick: Florida     All Pick: Florida
Arizona State at Colorado – The Buffaloes were the darlings of the college football world and the Pac 12 South Division until getting beat last week on the road at USC. Now, it's a season of needing to win out if they want to get to Santa Clara, but the Sun Devils have some other ideas.
Preseason Pick: Arizona State     Jason and Kyle's Pick: Arizona State     Kelvin's Pick: Colorado
Ole Miss at Arkansas – The Rebels and the fighting Pumbas have something in common after last week's games: they both know what it's like to get beaten at home this season by Alabama. In a game that is looking like it might be for third place in the SEC West, I'll put my money on Chad Kelly's arm before anything being produced by one of the most overrated coaches, Big Bret from Hog Nation.
Preseason Pick: Ole Miss     All Pick: Ole Miss
Wake Forest at Florida State – After maybe the best complete game all season for the Seminoles, there are plenty of cynics out there who don't think Jimbo Fisher's team can do it again against a Wake Forest team who is playing their best ball since winning the ACC a decade ago. FSU wins the game easily, but don't be surprised if they still give up their share of yards and points.
Preseason Pick: Florida State     All Pick: Florida State
N.C. State at Clemson – The only way the Seminoles can get back in the picture for the ACC Championship Game is to have both the Tigers and Louisville to start losing some games. A perfect world would include both teams losing to N.C. State since FSU still plays the Wolfpack, but you can pretty much kiss that plan goodbye at this point barring something major taking place.
Preseason Pick: Clemson     All Pick: Clemson
Stanford at Notre Dame – This game give me mixed reaction because somebody actually does have to win it. I take solace in knowing I called the Cardinal's downhill turn this season and watching the Fighting Irish implode before our very eyes. With Christian McCaffrey far from a sure thing in this one, I'm going to say Brian Kelly gets a job saving win at home this weekend.
Preseason Pick: Notre Dame     Jason's Pick: Notre Dame     Kelvin and Kyle's Pick: Stanford
North Carolina at Miami – The two teams can exchange war stories about facing the Seminoles in consecutive weekends before their Coastal Division showdown. As much as we love to make fun of the 'Canes, they did look light years better than in previous seasons last week. At the same point, the Tar Heels looked like hot garbage against VaTech – which should make FSU fans furious considering what took place the weekend before.
Preseason Pick: Miami     Jason and Kyle's Pick: Miami     Kelvin's Pick: North Carolina
Ohio State at Wisconsin – The Badgers continue the portion of their schedule from hell against a Buckeyes team that somehow has rebuilt after losing what seemed like dozens of players to the NFL last season. The Big Ten looked like it was going to be interesting for a second – now it looks like a wait and see show until Ohio State takes on Michigan.
Preseason Pick: Ohio State     All Pick: Ohio State
***GAME OF THE WEEK*** Alabama at Tennessee – Well, the lucky streak for the Vols came to an end last week – but not before another wild game that ended with a double overtime loss to Texas A&M. The good news is that one loss is not the end of the world for Big Orange, especially since they have the tiebreaker over both Florida and Georgia in the SEC East. The problem? It's this team coming into Knoxville who, much like with Ohio State on the previous page, seems like they have just reloaded and are ready to coast into the College Football Playoff.
Preseason Pick: Alabama     All Pick: Alabama
This article originally appeared on