Chop Chat's College Football 2016 Game Picks: Week 13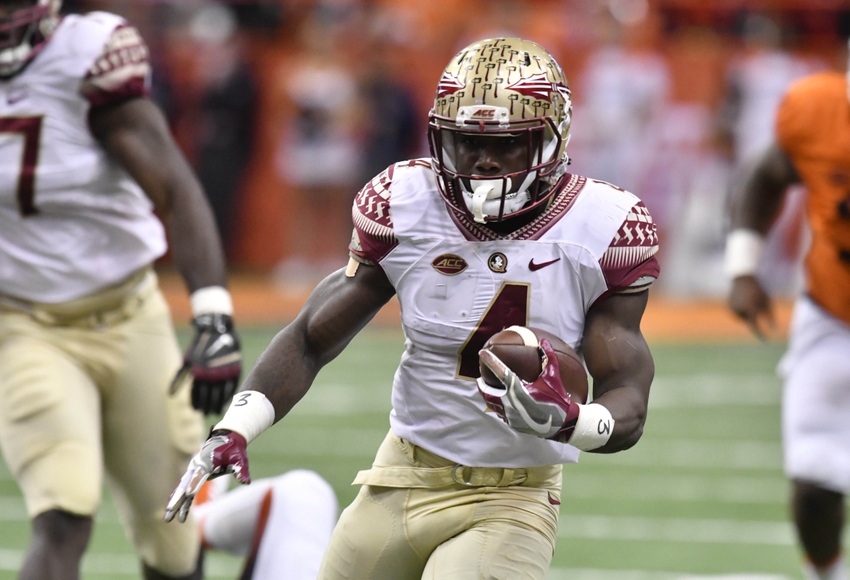 Here's a look at this week's top college football games and who the Chop Chat's staff thinks will win each of the showdowns.
As many people are getting together for the Thanksgiving holiday, they will be taking time to remember all the good things that they have in their lives and what they can be thankful for. Here at Chop Chat, we all are thankful for our families, our health and the fact we have the chance to write about the best college in all the land.
But that doesn't mean we don't have some spraying to do. For starters, a sarcastic thanks goes to our friends from FAMU, who couldn't win last week's Florida Classic against Bethune Cookman. Another one goes out to N.C. State for somehow winning that mud bowl game against Notre Dame this year. Hey, how about one for the one person on the payroll who picked Clemson against his own school this year – that might be the most disappointing.
Now, we kick things up a notch with not 10, not 15…but 20 games to pick this week! You never know what is going to happen and how thing can chance (or get worse) when the weekend is done.
Here's a look how everyone did last week and the updated season standings.
Season Standings
Kelvin Hunt – 89-31 (.742)     Last Week: 8-2
Kyle Albritton – 82-38 (.683)     Last Week: 6-4
Jason Parker – 76-44 (.633)     Last Week: 6-4
Brad Johnson – 69-51 (.575)     Last Week: 4-6
Ty Ragans – 67-53 (.558)     Last Week: 6-4
LSU at Texas A&M (Thursday) – In a battle of teams who clearly underachieved in the SEC this season, the Tigers are trying to figure out their coaching situation and scaring all of us that they might get Jimbo Fisher to leave Tallahassee. Right now, their offense is slightly better than the Aggies, so they'll get win number seven
Preseason Pick: LSU     Jason, Kelvin, Brad and Ty's Pick: LSU     Kyle's Pick: Texas A&M
Nebraska at Iowa (Friday) – This one might be the most intriguing game in the Big Ten this weekend (notice I didn't say best game or one that means the most, because that would be lying) because, quite frankly, either team can win this game. It may not be the best method, but we'll all stick with the home team.
Preseason Pick: Nebraska     All Pick: Iowa
Washington at Washington State (Friday) – Raise your hand if you thought this game would be for the Pac 12 North Division title this season. Okay, all of you with your hands in the air are lying. The Huskies are still just a step better than their Cougar friends, so it's off to Santa Clara for the men in purple.
Preseason Pick: Washington     Jason, Kelvin and Brad's Pick: Washington     Kyle and Ty's Pick: Washington State
Arizona State at Arizona (Friday) – I really, really wanted this game to be a better one this season, but both teams decided to crap the bed on the season and are pretty much playing for pride. The Wildcats have been pathetic this season and RichRod should be called out for that, so the Sun Devils take this one.
Preseason Pick: Arizona State     All Pick: Arizona State
TCU at Texas (Friday) – Is this the last game for Charlie Strong as the head coach of the Longhorns? Well, it depends on whom you talk to – he doesn't seem to think so, but it's being reported by almost everyone. It's insane that you can only get three years now at a major college football program, but that's the current state of the sport.
Preseason Pick: TCU     Jason, Kyle and Brad's Pick: TCU     Kelvin and Ty's Pick: Texas
UCF at USF – The "War on I-4" takes their spot at the end of the season with both teams having improved drastically from last season. The Bulls are 60 minutes away having a 10 win season while the Knights can finish with seven more wins than they did in 2015…which would mean they finish this year 7-5.
Preseason Pick: USF     Jason, Kelvin, Kyle and Ty's Pick: USF     Brad's Pick: UCF
Duke at Miami – All of us loved to watch the Hurricanes go 0-4 over a stretch that started with yet another loss to the Seminoles. Now, they are on the verge of winning four straight, getting some confidence and thinking they are back…again. If Duke was anything like last year, they would have a shot…but this one could get ugly quickly.
Preseason Pick: Miami     Jason, Kelvin, Kyle and Ty's Pick: Miami     Brad's Pick: Duke
Virginia at Virginia Tech – For the Hokies, it's all about just not screwing up and they are back in the ACC Championship Game for the first time since the 2011 season. Just four quarters…two halves…one game against their 2-9 rivals who has been horrible on defense this season. Enjoy Orlando next week, guys!
Preseason Pick: Virginia Tech     All Pick: Virginia Tech
Boston College at Wake Forest – The Eagles need this one to become bowl eligible and actually help the ACC fill out their quota of spots. It could happen, since the Deacons are 1-4 in their last five games and have looked bad in those games. If the game was in Boston, maybe.
Preseason Pick: Boston College     All Pick: Wake Forest
Kentucky at Louisville – For the Cardinals, this game is about more than just the championship in the commonwealth of Kentucky. If they can go out and absolutely destroy their rivals, there is still a shot of them getting back into the playoff conversation – with a little help from all the teams ahead of them, which could happen. It starts, though, with a big win here.
Preseason Pick: Louisville     All Pick: Louisville
Auburn at Alabama – A few weeks ago, the questions were flying about what could happen if the Tigers went into Tuscaloosa and pulled off the upset over their rivals, ruining the Crimson Tide's march toward a title. Now, the question is how many points will Nick Saban put on War Eagle to convince everyone that there is no one who can challenge 'Bama.
Preseason Pick: Alabama     All Pick: Alabama
Utah at Colorado – If not for a replay call last week that gave Oregon a last second touchdown over the Utes, this game would be for the Pac 12 South crown (between two teams who are the furthest away from the Pacific Ocean in the conference). Now, it looks like it could be the coronation of the Buffaloes to the conference title game, their first trip to one since being in the Big 12.
Preseason Pick: Utah
Mississippi State at Ole Miss – It wasn't that long ago (maybe 2014) that this game meant something more than just two schools from the south knocking helmets. Now, it's all about the Bulldogs keeping their bitter rivals home with them for bowl season. Despite being maybe the most disappointing team this season, the Rebels still end up bowling.
Preseason Pick: Ole Miss     All Pick: Ole Miss
Georgia Tech at Georgia – Now things start to get interesting with these picks. I'm a firm believer that you can tell what's going to happen by taking a look at recent history. The last time these teams played in Athens, it was the Yellow Jackets who came out on top. Also, I'm really behind on these picks and have to make up ground somewhere.
Preseason Pick: Georgia     Jason's Pick: Georgia Tech     Kelvin, Brad, Ty and Kyle's Pick: Georgia
Minnesota at Wisconsin – I really, really, REALLY wanted to pick the Golden Gophers in this one because I am still not sold that the Badgers are one of the top six teams in the country – even if their two losses were to the teams ranked second and third at the moment. Alas, I can really only do one "out there" pick each week – and I already took Georgia Tech
Preseason Pick: Wisconsin     All Pick: Wisconsin
Notre Dame at USC – Lets all take a moment and remember what could have been this season for the Fighting Irish…HAHAHAHAHAHAHAHAHA!!! It's going to be so much fun watching Brian Kelly's team drop to eight losses on the season. Seriously, don't tell me there isn't bias in this world when Charlie Strong is going to be unemployed but Brian Kelly still has a job.
Preseason Pick: Notre Dame     All Pick: USC
South Carolina at Clemson – I really feel like I am wasting your time if I write more than 37 words about what the Tigers are going to do in this game, so I'll just say this: the Gamecocks get slaughtered.
Preseason Pick: Clemson     All Pick: Clemson
Michigan State at Penn State – After playing Ohio State tough last week and losing by just a point, people are starting to jump on the Spartans' bandwagon and thinking they can throw a monkey wrench in Big Ten championship game plans. I've watched the whole season and anyone who losses to Illinois is not going to win this game.
Preseason Pick: Penn State     All Pick: Penn State
***SUNSHINE STATE GAME OF THE WEEK*** Florida at Florida State – Five of the last six times these teams have played, the Seminoles have come out on top by an average margin of 20 points each win. Florida will be without several of their defensive stars – which is not a good omen since their defense is the only chance they have of staying in this game.
Still, it's a rivalry game and we've seen FSU win games in this series they should've lost and vice versa. In what will likely be the final home game for Dalvin Cook, I can see him having another monster game like last year and the 'Noles make it six out of seven.
Preseason Pick: Florida State     All Pick: Florida State
***NATIONAL GAME OF THE WEEK*** Michigan at Ohio State – Another amazing rivalry Saturday begins with a game that hasn't been this big between the Wolverines and the Buckeyes since their No. 1 vs. No 2 showdown in the 2006 season. It's basically a coin flip between both teams once again, as Ohio State has reloaded following all the players they lost after 2015 and a mid season loss to Penn State.
Michigan, meanwhile, was headed for a showdown with Alabama in the playoffs until a last second kick in Iowa. Now, they are one win away from getting just their second victory in the last 13 games of the series. Something tells me that the Wolverines' defense is going to be just good enough to stop Ohio State and get that win.
Preseason Pick: Michigan     Jason, Brad and Kyle's Pick: Michigan     Kelvin and Ty's Pick: Ohio State
This article originally appeared on