Chop Chat's College Football 2016 Game Picks: Week 11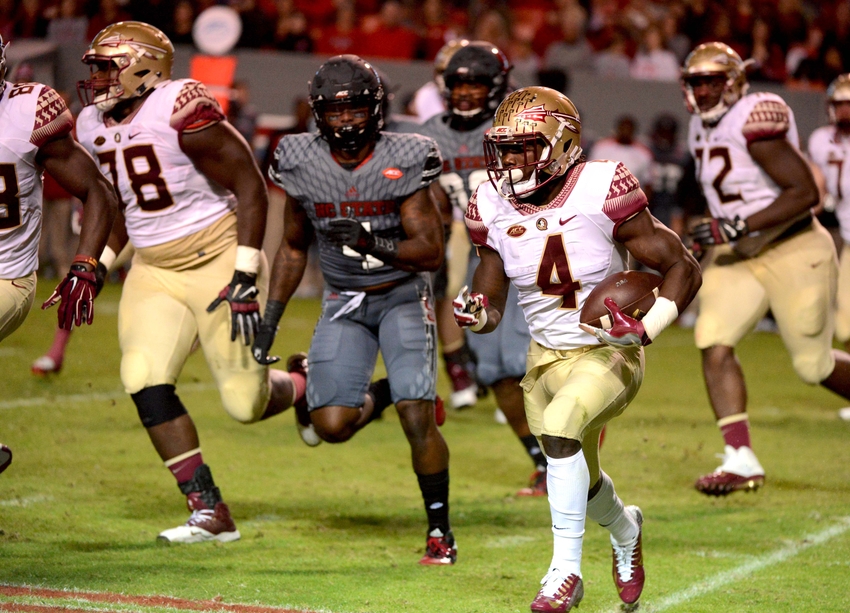 Here's a look at this week's top college football games and who the Chop Chat's staff thinks will win each of the showdowns.
There is no way to sugar coat it: things are looking pretty bad for some of us in this weekly battle royal of college football picks. Every single week, Kelvin seems to somehow come up with a win and extend his league. Some think he is just the man and knows what he's talking about…I present the following evidence to show he's just damn lucky.
Last week, it was picking Navy over Notre Dame when they had lost the previous five games in the series. Then, there was picking FAMU just because it was their homecoming game against Hampton. BYU somehow over Mississippi State…N.C. State in a monsoon over Notre Dame…heck, I think he should be impeached for picking Clemson over Florida State. It was a smart pick, but disloyal!
For those who follow us on Twitter, Mr. Hunt has started to get a little mouthy when it comes to these picks. This week, the rest of us start out comeback and prepare to make this an actually respectable contest for the rest of the season…maybe.
We're also going to welcome the newest member of the Chop Chat family to our picks fun each week. Ty Ragans gets involved with just under half the season to go – and while he will start off behind everyone else (to be fair), you never know what can take place with this stuff.
Here's a look how everyone did last week and the updated season standings.
Season Standings
Kelvin Hunt – 75-25 (.750)     Last Week: 7-3
Kyle Albritton – 69-31 (.690)     Last Week: 8-2
Jason Parker – 64-36 (.640)     Last Week: 6-4
Brad Johnson – 60-40 (.600)     Last Week: 6-4
Ty Ragans – 55-45 (.550)     Last Week: n/a
Boston College at Florida State (Friday) – For the second straight year, these two teams meet on a night of the week where they should be home preparing for a Saturday game – which would take place if they were in a real football conference. The Seminoles escaped with a win last week, but should have a much easier time against an Eagles team who isn't good…at all.
Preseason Pick: Florida State     All Pick: Florida State
Miami at Virginia – Don't look now, but the Hurricanes remembered what it's like to actually win a football game after dropping the previous four. With a trip to take on the worst team in the ACC on the planner for this weekend, the 'Canes become bowl eligible and their fans go back to thinking they are actually a good team.
Preseason Pick: Miami     All Pick: Miami
South Carolina at Florida – For a moment last weekend, the Crocs were in danger of losing the SEC East not to teams like Tennessee or Georgia…but to Kentucky of all teams. But, thanks to the Wildcats remembering who they are, Florida can move one game closer to a return trip to Atlanta with a win over their former coach. Damn it.
Preseason Pick: Florida     Jason, Kelvin, Kyle and Ty's Pick: Florida     Brad's Pick: South Carolina
Georgia Tech at Virginia Tech – The Hokies had a scare last weekend when they faced Duke and won thanks to a blocked field goal returned for a touchdown. The Yellow Jackets are a slightly better team than the Blue Devils were, but the Hokies should have this one in the bag and continue their march to Orlando.
Preseason Pick: Virginia Tech     All Pick: Virginia Tech
LSU at Arkansas – We all remember last season that, after a loss to Alabama, the Tigers started a free fall that almost had Les Miles fired at halftime of their season finale against Texas A&M. After another loss to the Tide, you can see the writing on the wall (even though I do like Orgeron and think he should get the job). This one goes to the Fighting Pumbas after what they did to Florida last weekend.
Preseason Pick: LSU     Jason's Pick: Arkansas     Kelvin, Brad, Ty and Kyle's Pick: LSU
Kentucky at Tennessee – It was all there for you, Wildcats. By just beating Georgia and Tennessee – a tough task but one that could be done since both teams aren't good this year – and it was off to Atlanta for the SEC title game. Now, it's going to take a win this week AND Florida losing both of their remaining conference games. It was a nice thought.
Preseason Pick: Tennessee     All Pick: Tennessee
USC at Washington – At the start of the year, I picked the Trojans to win this one only to lose the rematch when these teams met again in the Pac 12 Championship Game. The Huskies have lived up to their end of the deal this season – and while USC has gotten better of late, this one is going to the men in Seattle on their road to the playoff.
Preseason Pick: USC     All Pick: Washington
West Virginia at Texas – Yes, I was more than excited a couple weeks ago when West Virginia got their first lost of the season and got knocked down a peg. Yes, I was excited when Texas took care of Baylor several weeks ago and brought the Bears down off their high horse. But I am not willing to press my luck and say that it will happen again.
Preseason Pick: West Virginia     Jason, Brad and Kyle's Pick: West Virginia     Kelvin and Ty's Pick: Texas
Michigan at Iowa – Jim Harbaugh has become one of the most annoying coaches in all of college football – pretty much good for just bothering the hell out of the SEC, which is pretty fun to watch. That being said, the Wolverines are playing like a phenomenal team and are just waiting for that regular season ender for a chance to get that win over hated Ohio State.
Preseason Pick: Michigan     All Pick: Michigan
***GAME OF THE WEEK*** Baylor at Oklahoma – Two weeks ago, Baylor was an undefeated team who was just on the outside of the playoff picture, but was still the highest rated team from the Big 12. Fast-forward to this weekend and it's the Sooners who are back in control of the conference with just three games left to play. As long as Oklahoma can handle their business from this point on, that 1-2 start will be a distant memory.
Preseason Pick: Oklahoma     Jason, Kelvin, Kyle and Ty's Pick: Oklahoma    Brad's Pick: Baylor
This article originally appeared on