Chop Chat's College Football 2016 Game Picks: Week 10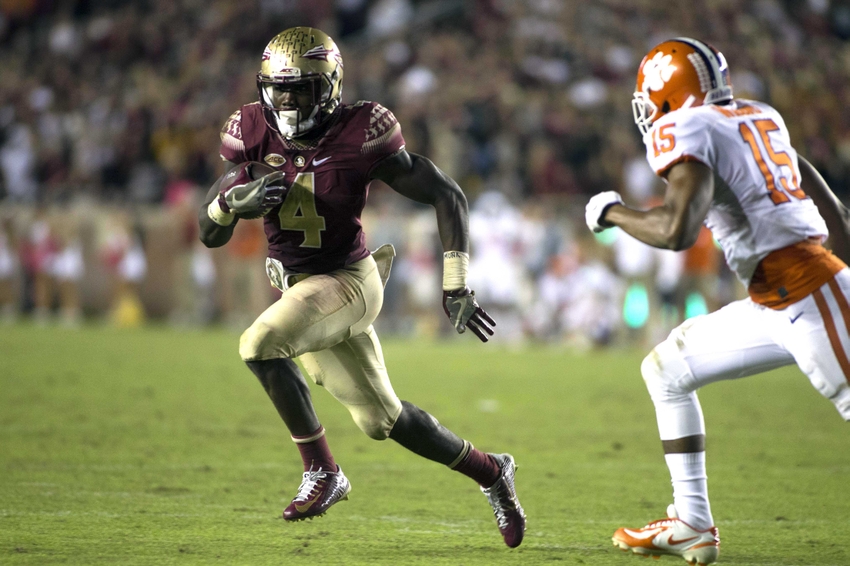 Here's a look at this week's top college football games and who the Chop Chat's staff thinks will win each of the showdowns.
There comes a point where you have to accept the fact that your team will not be winning a title during the season. There can only be one champion, while others have to sit back and watch, dreaming of what could have been. It's not the blowout losses that get you, but rather the close ones where one play – one bounce of the ball – could have changed your fortunes during the year.
While that fact is true when it comes to the Florida State Seminoles this season, it can also be said for what's going on here with these picks. At the risk of sounding pretty salty, Kelvin has gotten the bounces to go his way and won some games he had absolutely no business winning.
It's been that story each week, with Kelvin not just coming out on top three of the last four weeks – but absolutely dominating. It's not over for both Kyle and myself…but it's getting pretty darn close with about half the picks left. One thing that may help us is that the games are so bad this week outside of a couple big ones we have a slight surprise for everyone.
Here's a look how everyone did last week and the updated season standings.
Season Standings
Kelvin Hunt – 68-22 (.756)     Last Week: 8-2
Kyle Albritton – 61-29 (.678)     Last Week: 6-4
Jason Parker – 58-32 (.644)     Last Week: 5-5
Brad Johnson – 54-36 (.600)     Last Week: 7-3
Atlanta Falcons at Tampa Bay Buccaneers – That's right, ladies and gentlemen…the slate of college games this week is so light that we have to go to the NFL to fill out our ten games. It's a matchup featuring such great former FSU stars as Jameis Winston, Devonta Freeman and Roberto Aguayo. Man, I wish they all still had some eligibility.
Preseason Pick: Falcons     Jason's Pick: Buccaneers     Kelvin, Brad and Kyle's Pick: Falcons
Navy vs. Notre Dame (in Jacksonville) – For the longest time, this rivalry game was all Fighting Irish, winning 43 straight in the series. After winning three of five, the Midshipmen have gone back to losing the last five in the series. While Navy has the better record, Notre Dame is coming off a big win last week over Miami and now has some slight momentum – just enough to continue this latest streak.
Preseason Pick: Notre Dame     Jason , Brad and Kyle's Pick: Notre Dame     Kelvin's Pick: Navy
UCLA at Colorado – At the start of the season, everything was going to go so well for the Bruins with Josh Rosen under center. Now, he has missed the last two games and is likely out for the rest of the season. On the other side, the Buffaloes have been the biggest surprise in college football and get another big name win this week.
Preseason Pick: UCLA     All Pick: Colorado
Pittsburgh at Miami – Those of us who root for the Seminoles have loved the downhill fall that the 'Canes have gone through in the month of October, losing the last four games and going from a top 10 ranking to a .500 record. Pittsburgh is playing better football right now, but I have to think now that we're in a new month, Miami starts it off with a win. Plus, I need to pick up games on Kelvin.
Preseason Pick: Miami     Jason and Kyle's Pick: Miami     Kelvin and Brad's Pick: Pittsburgh
Georgia Tech at North Carolina – The Coastal Division seems to be a two horse race and one of those teams is the Tar Heels. Needing to win out and needing help in the process, the men from Chapel Hill are going to be focused the rest of the way and stay alive in the division for another week.
Preseason Pick: North Carolina     All Pick: North Carolina
Florida State at N.C. State – Over the last nine times this series has been played in Raleigh, the Seminoles have a record of just 4-5, including losses in two of the last three games on the road in this series. Both teams are coming off deflating losses last week, but you have to think that because the 'Noles still have more to play for, they will get enough fire to play like they're capable of.
Preseason Pick: Florida State     All Pick: Florida State
Florida at Arkansas – Don't look now, but the Crocs are in the driver's seat to somehow make it back to the SEC Championship Game if they win two of their last three conference. With next week's game at home against lowly South Carolina, we need the Fighting Pumbas step up and get the win this week. Thus, those of us who picked the Crocs hope we're wrong with this pick.
Preseason Pick: Florida     Jason, Brad and Kelvin's Pick: Florida     Kyle's Pick: Arkansas
TCU at Baylor – Can we all stand up and cheer for the Bears losing last week against Texas (called it…I really did)?!?!?! I know that many of the players had nothing to do with the idiots on their coaching staff in the past (some still there), but it feels good when karma does its job. Too bad it won't happen against this week.
Preseason Pick: TCU     All Pick: Baylor
Nebraska at Ohio State – Just a week ago, this had the makings of a top 10 showdown between two of the best teams in the Big Ten. But, the Cornhuskers had to go out and be exposed by a Wisconsin team that finally beat a ranked foe in the conference. Now, you wonder if this is the first game of the Buckeyes' comeback from their lost two weeks ago and march back to the playoffs.
Preseason Pick: Ohio State     All Pick: Ohio State
***GAME OF THE WEEK*** Alabama at LSU – For nearly a decade, this has been a game that is sold as the best in the SEC – and almost every season, it's a let down since Alabama is 7-2 in the last nine meetings (including the national title game for the 2011 season). At least the game is somewhat competitive in the past four meetings in Baton Rouge, which include two overtime wins for the Crimson Tide (along with another one by four points) and a three point win by the Tigers.
Alabama is playing like a team possessed this season and en route to another playoff appearance and national title game. At the same time, LSU interim head coach Ed Oregeron is playing to get the job full time. With a win over Ole Miss already and more big games against Florida and Texas A&M, he doesn't need to win this one…but needs to look damn good in the loss.
Preseason Pick: Alabama     All Pick: Alabama
This article originally appeared on