Chop Chat's College Football 2016 Game Picks: Championship Week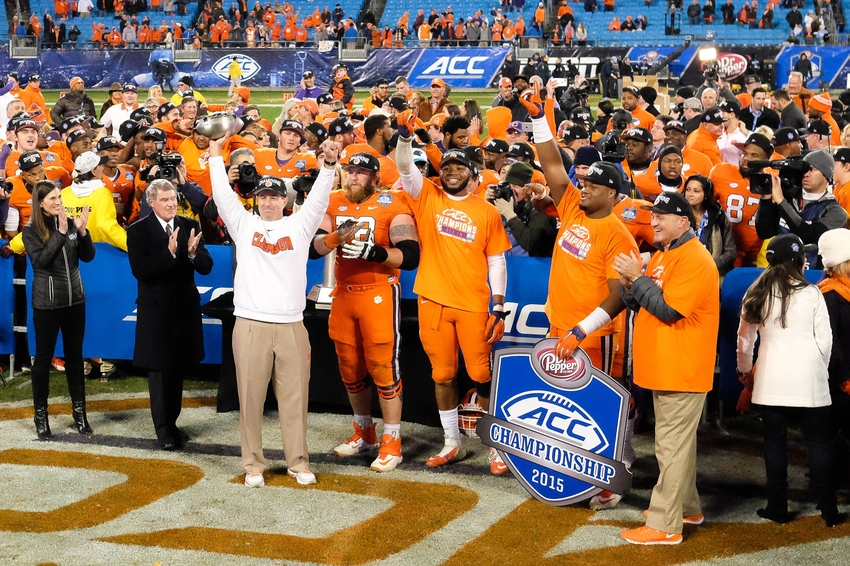 Here's a look at this week's top college football games and who the Chop Chat's staff thinks will win each of the showdowns.
It's a weekend that means more to some teams than even rivalry weekend or a battle against someone from the Top 10. Yes, championship weekend is here in the world of college football – where eight of the 10 conferences in the FBS will crown a champ from their two divisions – while the Big 12 will continue to do things backwards.
It's also one of the final attempts from the rest of the field to give our current leader, co-editor Kelvin, a challenge in this competition. Thanks to horrible officiating in last week's loss by Michigan against Ohio State (yeah, I said it…fine me if you want, Big Ten), I was only able to pick up one game while second place Kyle lost two more games. It ain't looking pretty, folks.
Here's a look how everyone did last week and the updated season standings.
Season Standings
Kelvin Hunt – 103-37 (.736)     Last Week: 14-6
Kyle Albritton – 94-46 (.671)     Last Week: 12-8
Jason Parker – 91-49 (.650)     Last Week: 15-5
Ty Ragans – 80-60 (.571)     Last Week: 13-7
Brad Johnson – 74-66 (.529)     Last Week: 5-15
MAC Championship: Western Michigan vs. Ohio (Friday) – It can sometimes be easy to forget that there is another team that went undefeated in the FBS this season other than Alabama. The Broncos are just 60 minutes away from a likely appearance in the Cotton Bowl – just the eighth postseason trip in program history.
Preseason Pick: Central Michigan over Miami (OH)
Pac 12 Championship: Colorado vs. Washington (Friday) – If Utah had just done their job this past weekend, I would have gotten my preseason pick right in this one…thanks a lot, Utes! Anyway, the Buffaloes have been the miracle story in college football season and are good enough to win, but the Huskies are playing for that coveted fourth playoff spot and will be on fire in this one.
Preseason Pick: Washington over USC
C-USA Championship: Louisiana Tech at Western Kentucky – You have to be a little big crazy to want a preview of this game unless you are associated with either school…or have a little coin on the game. So, take that coin and flip it in the air to see who you have got in this one.
Preseason Pick: Marshall over Southern Miss
MWC Championship: San Diego State at Wyoming – There are very few people outside of Southern California and middle of nowhere America that would have picked the Aztecs and Cowboys in this one. Wyoming won their regular season meeting, so it's going to be on San Diego State and their run game to even things up.
Preseason Pick: Boise State over Fresno State
AAC Championship: Temple at Navy – Now, if Western Michigan does fall in their conference title game, the Midshipmen could be in a position to be the Group of Five representative…which means we might have to wait a little longer since they would have a game against Army the following weekend. If you're like me and think the playoff system is a joke, you should want chaos to take place!
Preseason Pick: Houston over USF
West Virginia at Baylor – Meanwhile, the Big 12 is spending another season as a conference that just doesn't really get it. Instead, we get games like this at the end of the season – where nobody really wins because both of these teams deserve to lose and lose badly. Where is a sinkhole when you need one?
Preseason Pick: West Virginia
Oklahoma State at Oklahoma – While it's still morning in Norman, the Cowboys and Sooners will be taking the field in an effort to get to the College Football Playoff as the champions of the Big 12. Quite frankly, the only realistic shot would be if the Sooners win this game, so the conference is going to be rooting hard for the home team.
Preseason Pick: Oklahoma
ACC Championship: Clemson vs. Virginia Tech – Speaking of whom you will be rooting for, I will be having no shame for rooting hard for the Tigers in this one. Yes, I despise them not as much as Miami or Florida (but it's getting close)…but a win all but officially confirms the 'Noles will be heading to the Orange Bowl – and I really want that to take place.
Preseason Pick: Florida State over Miami
SEC Championship: Alabama vs. Florida – Last season, the Gators got blown out by 25 points to Florida State and proceeded to get annihilated by the Crimson Tide in Atlanta and in their bowl game, while Alabama went on to bring home another national title. Déjà vu all over again, anyone?
Preseason Pick: Alabama over Tennessee
***GAME OF THE WEEK*** Big Ten Championship: Penn State vs. Wisconsin – I'm going to come out and say it: if one of these teams doesn't make it to the College Football Playoff but Ohio State, who is sitting home watching the game because they couldn't win their division, does make it into the playoff, the system is horrible and needs to be blown up. If we're not going to put conference champs in, what the hell is the point of having conferences? Here's hoping the committee uses common sense…although I'm not holding out hope.
Preseason Pick: Michigan over Nebraska
This article originally appeared on