Charlie Weis fired: Ed Orgeron, others next in line for Kansas job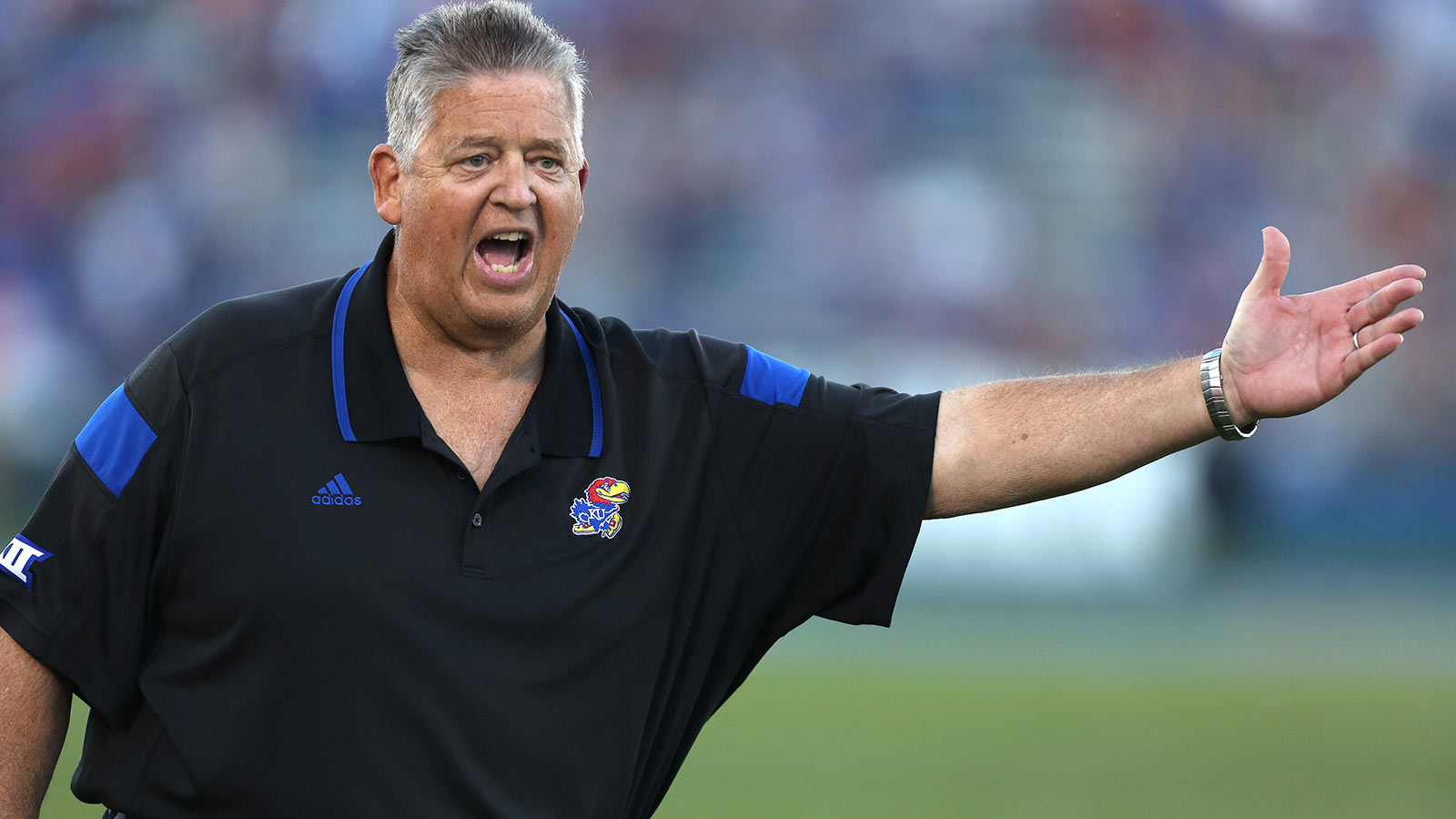 As expected, Kansas coach Charlie Weis has been canned. The inevitable became reality Sunday morning, hours after KU was shut out at home 23-0 by Texas, marking the fifth time in the past six games against teams from Power 5 conferences that Weis' team was held to one TD or less.
The former Notre Dame head coach was 6-22 at Kansas.
The depths of the Weis disaster at Kansas in a nutshell: him allegedly falling asleep in a team meeting while the squad was being addressed this year by the head athletic trainer of all sports at KU.
Defensive coordinator Clint Bowen will take over as interim head coach, athletic director Sheahon Zenger said.
KU's next move will be an interesting one. This is one of the two or three toughest jobs in major college football (the Power 5 conferences). You're in a league where everyone else but you (and perhaps Iowa State) is at least solid, so there aren't many games in the Big 12 where you're going to be favored or close to favored. Also, league scheduling means you face everyone in the conference, so there aren't years where you may miss an OU or Baylor.
Worse still, you have only three non-conference games, so fewer cupcake opportunities to get closer to six wins and bowl eligibility, which entices recruits and settles boosters. Beyond those things, the local recruiting base isn't deep at all. It's a "basketball school," and the other program in state — Kansas State — is actually a big winner.
I'm told several of the "rising star" coordinator types who often are on the radar for head coaching vacancies will steer clear of KU because they don't want to risk their big shot at a job as tough as this one.
Some candidates I expect to get consideration: Texas A&M WR coach David Beaty, a former KU assistant who is a top recruiter in Texas; Clemson defensive coordinator Brent Venables, a Kansas native, although he did play at rival K-State; former USC interim head coach Ed Orgeron; Nebraska offensive coordinator Tim Beck; and another former KU assistant Ed Warriner, now the O-line coach at Ohio State.
Two other names to keep an eye on: 63-year-old Texas State coach Dennis Franchione, a Kansas native, and Michigan State defensive coordinator Pat Narduzzi.
A wild-card name to keep in mind: former USF coach Jim Leavitt, now a 49ers assistant. The 57-year-old Leavitt played at Mizzou and coached at K-State, but he did turn the USF program into a consistent winner. However, he also got forced out in a similar manner to the way Mark Mangino did at Kansas. That said, I'm told Leavitt is close to Zenger, the KU AD.
In Beaty, Venables and Orgeron, you have three guys regarded as among the best recruiters in football and all are high-energy coaches, which would be a radical difference from Weis. And oftentimes with coaching transitions, schools end up going for the opposite of what they just had.