CFP Top 10: Picking the Spread Week 12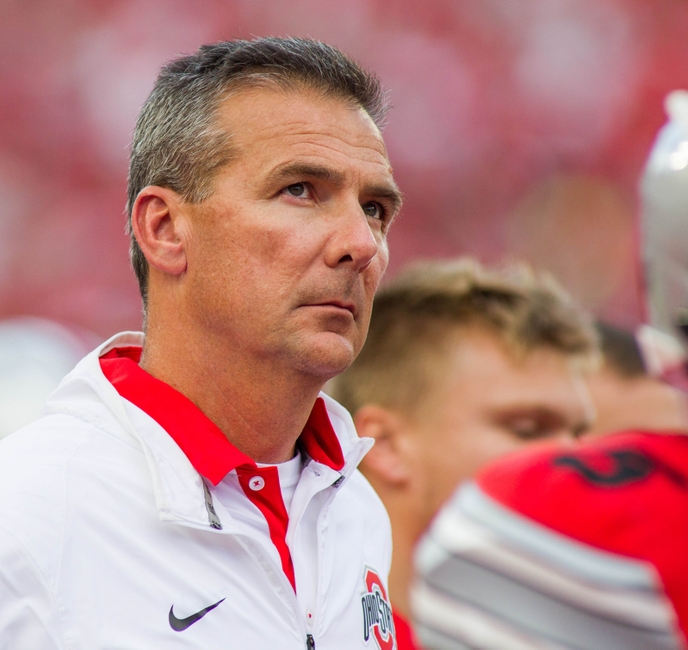 Picking games involving Top 10 teams in the CFP rankings.
Another good week of picking against the spread of games involving CFP Top 10 teams. Last week I was 7-3 and would have been 8-2 if Indiana could have held onto the ball at the end of the game and Penn State didn't score on a fumble recovery.
I am pleased to say my season record is now 38-28. Just think how good my record would be if I stayed away from picking Clemson games. I think I may have picked one of the Tigers' games correctly but I'm not sure if I have got any right.
I usually don't pick Thursday night games but I was going to do it this week. I didn't get the article done in time and I was going to pick Houston to cover and possibly pull off an upset in a shootout.
I never saw the Cougars dominating the Cardinals like they did though. Wasn't that something?
Anyway, I'll get to this week's picks beginning with a conference that has one team in the CFP Top 10 and go from there. There wasn't a point spread with the Alabama Tenn-Chattanooga game. Gee, I wonder why?
The point spreads this week are from an article by Forums.Rivals.com:
#9 Oklahoma by 3 over #14 West Virginia
If you only knew how I hate picking this game. You see, around here there are quite a few fans who root for a team that plays on the wrong side of the Ohio River. They can be very obnoxious as well.
West Virginia Mountaineer fans actually think their team is as good as the Ohio State Buckeyes for some reason. They are passionate to say the least, albeit extremely misguided.
Because of that, I think Oklahoma may be in some trouble Saturday. The Sooners have to travel East and play in front of 60,000 rabid fans at Mountaineer Field. Alcohol will be involved I can assure you.
With a possibility of being a one loss conference champion in a Power 5 Conference, the Mountaineers at least think they have a shot at making the CFP Committee;s final four. There is no question they will be up for this game.
That's why I'm holding my nose and picking West Virginia to cover and probably upset Oklahoma. If I am right, I'll have to listen to their fans brag and saying the Mountaineers should be included in the playoff. That will be miserable.
#4 Clemson by 22.5 over Wake Forest
I don't know what to do in this one. I tried using logic and reasoning with Clemson games most of the season. That didn't work.
Then, last week I flipped a coin and got it wrong. Which Clemson team will show up this week?
I'm going back to logic and reasoning that's sure to go wrong. Wake Forest played Louisville strong for three quarters last week, and they will be at home where they usually win or keep the game close.
Clemson has been involved in more close games than just about any team in the country. I guess I will have to go with the Demon Deacons to cover the spread.
If I was you I would probably bet the other way. The Tigers will probably win by 50.
#6 Washington by 27 over Arizona State
Washington is coming off a bad loss to USC and know they could slip in the CFP rankings with another bad game, even with a narrow win. I expect the Huskies to come out playing like their hair is on fire instead of looking ahead to their rivalry game against Washington St. next week.
Arizona St. has a potent offense at home but not so much on the road. Must be the humidity that they don't have in Arizona.
They have only scored more than 20 points away from home one time. That was against Oregon and that really doesn't count. Everyone scores against the Beavers.
It's a lot of points to give but I pick Washington to win big and cover.
#10 Colorado by 4.5 over Washington St.
This is simple. Both teams are in the hunt for a title in their respective divisions in the Pac 12. Washington State has an excellent passing game and is going against a strong Colorado pass defense. Something has to give.
I see this as a pick'em game so I will take Washington St. and the points.
I'll lump these next two Big Ten teams because they are in a similar situation.
#7 Wisconsin by 28 over Purdue
#8 Penn State by 28 over Rutgers.
Both Wisconsin and Penn State are playing at a very high level right now. Each team knows if they win out, there is a good chance they will meet in the Big Ten Championship Game.
Both teams are also aware there may be work to do to impress the CFP Committee enough to put a two loss team in the playoff for the first time. I don't think very many good teams would want to play the Badgers or the Nittany Lions on Saturday, let alone Purdue or Rutgers.
I have both teams winning big and covering the spread.
#3 Michigan by 23.5 over Indiana
These next two games to me are shades of 2014. Let's start with Michigan vs. Indiana.
A starting quarterback goes down late in the season and is replaced by another who was once ahead of him in the depth chart. The CFP Committee, taking into account injuries in their final rankings, wants to see how the backup quarterback will perform. Sound familiar?
Can John O'Korn be this year's version of Cardale Jones taking over from Wilton Speight? You can bet coach Jim Harbaugh will have his troops rallying around him.
I see a big game by the Wolverines to make a statement to the committee.
I have Michigan covering the spread.
#2 Ohio State by 22.5 over Michigan St.
Ohio State's dream of a national title was spoiled in the 2013 Big Ten Championship game by Michigan State. When the Buckeyes traveled to East Lansing the following season, they weren't in a very good mood and won 49-37. This year Ohio State is attempting to make the CFP Final Four just as they were in 2014.
More from Scarlet and Game
Their win in 2013 wouldn't have covered the spread in this game but there are a couple of differences this season. One, Connor Cook is no longer quarterbacking the Spartans. And two, that MSU team won 11 games and this year's team can't win half that many.
Coach Urban Meyer is downplaying the revenge factor from Michigan State ruining Ohio State's chances of winning back-to-back National Championships last season. But there are plenty of rumblings around campus that lead you to think the players are certainly thinking about last year's game.
I just have a feeling it could be a bad day for the Spartans and their fans. I have the Buckeyes winning big and covering.
There you go, my picks for week 12. Hope I can stay on my roll.
This article originally appeared on