Week 13 picks: Jim Harbaugh will end Ohio State's reign over Michigan
From some teams, rivalry week could mean a spot in the conference title game. For others, it's a ripe opportunity to play spoiler. How will it all play out in Week 13?
Each Thursday, Stewart Mandel, Bruce Feldman, Joel Klatt and Jim Ross will make the calls on who'll win the weekend's most intriguing matchups.
In Week 13, we'll be tuned into the Jim Harbaugh-Urban Meyer showdown in Ann Arbor between Michigan and Ohio State. If Michigan State slips up vs. Penn State, the winner of The Game would play for the Big Ten title.
Then, of course, there's the Iron Bowl between Alabama and Auburn, where the Tigers can salvage a so-so season with an unthinkable upset of the Tide — South Carolina, by the way, is in the same spot vs. No. 1 Clemson.
Meanwhile, in Los Angeles, UCLA faces crosstown rival USC for a spot in the Pac-12 championship game. And that's just the start of this weekend's action.
In addition to our straight-up picks, Mandel and Feldman will dive a little deeper into the games with their picks against the spread.
And if you're looking for more games, you can find predictions for every Division I FBS game for the coming week here, courtesy of WhatIfSports.
Without further ado, here are this week's picks: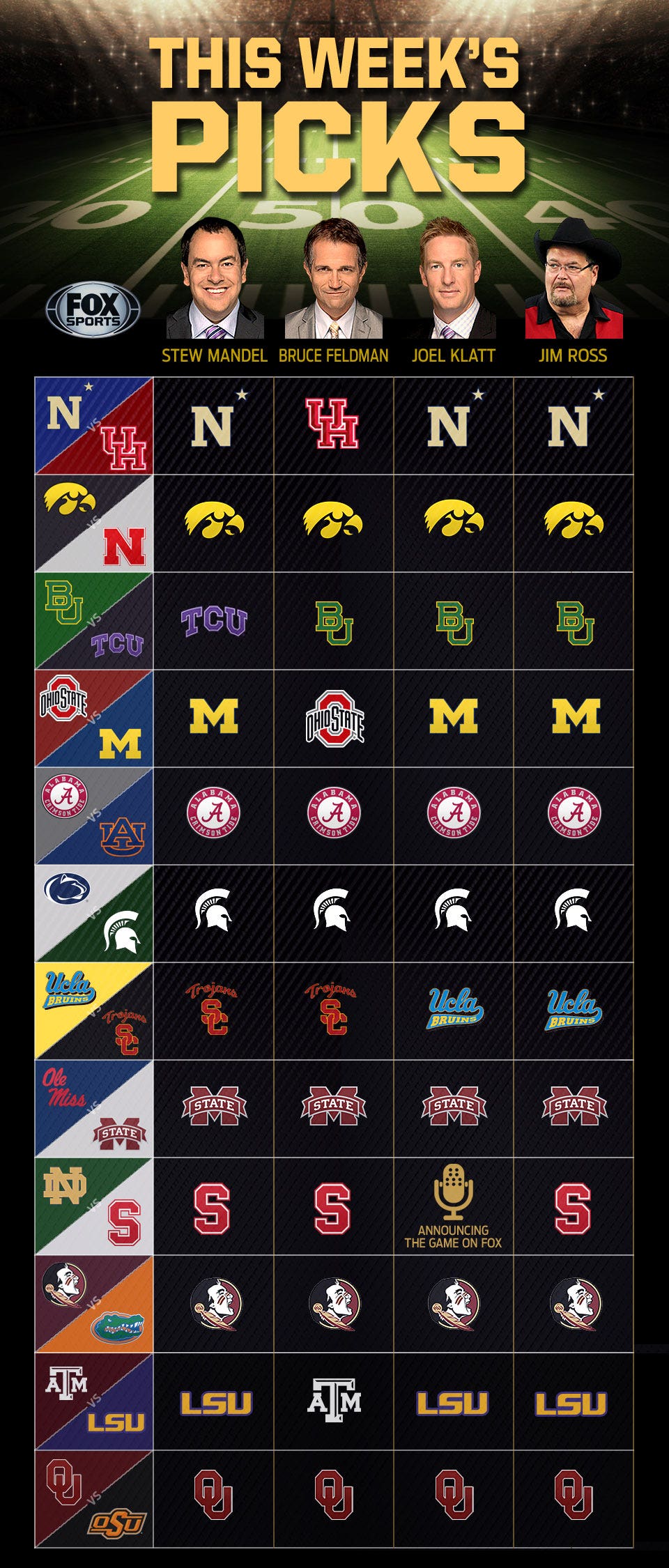 PICKS AGAINST THE SPREAD
NAVY (+1) at HOUSTON
Mandel: Houston is extremely banged up, including at quarterback, which does not bode well against a Top 15 foe. Keenan Reynolds leads Navy to the AAC title game. Navy 30, Houston 24
Feldman: As great as Keenan Reynolds is, I think Houston will bounce back after last week's win and beat a very good Navy team. Houston 23, Navy 21
The result: Houston 52, Navy 31
IOWA (-1) at NEBRASKA
Mandel: America keeps waiting for the Hawkeyes to fold, but they've shown no sign of it yet. Their defense forces some turnovers and finishes off a 12-0 regular season. Iowa 24, Nebraska 20
Feldman: C.J. Beathard hasn't thrown a pick since mid-October and the Hawkeyes are averaging over 37 points per game in their last five. They should be fine against the struggling Huskers. Iowa 29, Nebraska 24
The result: Iowa 28, Nebraska 20
BAYLOR (-1.5) at TCU
Mandel: Gary Patterson can no longer win the Big 12 but can still ruin it for his nemesis Art Briles. The Horned Frogs find a way to win the clash of backup quarterbacks. TCU 37, Baylor 34
Feldman: Both teams are banged up, but Baylor isn't as depleted as the Horned Frogs. Baylor 49, TCU 35
The result: TCU 28, Baylor 21, 2 OT
OHIO STATE (PK) at MICHIGAN
Mandel: Ohio State's offense is not going to solve its offensive ills in a week, while Jim Harbaugh's team is free of the pressure that's weighing down the Buckeyes. Michigan 26, Ohio State 23
Feldman: I know the Buckeyes were dreadful last week on offense. I think their O-line and Ezekiel Elliott meet this challenge. Ohio State 24, Michigan 13
ALABAMA (-14) at AUBURN
Mandel: It's possible 6-5 Auburn comes out against its rival and plays better than it has all year. It's more realistic the Tide's dominant defense smothers the Tigers' attack. Alabama 27, Auburn 10
Feldman: The Tide has played four games away from Tuscaloosa so far — all four opponents were ranked in the Top 20, and they've won all by more than 22 points per game. Alabama 34, Auburn 10
PENN STATE (+11) at MICHIGAN STATE
Mandel: Penn State QB Christian Hackenberg continues to struggle considerably against top-flight defenses. Michigan State's emboldened unit should continue that trend. Michigan State 19, Penn State 7
Feldman: Bob Shoop's defense will keep this one close against a Michigan State team coming down from a very big high, but in the end I don't think Penn State can close out the Spartans. Michigan State 13, Penn State 10
UCLA (+3.5) at USC
Mandel: UCLA beat Utah last week, USC lost at Oregon, but it still feels like the Bruins, not the Trojans, are limping to the finish. The four-loss Trojans go to Santa Clara. USC 34, UCLA 27
Feldman: Cody Kessler finally beats the Bruins and Jim Mora in a shootout because UCLA is a little too banged up on D. USC 35, UCLA 31
OLE MISS (-1) at MISSISSIPPI STATE
Mandel: In his home finale, Bulldogs legend-to-be Dak Prescott picks up where he left off last week against Arkansas and gets revenge for last year's loss in Oxford. Mississippi State 38, Ole Miss 30
Feldman: Dak Prescott is playing very well and I don't think he'll let Mississippi State lose to its archrival in his final Egg Bowl game. Mississippi State 27, Ole Miss 20
NOTRE DAME (+3.5) at STANFORD
Mandel: Injury-ravaged Notre Dame will struggle to run the ball. Christian McCaffrey won't likely rack up 200 yards on the Irish, but he's far from the Cardinal's only weapon. Stanford 27, Notre Dame 21
Feldman: The Irish hobble into this game. They still have enough athletes to chase Christian McCaffrey, but I think the more physical team, Stanford, will wear out the Irish late. Stanford 24, Notre Dame 17
FLORIDA STATE (-2.5) at FLORIDA
Mandel: The 'Noles won't have much success throwing on Florida's secondary, but Dalvin Cook is a difference-maker. The Gators' offense lacks a capable counterpunch. Florida State 17, Florida 10
Feldman: I'm tempted to pick the Gators because they're home and they've proven very resilient, but they've just looked so shaky against some really mediocre teams the past month. I am curious to see how Dalvin Cook does against the Florida D. I think he's a terrific back and expect the 'Noles to do some damage on the ground. Florida State 20, Florida 13
TEXAS A&M (+5.5) at LSU
Mandel: For Les Miles' likely swan song, Leonard Fournette and LSU's slumping offense should find their antidote against A&M's 100th-ranked rushing defense. LSU 35, Texas A&M 27
Feldman: This is expected to be Les Miles' last game as the Tigers head coach. Expect them to play hard, but right now A&M's more balanced and more dangerous on offense. Texas A&M 27, LSU 23
OKLAHOMA (-6.5) at OKLAHOMA STATE
Mandel: It's hard to say which version of Oklahoma State the Sooners will run into, but their 10th-ranked pass efficiency defense should slow down Mason Rudolph. Oklahoma 33, Oklahoma State 24
Feldman: The Sooners know how close they are to making the playoff and I think their running game will be the difference against an OSU team that is too one-dimensional right now. Oklahoma 34, Oklahoma State 28
UPSET SPECIALS:
WISCONSIN (-2.5) at MINNESOTA
Mandel: The Badgers are coming off a crushing, controversial loss to Northwestern. The Gophers need a win to get bowl-eligible. They'll come out hungrier and get it. Minnesota 20, Wisconsin 17
WESTERN MICHIGAN (+8) at TOLEDO
Feldman: The Broncos have enough speed and firepower to pull this upset and knock off the Rockets. Western Michigan 35, Toledo 30
SEASON RESULTS:
Mandel: 87-53 (including upset picks)
Feldman: 87-54 (including upset picks)
Klatt: 74-40 (minus games he called on FOX or FS1)
Ross: 78-50
PREVIOUS PICKS
Week 12 / Week 11 / Week 10 / Week 9 / Week 8 / Week 7 / Week 6 / Week 5 / Week 4 / Week 3 / Week 2 / Week 1