'Canes Name Captains For Opener Against FAMU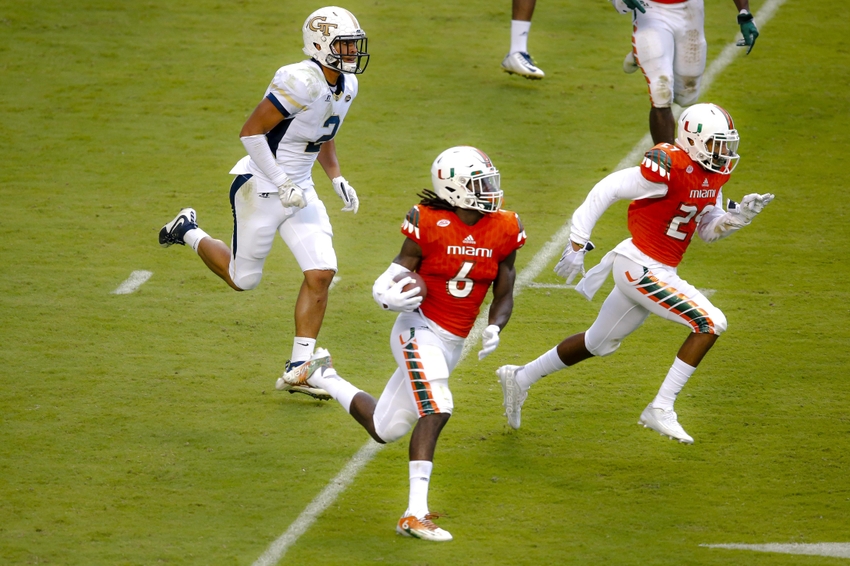 The Canes Football Twitter account announced that Brad Kaaya, Punter Justin Vogel, Right Guard Danny Isidora and Safety Jamal Carter will serve as the captains in the season opener against Florida A&M. The 'Canes will kick off the new season in the completely renovated Hard Rock Stadium (previously Dolphins Stadium among other names).
Kaaya begins his third year as a starter. He ranks ninth all-time in touchdown passes and fifth in passing yards. He is expected to be picked in the top five in the 2017 NFL draft, no later than second in the majority of the mock drafts. Kaaya finished second in passing yards to Clemson's DeShaun Watson, the favorite to capture the Heisman Trophy
Kaaya finished second in passing yards in the ACC to Clemson's DeShaun Watson, the favorite to capture the Heisman Trophy this year. Watson received 188 of the 191 votes as the ACC's first team Quarterback entering the season.
Vogel is the lone Hurricane on the first-team preseason All-ACC team. He received an even 100 votes. He is only one of 13 players on the All-ACC team to received at least 100 votes. Vogel is the second leading returning punter in the ACC. Virginia's Nicholas Conte was second in the ACC last season at 44.7 yards per punt. Vogel averaged 42.5. Five of the top seven punters in the ACC were seniors last season.
Isidora enters his senior season and his third as a starter. His missed the first ten games of his redshirt freshman season in 2013 with a foot injury. Isidora is ranked as the 12th best offensive guard going into the 2017 NFL Draft according to NFL Draft Scout. He has started all 26 games the last two seasons.
Introducing the captains for this week's game vs. FAMU #BeatFAMU pic.twitter.com/ST0KXiH2FL

— Canes Football (@CanesFootball) August 29, 2016
Carter also enters his senior season. He has 79 career tackles and two career interceptions. He is the 18th ranked strong safety according to NFL Draft Scout. Carter is the third-leading returning tackler from last season behind Defensive End/Viper Trent Harris and his safety partner Rayshawn Jenkins. The top three tacklers Jermaine Grace, Juwon Young and Quan Muhammad were dismissed. Safety Deon Bush who finished fifth in tackles was a fourth-round draft pick of the Chicago Bears.
Carter is part of an all-senior secondary. That's going to be important playing behind an all-freshman linebacking core and two sophomore starters on the defensive line. The linebackers come highly touted. Shaquille Quarterman according to 247sports is the fifth-ranked inside/middle linebacker in the class of 2016, Zach McCloud is the 18th ranked outside linebacker and Michael Pinckney is one spot behind McCloud at 19.
With a young team this season, a new coaching staff and a new system, the leadership of the senior class is going to be important.
More from Canes Warning
This article originally appeared on