Cal QB Davis Webb worth a draft pick for multiple teams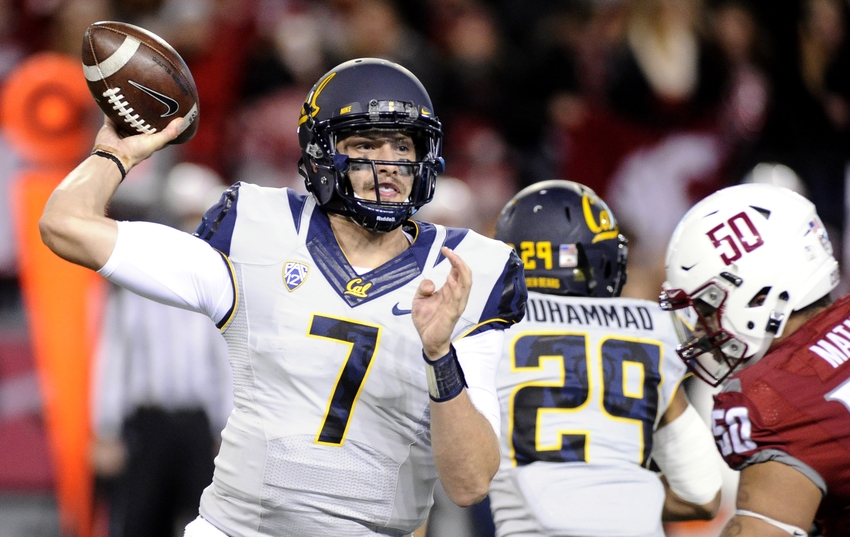 Davis Webb was ranked as the top senior quarterback entering the 2016 season. The win-loss might no have been great, but his film tells the story.
Graduate transfer Davis Webb hadn't played significant football in more than a year, but that didn't stop the senior's hype train entering 2016. Multiple analysts and NFL scouts stated he was the best amongst the seniors. His strong arm, accuracy and familiarity with Cal's scheme were a match made in heaven. Although he started just on year at Cal, he showed how good he could be.
His numbers certainly reflected his play this season. On the year, he has thrown for 4,295 yards, 37 touchdowns and 12 interceptions. Sonny Dykes' "bear raid" system can certainly take some of the credit for the huge numbers, yet Webb made some big-time throws this year.
Disregard his record from this season, the Bears were hardly formidable on defense. They allowed the second most points per game in the FBS at 42.6. Furthermore, they gave 518.3 yards per game including 272.9 on the ground, so it should be noted that his individual performance was worthy of a better team.
Strengths
One of the biggest attributes in favor of Cal's one-year starter is his sensational arm strength. He routinely hit the out route from the opposite hash, which is considered to be one of the tougher throws in the NFL.
When it came to deep balls, he was surgical putting beautiful touch on the ball from anywhere on the field. In addition, the deep dig route was no problem as well. He fired bullets into secondaries.
His size is certainly a plus. Webb stands at 6-foot-5 and weighs 230 pounds, which is prototype size. Although he isn't a fleet of foot runner, no one will say Webb's a statue in the pocket. His accuracy is solid as well with a career 61 completion percentage. He threw receivers away from coverage and rarely left his receivers out to dry.
He rushed for nine touchdowns in his career including six this year. Many of them came near the goal line on a zone read. The defense converged on the running back leaving him open for the score.
Nevertheless, he's a good, experienced leader that was named a captain at Texas Tech and Cal. He checks multiple boxes, but he also leaves some blank.
Weaknesses
Webb played in two separate pass happy systems. He put up video game-like numbers with a lot of easy, quick reads. This doesn't mean he can't transcend the systems labels. Marcus Mariota transcended the no-huddle, shotgun, Oregon attack so far, but there were bumps along the way. For every Mariota, there are tons of Andre Ware, David Klingler, Colt Brennan-type players that bombed brutally in the league.
Turnovers are also something to note in Webb. He tossed 13 interceptions this year and 34 in two and a half years as a starter. Again the system he plays in can cause interceptions just from the amount of time he throws the ball.
His game against Washington should be evaluated heavily. He completed just 23-of-47 passes for 262 yards, one touchdown and three interceptions. He completed under 50 percent of his passes and struggled all night against one of the FBS's best defenses. I'm not saying one game should represent his impressive year, but a bad game against a near NFL-comparable defense needs to be noted.
Verdict
Right now, he's not a first round pick. If he kills it at the senior bowl and the NFL Combine anything can happen. Regardless, he's a low risk, high reward pick. With many of today's starters coming on day two or three of the NFL Draft, he's someone to pay attention to come draft time.
Projected draft spot: Round 3 or 4
This article originally appeared on