CFB AM: 'Sesame Street' monster shows how BYU QB tore up Texas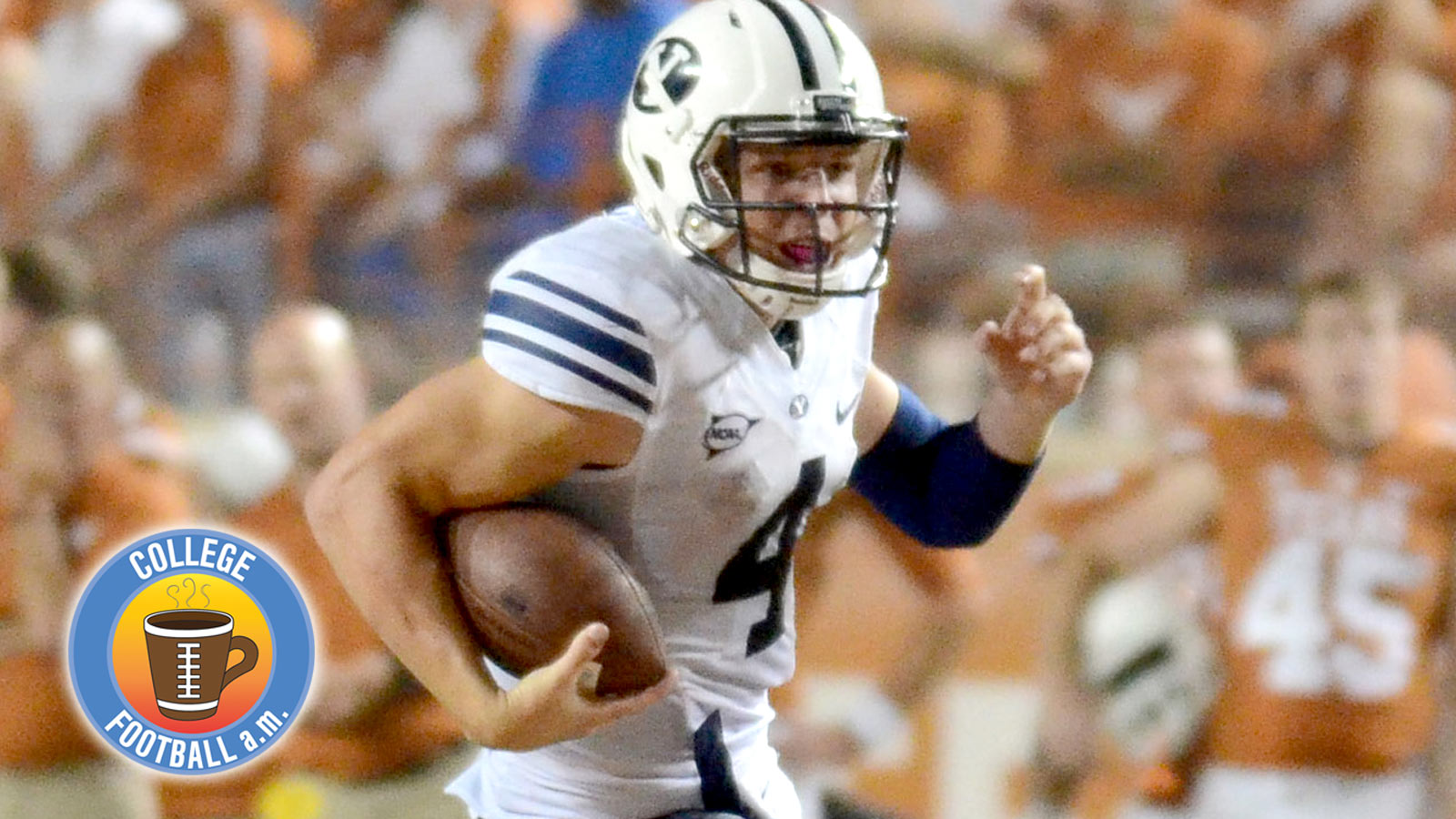 In the sports world, Monday sucked.
Save for perhaps a few remote and unblemished corners in the nation's collective fandom, we were subjected to a despicable Ray Rice video and the subsequent incessant coverage that video generated.
Today, we all need a cleanse.
So here's a pretty ingenious and hilarious video someone whipped up on YouTube.
Last Saturday, BYU beat Texas 41-7 in Austin — the second consecutive season the Cougars embarrassed the Longhorns — and QB Taysom Hill accounted for 280 yards and three touchdowns.
After the game, Grover, the blue, furry monster from the TV show "Sesame Street," broke down the film to explain just how Hill tore up Texas. Enjoy a moment of good, clean fun. You deserve it.
THREE THINGS YOU NEED TO KNOW
1. On Monday, the NCAA dropped some big news on Penn State, although this time it was news the Nittany Lions were glad to hear. The NCAA lifted Penn State's postseason ban, effective immediately, and restored full scholarships for 2015-16 after George Mitchell encouraged such actions in his latest report on the school. Penn State was showing "significant progress toward ensuring its athletics department functions with integrity," according to the NCAA, which is why it made up another ruling on the fly and made the 2-0 Nittany Lions bowl eligible in 2014.
Penn State's penalty never made sense, so don't expect the NCAA to now, writes Stewart Mandel. Monday night in celebration of the lifted postseason ban, Penn State students went crazy in State College and congregated around town. This SB Nation post is a good round-up of scenes from the madness.
This also happened:
Yeah, that's PSU fans chanting, "Where's the statue?" in regards to the Joe Paterno landmark that was removed in the wake of the Jerry Sandusky scandal.
Unlike many on social media last night, I'm all good with Penn State students celebrating this news. Who wouldn't be fired up? And when, exactly, is it OK for students who had no role in what happened to enjoy being college football fans again? But damn, PSU students, you make it so hard to defend some of you. A little self-awareness would be nice.
2. It's not even mid-September, and the coaching carousel has started to spin. After beginning the season 0-2, and scoring only one touchdown in those games, SMU coach June Jones announced his resignation on Monday, effective immediately. Defensive coordinator Tom Mason will serve as interim coach for the rest of the season, at which point the Mustangs will make a decision on the future.
It's likely SMU targets a young, rising star coach coming off the 61-year-old Jones' tenure, and Bruce Feldman has seven potential candidates who would fit the job. Since you asked, I'll place a few chips on Clemson OC Chad Morris, whose Texas high school coaching run would help him gather athletes to run the explosive, up-tempo offense he's become known for with the Tigers. He could make SMU competitive and a lot of fun quite quickly.
3. There's some resolution on the odd Pat Haden thing that happened over the weekend. The Pac-12 has fined the USC athletic director $25,000 for confronting officials on the sidelines during the Stanford game. Some called for Haden to resign from the College Football Playoff selection committee for this, but executive director Bill Hancock said that's unnecessary. "Emotional outbursts at games are not a matter for the committee to deal with," Hancock said. "This doesn't affect Pat's ability to evaluate teams."
Haden said on Twitter that he's going to request the Pac-12 donate his $25,000 to autism research:
…I will request the @pac12 forward the fine to Children's Hospital Los Angeles for autism research. #Autism #FightOn

— Pat Haden (@ADHadenUSC) September 8, 2014
(Cut to an armada of USC staffers rigorously verifying Haden's feel-good story.)
THREE THINGS YOU SHOULD KNOW
1. The Oklahoma State Supreme Court has given Oklahoma the authority to enforce a one-year suspension on linebacker Frank Shannon for violating the school's sexual misconduct policy. Shannon allegedly sexually assaulted a woman in January, although the player and his attorney have flatly denied these allegations. Shannon, the Sooners' leading tackler last season, has been around the team during the first two weeks of the season but has been held out of games.
2. Two days after being "embarrassed" by BYU at home, Texas coach Charlie Strong announced QB David Ash, who missed last Saturday's game with a concussion, is out indefinitely. Nobody, not even Strong in this instance, knows how long "indefinitely" is. Ash has a deep history of concussions, and I suspect what's happening this week are discussions with various doctors, Ash and his parents that legitimately examines and asks the question of whether he should ever play football again.
In related news, UConn announced redshirt sophomore QB Casey Cochran is quitting football because of concussions. He'll now be a mentor to UConn players and focus his energy on developing a coaching career.
Best of luck to both players.
3. Here is the fantastic McNeese State radio call of Nebraska RB Ameer Abdullah's game-winning touchdown last Saturday. "No! No! We had him stopped! … We deserve better!" I love this so much.
THREE THINGS YOU MAY WANT TO KNOW
1. UCLA announced that during the final game of the season, the Bruins will retire Troy Aikman's No. 8. "It's hard for me to express what this means to me," Aikman said on a conference call Monday. "I got the call from Dan Guerrero and he told me what UCLA was planning on doing and it's as big of an honor as I've ever received. I couldn't be more thrilled about it."
2. After debuting new uniforms this season, Florida State is backtracking because fans apparently have spoken. The helmets — which some fans didn't like the color of — will be changed by next week's game against Clemson, and the jerseys will be altered later in the season. That's some serious pull from Noles fans since it's not like they were going to stop coming to games or spending money because they didn't like the look.
3. I have no idea if these are actually real but: Someone appears to have made "Roll Snyd" T-shirts for Kansas State's game against Auburn next week. Awesome either way.
LASTLY
* Texas Tech will play Arkansas this weekend for the first time since 1991. To celebrate the meeting, the Red Raiders are pulling out retro uniforms.
* SB Nation's Spencer Hall was in Eugene last Saturday for the Michigan State game and spent it following Oregon's Duck around.
* Someone mashed up the Virginia Tech-Ohio State highlights with the postgame celebration scene in Blacksburg, and the end result was pretty awesome.
* Ever wondered what it would be like to run out of the tunnel at Kyle Field as a member of the Aggies? Enjoy this first-person look:
Have a great Tuesday, all.
Teddy Mitrosilis is an editor and writer for FOXSports.com. Follow him on Twitter @TMitrosilis and email him at tmitrosilis@gmail.com.