BYU's Jamaal Williams is College Football's Most Overlooked Running Back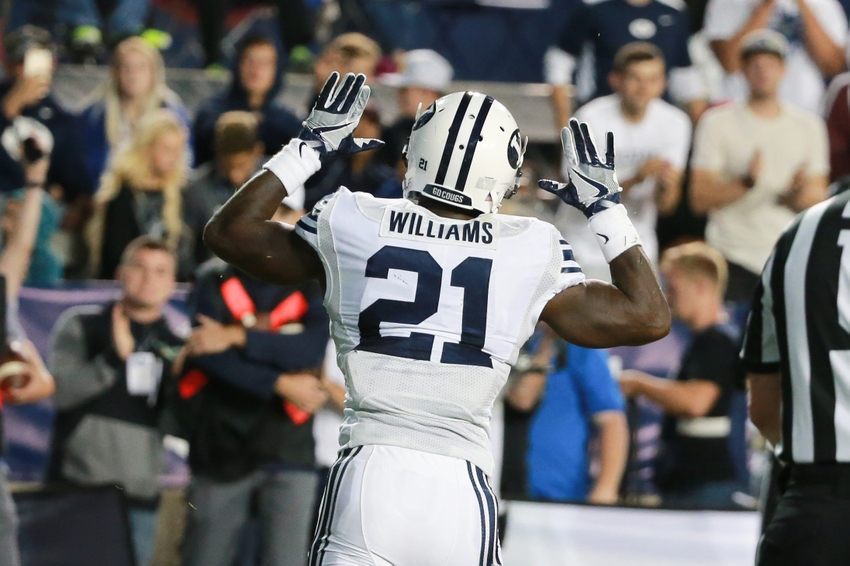 This is the year of the running back in college football. Players like Leonard Fournette, Dalvin Cook and Christian McCaffrey have dominated the national headlines, but there is one young man playing in Provo, Utah who is being overlooked.
It has not been an easy path for BYU running back Jamaal Williams. The senior has been a star for the Cougars since his freshman year back in 2012 when he ran for 775 yards and 12 touchdowns.
The future looked bright and the NFL looked like a serious possibility for Williams. He took the success from his first season and had another great year as a sophomore, picking up 1,233 yards and seven touchdowns.
Unfortunately, that bright future looked much bleaker in November of 2014 when Williams suffered a significant knee injury that forced him to miss the remainder of the season. The BYU running back was expected to return in 2015, but Williams withdrew from the school and missed the entire season due to undisclosed rules violations.
A player who had such a bright future suddenly disappeared from the college football world. That didn't stop Williams from doing whatever it took to get back on the field for his senior year in 2016.
"I worked that whole year to get better and do whatever I could," Williams told Saturday Blitz. 
Rather than stay away from football, Williams rededicated himself to the game by working out and focusing on getting 100 percent healthy.
"Honestly, I consider it as a blessing to get another year to get myself ready to play," Williams said. "I took everything that came to me and I took it as a challenge to get better."
Williams is an old school guy. He doesn't like to watch himself or compare himself to any current NFL stars. Instead, the BYU running back spent his time away from the team watching some former NFL legends.
"When I was away, I watched a lot of running backs like Walter Payton and it inspired me to work even harder," Williams said. "I just wanted to do everything I could to be ready for the season."
"I prefer to watch old school running backs to try and learn from them. I grew up a Rams fan, so I would watch players Marshall Faulk, Eric Dickerson and Steven Jackson. I like to try and take different pieces of their games."
After a season and a half away from the game, Williams returned to the field in BYU's season opener this year against Arizona. It was a strong start to the season for Williams, who rushed for 162 yards on 29 carries in the 18-16 victory.
"I was just excited to play football again," Williams said about his return to the field. "Most importantly, I just tried to make myself more mature."

After a few more games, Williams started to hit his stride. In a three-game span against West Virginia, Toledo and Michigan State, Williams ran for 618 yards and nine touchdowns, including his five-touchdown, 286-yard performance against the Rockets.
That impressive three-game stretch helped Williams get selected to Sports Illustrated's 2016 Midseason All-American Second Team. He was also able to become BYU's all-time leading rusher, something that had always been a goal for Williams.
"It was something on my to-do list when I got to BYU," Williams said. "At first I was joking about it, but as I kept playing it kept getting closer. I finally realized that I could do it, and when I did it was incredible. All I can do is thank my offensive lines from my freshman year to now."
Like a smart running back, Williams was quick to thank his offensive line.
"You can't forget to feed your offensive line, either," Williams joked.
Heading into Saturday's game against Southern Utah, the Cougars are sitting at 5-4. Williams currently ranks 13th in the nation with 1,034 rushing yards while adding 10 touchdowns on the ground, and that's despite missing the team's game against Boise State with an ankle injury.
A bowl game appearance is still very much in play for the Cougars, and Williams has his sights set high for the rest of the season.
"I want to win out and finish the season with a win in a bowl game," Williams said. "I want to finish hard, play hard and no matter what I want people to know that we're a legitimately good football team."
Williams admits that he hopes to be playing in the NFL after his senior season. While that may be a difficult task considering the number of talented backs in this year's draft class, the fact that he's even in the situation to be a legitimate NFL draft pick is incredible after spending a year and a half away from the game.
He may be college football's most overlooked running back, but by the end of the season, Williams is hoping that you'll remember his name.
More from Saturday Blitz
This article originally appeared on