BYU football: Three things we learned from Utah State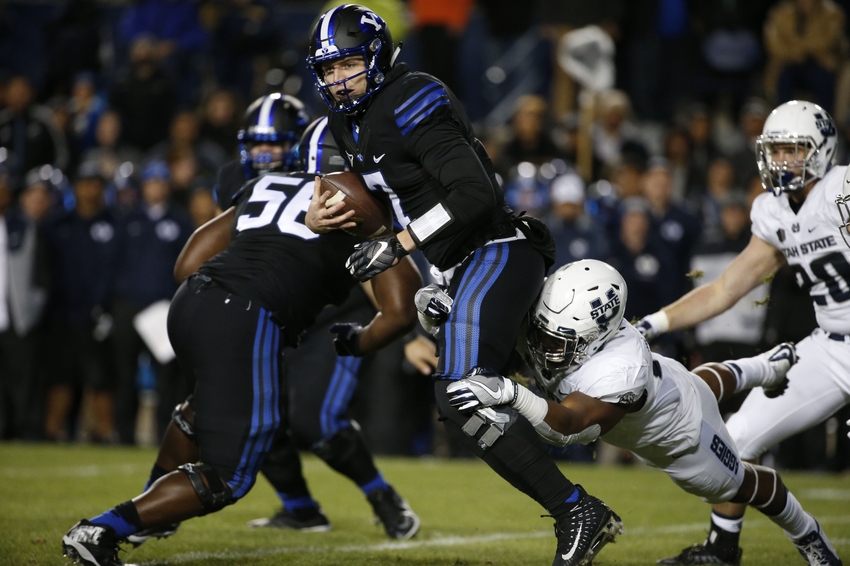 BYU football defeated the Utah State Aggies 28-10 on Saturday night. Here are three things we learned from the victory.
The BYU football team picked up its fourth-straight win on Saturday night, knocking off the rival Aggies. It was a tight game throughout most of the night, but now BYU can focus on the Poinsettia Bowl
It was a chippy affair, and the game contained a scary moment for the Cougars, but we'll get to that later.
Here are three things we learned from BYU vs Utah State, 2016 edition.
BYU football starts slow
BYU football has scored just 58 first-quarter points this season, with 35 of them coming against Toledo and Southern Utah. The Cougars have had six scoreless first quarters this season, including tonight against Utah State.
Granted, the BYU defense usually does a good job of keeping other teams out of the end zone, but it would've been nice – especially on senior night – to see BYU football come out swinging.
The Cougars still have one more shot to do so. On December 21 they'll take on a Mountain West foe in the Poinsettia Bowl. Maybe they'll come out like gangbusters then.
I had often wondered if it was coaching that led to all the slow starts over the past few seasons, but now I'm starting to doubt that. The Cougars just seem to take a quarter or so to get acclimated. Maybe it's the seniors/leaders, maybe it's just Provo vibes, maybe it's Ty Detmer's play calling. Regardless, BYU football has about a month to work on its explosiveness.
BYU needs better wide outs
So after the Cincinnati game, I sat here and wrote about the BYU wide outs. I thought that three-straight home games against bad teams would give them a chance to build some momentum.
Nope.
The receivers continued their season-long trend of bad play against the Aggies. Really things came to a head towards the end of the first half.
Hill threw a well-placed ball to an open Nick Kurtz. The pass hit Kurtz in the hands, but he couldn't control it. The ball popped in the air and Utah State returned it to the six-yard line. The Cougars had a real shot of blowing the game open by going up 21-3, but the swing allowed USU to get back in it. BYU football entered halftime up 14-10.
Things have been pretty ugly for BYU football's offense. Hill entered the locker room at the half completing 6-of-12 passes for 66 yards with two interceptions. He finished the night completing 10-of-21 passes for 101 yards with one touchdown and two picks.
Thank you, Taysom
There was a legitimate scare in LaVell Edwards Stadium tonight.
Hill landed awkwardly on his arm, and it looked to be pretty bad.
After the game, Kalani Sitake said Hill had a hyperextended elbow. The extent of the damage isn't known yet, but there is no fracture and Hill will know more in the coming days after an MRI.
All signs point to him being able to return for the bowl game. But, in the off chance he can't return, it would be remiss to not address him.
While I was one of Hill's biggest detractors, an injury wasn't how it was supposed to end for Hill. If there's a college football player who has been through enough injuries, it's Hill. He deserves an endless amount of credit for coming back to BYU, especially with other big-time offers on the table.
Sure, Hill wasn't the same player this year. He wasn't as fast, he wasn't as polished a passer as he once was, but he was certainly a warrior.
Hill was the clear leader in the locker room, and his voice carried more weight than anyone else except for Kalani Sitake's.
If (and it's a big if) Hill is finished, his career statistics are nothing to balk at.
Hill's completed 609-of-1,047 passes for 6,929 yards and 43 touchdowns. He's rushed for 2,815 yards and 32 touchdowns.
As it stands, he will finish No. 11 in career passing, No. 5 in total touchdowns and No. 5 in career rushing.
Plus, he was one of the most explosive players to ever come through Provo.
Hill was all a BYU football fan could ask for during most of his career, but unfortunately he'll likely be remembered as "what if?" story, defined by incredible highlights and injuries.
Want your voice heard? Join the Lawless Republic team!
But if this is truly the end for Hill, Cougar Nation says "thank you."
More from Lawless Republic
This article originally appeared on