BYU football: Three things we learned from Southern Utah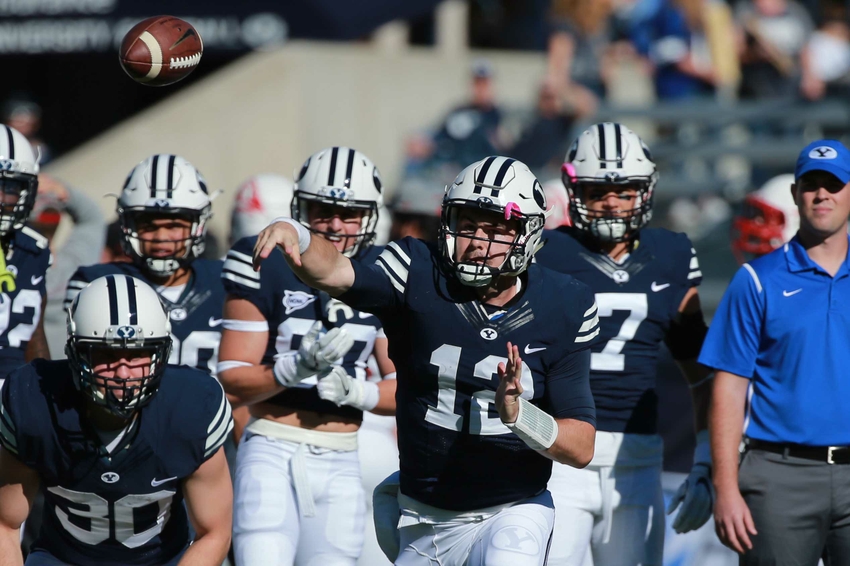 The BYU football team hosted the Southern Utah Thunderbirds on Saturday. Here are three things we learned from the 37-7 Cougar victory.
BYU footall began its November home stand on Nov. 12, hosting SUU and picking up a 37-7 win. After a season of big-time opponents and close games, this was the first that BYU felt in control of from start to finish.
Here are three things we learned from the convincing win.
Tanner Mangum looked good for BYU football
I've been campaigning to see more Tanner Mangum since the Utah game. His skill set is perfect for a pro style offense and I figured that – at the very least – he couldn't be worse than Taysom Hill.
You can't put a ton of stock into one game, especially one game against Southern Utah, but it's worth noting that Mangum looked pretty good.
In the first half he saw one series of play, completing a pass to Brayden El-Bakri (more on him later), overthrowing Colby Pearson and throwing out to an in-breaking Nick Kurtz. In the second half he took a 17-yard sack. That was not great.
But those two aforementioned incomplete passes would be his only two of the day, as he finished completing 11-of-13 passes for 121 yards.
He didn't throw a touchdown, and there were moments where he didn't look great, but I thought he played well. He showed zip on passes, accurate placement and proper touch. He also did an effective job of moving through his progression.
At the very least, it was a nice preview of what's to come next season.
Brayden El-Bakri should play more
The man who scored the first BYU football touchdown of the Kalani Sitake era had been a forgotten piece of the offense. Algie Brown got the carries and touches, in large part because he earned them based off his tough blocking.
But El-Bakri played exceptionally well on Saturday.
He was the team's leading receiver at the half, collecting four catches for 69 yards. He was running hard, exploding through contact and falling forward. Meanwhile, Brown had no receptions and took his five first-half carries for just 11 yards. He also fumbled in the Cougars' first second-half drive. Not a great day for Brown.
I think there's room in the backfield for both Brown and El-Bakri. It's clear he provides a better offensive threat than Brown.
KJ Hall is a player
Hadn't heard of KJ Hall entering today's game? No one could blame you.
Hall was a scout team player last season and is listed as a defensive back on the Cougars' team website.
But with a banged up stable of running backs, Hall found himself getting plenty of action. I thought he played pretty well, despite running against a lesser opponent.
Want your voice heard? Join the Lawless Republic team!
He carried the ball 12 times for 59 yards (4.9 yards per carry) and a touchdown. He also caught all three of his targets for 68 yards. He used his speed effectively and was a nice flash-in-pan/change of pace back for the Cougars.
More from Lawless Republic
This article originally appeared on