BYU football: Three things to know for Utah State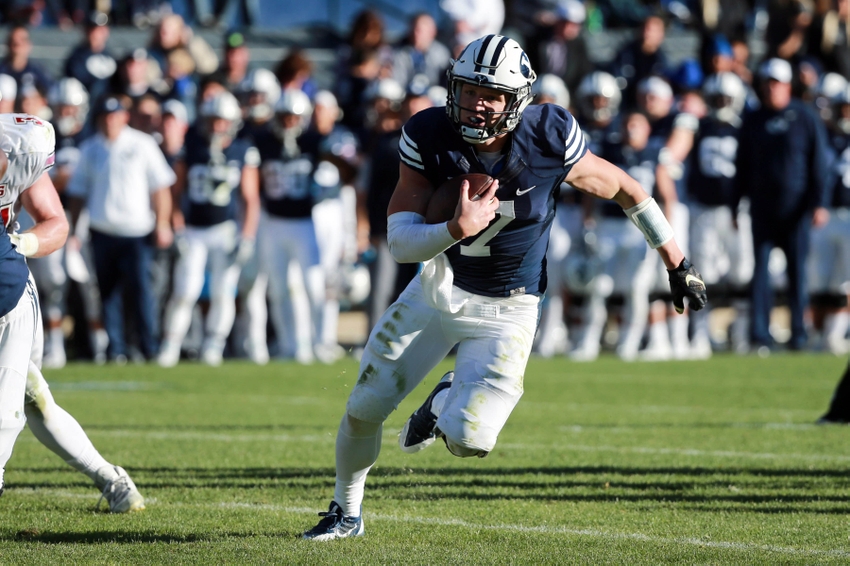 The BYU football team is coming off a 51-9 victory over UMass last week. Now the Cougars host the Utah State Aggies. Here are three things to know for the game.
The Cougars broke the 50-point plateau for the second time this season last week against the UMass Minutemen and now BYU hosts Utah State. It's the third-straight home game for the Cougars and it is their senior night.
A win would mark BYU's fourth-straight and would improve the Cougars to a 8-4 mark entering bowl season.
Here are three things to know for Cougars vs Aggies.
Utah State is better than its record
The Utah State Aggies aren't a great football team, but they aren't nearly as bad as their record indicates.
The Aggies sit at just 3-8 on the season, including a 1-7 mark in Mountain West Conference play. They've also lost four-straight games.
But that's not entirely indicative of the team.
The Aggies have lost four games by 18 points, and dominated Nevada last week before squandering a 13-point lead in a seven-minute span.
More from Lawless Republic
Utah State's trouble has come offensively – the Aggies stalled out in crucial moments last week – and I'm not saying that they'll stroll into LaVell Edwards Stadium and walk out with a victory, but this team isn't quite as bad one might think.
Junior quarterback Kent Myers is a dual threat talent and his versatility may be difficult to corral. Myers has thrown for 2,291 yards and 10 touchdowns and rushed for 407 yards and six touchdowns.
To put that in comparison, he's basically been identical to Taysom Hill. Hill has thrown for 2,222 yards and 11 touchdowns and rushed for 557 yards and eight touchdowns.
Utah State's defense isn't bad
Granted, BYU football's passing attack has a tendency to make bad defenses look okay, but the Aggies really have a quality unit.
Utah State is ranked 12th in the nation, allowing 187.5 passing yards per contest. That number jumps to 220 yards when they're on the road, but they're allowing just 180 per game over their last three games.
On the ground, things get a little worse. The Aggies allow more than 200 yards rushing per game on a 4.5 yards per carry clip.
Utah State is definitely a first-half team. The Aggies are giving up 17.8 points per game in the second half (the 16th-worst mark in the nation).
BYU football will have chances to score the ball, especially with Jamaal Williams likely returning for senior night.
Final home game for BYU football's seniors
Nov. 26 is senior night for BYU football, meaning it's the final time Taysom Hill, Jamaal Williams and others will suit up in LaVell Edwards Stadium.
Emotions will be running high, especially for the Cougar faithful. Hill is a beloved figure, Williams is one of the best running backs in BYU football history. Harvey Langi and Kai Nacua are defensive captains. Those four, plus 16 other Cougars, will be celebrating their final home game, so expect the crowd to be into it.
It's also a blackout game. The last time BYU donned black uniforms, A) they were awesome and B) the crowd was really electric. But, the Cougars are 0-1 in the blackout unis (they fell to No. 10 Oregon State 42-24).
Want your voice heard? Join the Lawless Republic team!
With a victory, BYU will move to 8-4 on the season and will have a shot at nine wins in the Poinsettia Bowl. Considering most thought that six wins would be a successful season with this schedule, nine is nothing to balk at.
BYU football and Utah State kickoff on Saturday, Nov. 26 at 8:30 p.m. MST.
This article originally appeared on