BYU football: Three things to know for the Wyoming Cowboys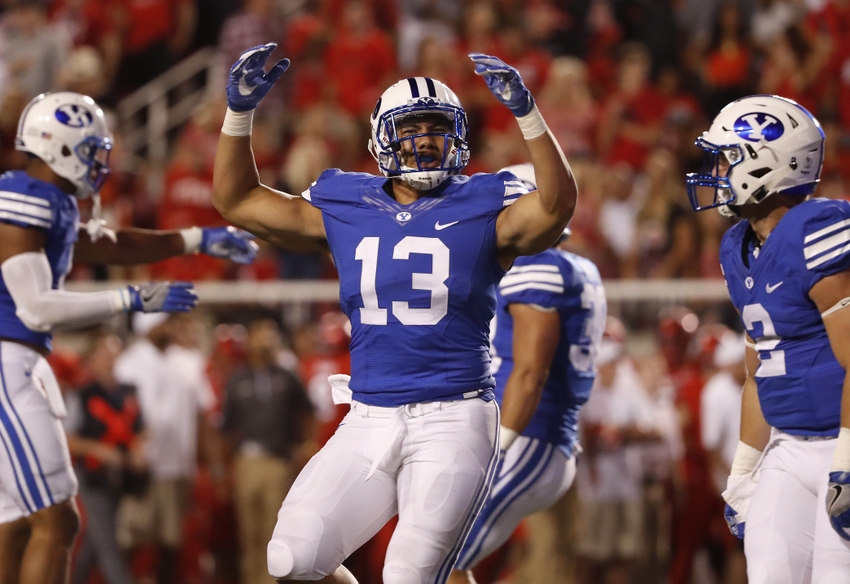 The BYU football team will take on the Wyoming Cowboys in the 2016 San Diego County Credit Union Poinsettia Bowl. Here are three things to know for the game.
Many BYU football fans aren't thrilled with the match up, but the Wyoming Cowboys have usually provided a tough game for the Cougars. BYU is 44-30-3 all time against Wyoming, winning the last meeting 25-20 in 2010 at LaVell Edwards Stadium.
The Cowboys finished 8-5 on the season and narrowly lost to San Diego State (27-24) in the Mountain West Conference championship game. Wyoming's two best victories came on Oct. 29 against Boise State and Nov. 19 against SDSU.
Of the Cowboys' five losses, three of them are bad. They lost at Nebraska 52-17, but that's understandable. The loss to the Aztecs in the MWC title game is also understandable.
But, Wyoming also lost to Eastern Michigan, UNLV and New Mexico. Those are not good.
BYU football's highs and lows have been well documented. The Cougars went 8-4, with the four losses coming by just eight points. It's led many to wonder 'what if,' but here we are.
So here are three things to know for BYU football's Poinsettia Bowl match up.
Wyoming can run, BYU football can stop the run
The Cowboys are led by running back Brian Hill. Hill ranks 6th in the nation in average rushing yards per game with 135.9. He's scored 21 touchdowns (4th in the nation) and has 1,767 rushing yards on the season (4th in the nation).
On the other hand, BYU football is adept at stopping the run.
The Cougars are ranked 8th in the country, allowing an average of 129.4 rushing yards per game. The only two running backs to really hurt BYU this season were Arizona's Nick Wilson and Boise State's Jeremy McNichols.
Wilson rushed for 138 yards, averaging eight yards per carry and scoring two touchdowns in the season opener.
McNichols rushed for 140 yards and two touchdowns against the Cougars and added 109 receiving yards and a touchdown.
When Hill doesn't get going, the Cowboys lose. Hill has been held under 100 yards in four of Wyoming's five losses. And Nebraska (the best run defense he's faced this season), held him to just 49 yards on 2.9 yards per carry.
So, in short, something's got to give. BYU football will either get run on, or the Cougars will shut down the Cowboys' potent attack.
Josh Allen can make plays for Wyoming
Probably thought I was referring to Tanner Mangum, right?
While that would be an accurate way to describe him, we're talking about Wyoming quarterback Josh Allen.
Allen is just a sophomore, and he'll be the fifth underclassmen signal caller the Cougars have faced this season.
The other four (Andrew Ford, Brett Rypien, Nick Fitzgerald and Josh Rosen) combined to complete 61 percent of their passes with seven touchdowns and seven interceptions.
Allen is in his first year starting for the Cowboys, and put together a strong campaign. He threw for 2,996 yards, with 26 touchdowns and 13 interceptions. It's worth noting that five of those interceptions came in Week Two against Nebraska.
He's also mobile having rushed for 50+ yards seven times this season and has scored seven touchdowns on the ground.
BYU football's defense is a ball-hawking one. The Cougars are 2nd in the country, having forced 29 turnovers (including 19 interceptions). I don't know if I'd describe Allen as turnover prone, but he's shown that he can be rattled and come undone fairly quickly.
Let's Go Streaking
Wyoming and BYU come into the Poinsettia Bowl under different circumstances.
The Cowboys have lost three of their last four games, while BYU football has won seven of its final eight games.
I'm not sure if momentum can carry over nearly a month, but if it can, the edge goes to the Cougars.
It's also worth noting that one of those Wyoming losses was a 56-35 shellacking at the hands of New Mexico, so it's safe to say that game was a letdown.
Want your voice heard? Join the Lawless Republic team!
Meanwhile, the Cougars haven't lost since Oct. 20, when they fell just short to Boise State on the road.
The Cougars and Cowboys kick off on Dec. 21 at 7 p.m. The Poinsettia Bowl can be viewed on ESPN.
More from Lawless Republic
This article originally appeared on