BYU football: Three things to know for the UMass Minutemen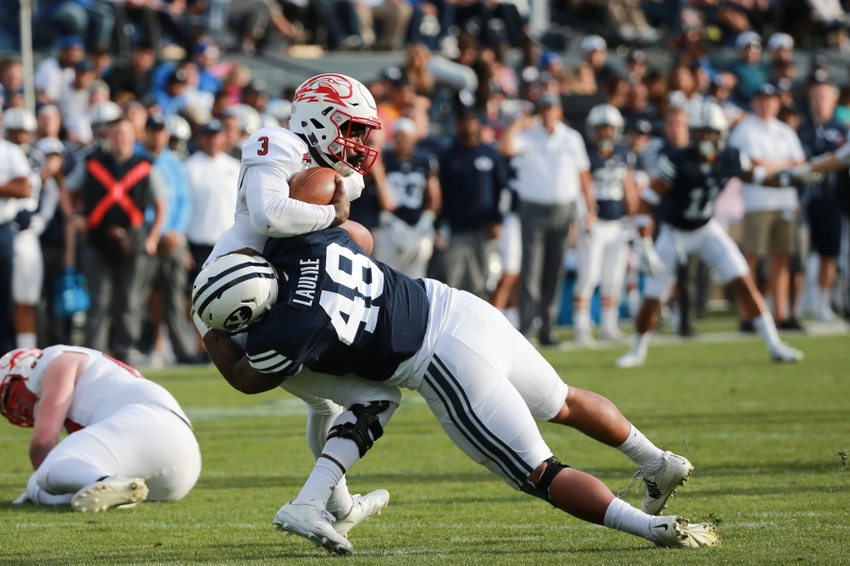 The BYU football team sits at 6-4 and is now hosting the UMass Minutemen. Here are three things to know for the all-Independent matchup on Saturday.
BYU football handled the Southern Utah Thunderbirds last week, winning 37-7. Now the Cougars are preparing to host lowly UMass.
The game marks the first meeting between the two schools on the gridiron and the Minutemen are just the second Independent opponent the Cougars have faced since going Indy (they also played Notre Dame).
Here are three things to know for Cougars vs Minutemen.
BYU football loves November
The Cougars must love the fall. Maybe it's Thanksgiving, or perhaps Black Friday.
I don't what it is exactly, but I do know this:
BYU football wins a lot in November.
Over the past 10 seasons, the Cougars are 33-6 in November football games. At home they're a whopping 17-0. The last time BYU football lost at LaVell Edwards Stadium was in 2005, when the Utah Utes escaped with a 41-34 victory.
On the flipside, the Minutemen are just 3-8 in November games since 2013, including a 2-4 mark on the road in that time.
Granted, that's not saying too much. UMass has struggled mightily since joining the FBS in 2012. Still, BYU's spotless home record in November is worth noting.
UMass has a tough schedule
The Minutemen are no slouch when it comes to scheduling opponents. This season UMass has played Florida, Mississippi State, South Carolina, Louisiana Tech and Troy, among others.
While some of those programs aren't what they were a season or two ago, there's no denying that is an aggressive schedule, and that's something that BYU football fans can certainly appreciate.
The two Minutemen victories have come over Florida International and Wagner, so it's not like UMass is a school the Cougars should be worried about. However, UMass has had moments this season.
They lost by just 17 points to Florida in The Swamp in Week One and lost to Mississippi State by just eight points in Week Four.
I'm not saying that the Minutemen will storm into LaVell Edwards Stadium and knock off the Cougars, but I don't think their 2-8 record is indicative of their ability. Plus, they've had an extra week to prepare for the Cougars.
BYU's offense should put up a ton of points
BYU football's offense got going against SUU (as it should have) and I think that will continue this week against the Minutemen.
UMass is allowing 204 rushing yards per game this season and 4.9 yards per carry. That bodes well for an offense that wants to establish the run.
The status of BYU's all-time leading rusher Jamaal Williams still isn't known, but the Cougars probably won't need him. His backup, Squally Canada, is dealing with a wrist injury. Algie Brown is dealing with an injury and was out-played by Brayden El-Bakri. For all we know, KJ Hall will be the lead back again. Still, the Cougars will be able to open up some holes.
The Minutemen are no better defending the pass. They currently are allowing 257 yards per game on a 65 percent completion rate.
Want your voice heard? Join the Lawless Republic team!
BYU is coming off its most productive passing game of the season last week, and I think the Cougars can keep it going against UMass.
BYU and UMass kickoff at 12 p.m. MST on Saturday, Nov. 19.
More from Lawless Republic
This article originally appeared on