BYU football: Gut reactions from Cougars' loss to UCLA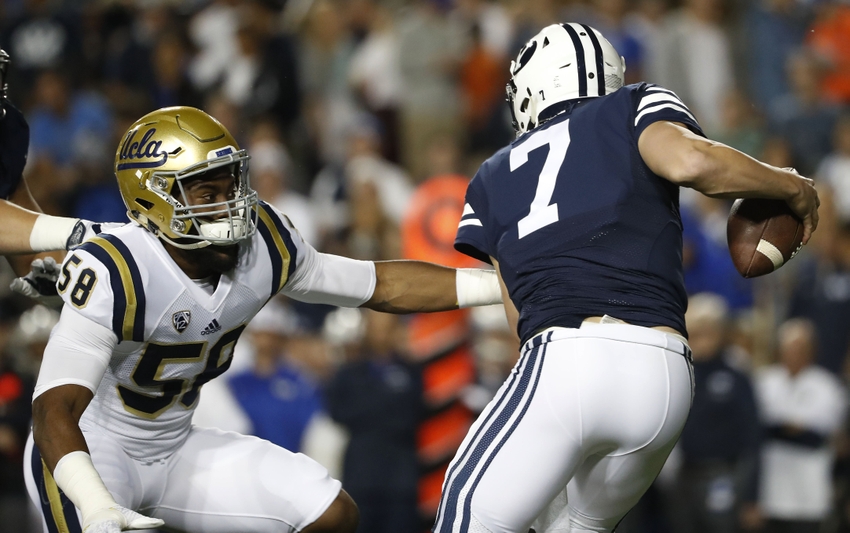 The BYU football team fell to the UCLA Bruins in its home opener on Saturday night in Provo. It was the Cougars' second-straight loss and the team now sits at 1-2 with a game against West Virginia at FedEx Field looming. Here are three gut reactions from the 17-14 defeat.
Hill's struggles under center continued on Saturday night against the Bruins. The Cougar QB overthrew a wide open Aleva Hifo early in the first, and hung Mitch Juergens and Tanner Balderee out to dry on two passes, resulting in them both getting crushed.
He still struggled to step up and set his feet in the pocket – even when he wasn't rushed he acted like he was being pressured – and didn't have great command.
At what point does this stop being "rust" and start being a trend? Maybe he isn't the player Cougar Nation thought he was?
I understand that the BYU fans, and more importantly the coaching staff, respects him. His story is an incredible one. It's obvious he loves Provo and BYU, but at some point this has to come to an end.
The BYU offense can only be stagnant for so long. The defense is playing well enough that three touchdowns should win a game. And Hill can't get it done.
I'd bet my life that Hill's leash this season is unending. He isn't losing the starting QB job unless he gets hurt. But I can't help but think that Tanner Mangum might provide the offense with a spark.
Part of the reason the offense is struggling is the execution of the plays, not the play calls themselves. Hill struggles to throw receivers open. Mangum excelled at that last season. Hill struggles to put touch on his passes (he throws everything hard). Mangum demonstrated a natural ability to do that. Hill gets happy feet in the pocket. Mangum was a gunslinger who would step up and deliver the ball.
I know that Hill's athleticism is what gave him the edge. But he also hasn't show that. He broke the two runs against Utah, but Hill can't get the edge on defenders anymore or outrun the defensive ends or linebackers that he used to. He finished with -7 yards rushing on Saturday.
Or maybe he's playing nervous. He seems hesitant in everything he does. Maybe he has that top-end speed and is afraid to kick it in high gear.
I'm not sure I have the answer as to what's actually happening, but if Hill can't throw as well Mangum can, and can't utilize his athleticism effectively, then why is he playing?
It just seems like it makes too much sense to try Mangum.
People can blame the offensive line or the receivers, but at some point you need to kick the offense in the pants.
The offensive line is worse
I was really high on the offensive line coming into the season. They had the size and (seemingly) the strength to open up holes for Jamaal Williams.
I was wrong.
Since the Arizona game, the Cougars' hogs up front have been unable to generate any consistent push. BYU had -9 rushing yards at the half against UCLA. Negative. Nine. Let that sink in.
But perhaps even more concerning is their pass protection. The Bruins entered the game with one sack, then promptly collected four in the first half.
Granted, the Cougars were without Ului Lapuaho, but it's not like they were playing lights out with him anyway.
There's no easy fix for BYU with this. They'll have trouble against West Virginia next week, settle down for Toledo, then get owned by Michigan State, Mississippi State and Boise State. I don't think there's anyone on the bench that deserves any more time. Unfortunately, it seems like the five best guys for the job(s) just aren't good enough.
The defense is legit
I know that Utah isn't exactly an offensive powerhouse, and neither was Arizona. But now through three games, there's no more wondering. The Cougar defense can hang with any team in the nation.
Even with another tough stretch coming up for BYU, I don't think it's a stretch to say the Cougars will be in all of those games simply because of their defense.
At this point, I don't think a team will score 28 on them all season.
It's the exact opposite of BYU last season. A year ago the offense could score on anyone and the defense couldn't keep up.
The Cougar defense continues to make big plays. They never played hesitant and had a ton of swagger.
It's the kind of defense teams win big games with. Assuming they can score.
Now the Cougars prepare for West Virginia next week.
More from Lawless Republic
This article originally appeared on