BYU football: Can Moroni Laulu-Pututau breakout against West Virginia?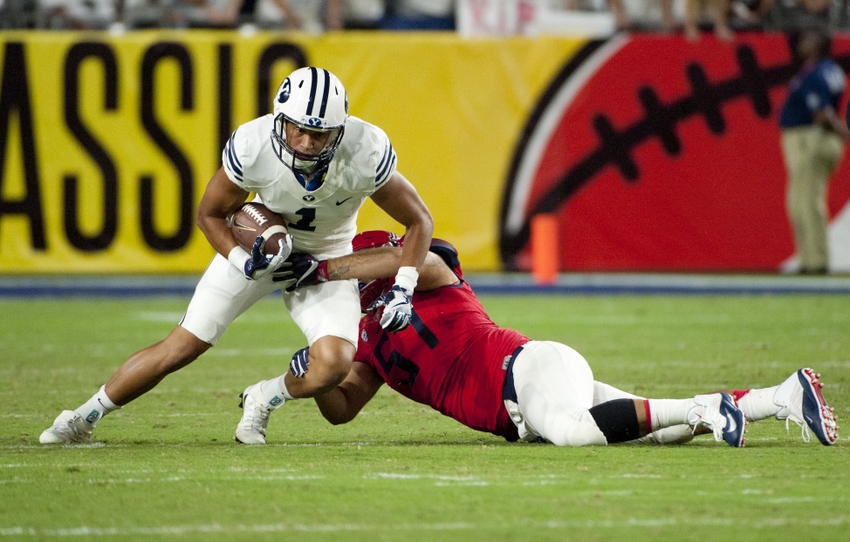 Moroni Laulu-Pututau has the physical gifts to star at wide receiver for BYU football, but can he break out against West Virginia?
Moroni Laulu-Pututau, or MLP, is one of many talents in the crowded pool of BYU football receivers.
MLP is one of five different Cougars to haul in nine or more passes this season.
He currently leads the team in receptions with 13 (one more than Nick Kurtz) and yards with 131 (four more than Kurtz), but hasn't been able to separate himself as a No. 1 receiver.
He might be able to do that against West Virginia on Saturday.
Taysom Hill mentioned after practice on Wednesday that MLP has been lining up in the tight end spot (think Terenn Houk from a season ago). Offensive coordinator Ty Detmer aims to get MLP some mismatches against WVU linebackers.
It certainly worked well last season against Fresno State. MLP caught three passes for 95 yards and this touchdown. Watch him outrun the linebacker to catch a perfectly place ball from Tanner Mangum.
The only trouble with a play like that is that it takes some time to develop. With the offensive line struggling, Taysom Hill might not have the time to let a play like that develop.
The answer will likely be quicker passes. More three-step drops. Hook routes, curls, slants and screens.
MLP made some nice plays on drag-type routes against Arizona in Week One, especially on BYU's final drive. I expect him to find similar success against WVU.
More from Lawless Republic
The Mountaineers' 3-3-5 stack is a similar defense to that of Arizona's, and the Cougars moved the ball on the Wildcats.
While the Mountaineers' scheme allows them to put their best athletes on the field, it isn't necessarily translating to results.
WVU is allowing just 16 points per game, but the Mountaineers are giving up plenty of yards. They allowed Missouri to gain 462 total yards in Week One. In Week Two they gave up 405 yards to Youngstown State.
So the Cougars will have chances to move the ball.
Rasul Douglas – a corner back – currently leads WVU in tackles with 14. Linebacker Justin Arndt has the only WVU sack thus far and linebacker Al-Rasheed Benton owns the only interception. Overall, the WVU defense is an athletic one. But there are still mismatches to be created.
Enter MLP.
Want your voice heard? Join the Lawless Republic team!
His size (6-foot-4, 220 lbs.) gives him an advantage over most defensive backs. His speed is good enough to torch linebackers. He's also got some momentum working for him. Last week against UCLA he caught a season-high six passes for 51 yards.
MLP and the Cougars kickoff against West Virginia on Saturday at 1:30 p.m. MDT on ESPN2.
This article originally appeared on