BYU football: 3 things to know for the Cincinnati Bearcats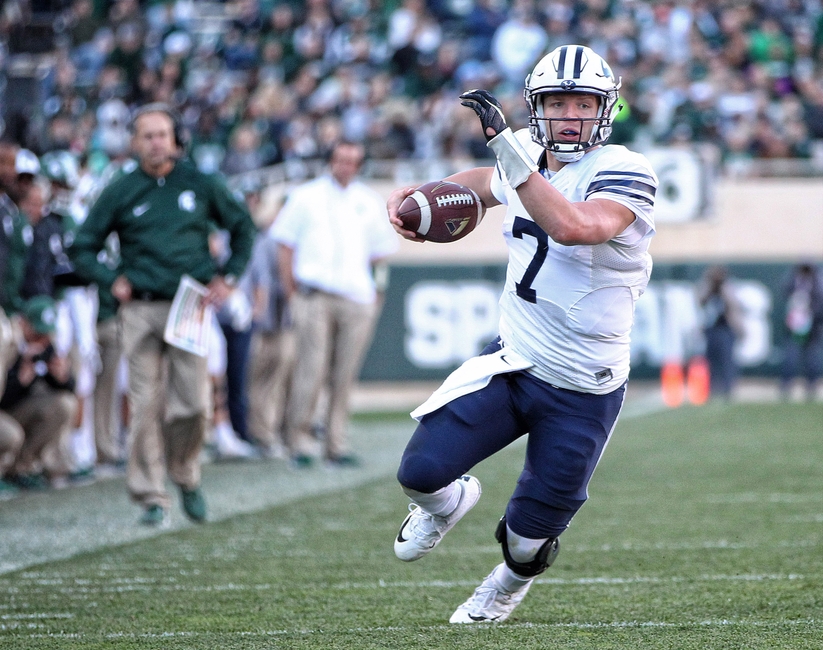 The BYU football team is coming off its bye week and staring at a showdown with the Cincinnati Bearcats. Here are three things to know for this Saturday's clash.
The BYU football team is 4-4 on the season and coming off a disappointing one-point loss to Boise State two weeks ago. The Bearcats also sit at 4-4 on the season. The Cougars will likely be favored by Vegas odds makers, but at the time of writing, no lines have been released. Last season, the Cougars defeated the Bearcats in Provo 38-24.
Here are three things you need to know for BYU football vs Cincinnati, 2016 edition.
1. Let's Go Streaking
Both BYU football and Cincinnati own identical 4-4 records, but the Cougars and Bearcats have taken different roads to get there.
BYU has won three of its last four contests, while Cincy has lost three of its last four.
Cincinnati lost to USF and UConn in back-to-back weeks before picking up a win against East Carolina. Last week, the Bearcats fell to Temple 34-13.
The Cougars fell to Boise State before the bye week, but defeated Toledo, Michigan State and Mississippi State before that.
BYU is ranked No. 36 in USA Today's full 128 team ranking. Cincinnati is ranked No. 86, falling 10 spots from last week.
Some claim momentum is a myth from week to week, but if even a piece of it is real, then the Cougars should have the advantage on Saturday.
2. BYU Offense Should Get Going
The BYU offense has left a lot to be desired this season. Bad wide receiver play and shaky quarterbacking has resulted in a lot of turnovers – and even more points left off the board.
But, the Cougars should be able to get back on track against Cincinnati.
The Bearcats are allowing 169 rushing yards per game. The Cougars have a well-rested Jamaal Williams. That certainly seems like a recipe for success.
More from Lawless Republic
Cincy is also allowing 272 passing yards per game, ranking No. 103 in the country and has collected just 16 sacks through eight games.
So Taysom Hill should have time to throw and receivers should be able to find some holes in the Bearcat defense.
At the very least, I would imagine that the Cougars can run on Cincy. I expect Williams to get 30 carries and Squally Canada to get 9-15 touches.
Ty Detmer knows that the run game makes the Cougars go, and BYU is undefeated when Williams gets 26 carries or more. With a steady diet of hand-offs, it should open up some play action passing – but receivers will have to get open.
3. Cincy Will Air It Out
The Bearcats run a spread offense, rotating receivers and constantly trying to stretch the field. They haven't been as successful with it as they were a year ago, but they still sling it.
Cincy averages 264 passing yards per game – but 291 yards at home. On the flipside, BYU allows an average of 292 passing yards per game.
So that's not good.
Cincinnati has used three quarterbacks this season – Hayden Moore, Ross Trail and Gunner Kiel. Kiel threw for 19 touchdowns and 2,777 yards last season after transferring from Notre Dame. He's started each of the past two games, completing 38-of-67 passes for 467 yards and six touchdowns with no interceptions.
The BYU defense does a pretty good job of bending and not breaking, but they'll be playing with fire against the Bearcats. The Cougars will have to get the Kiel (who isn't very mobile) to limit the effectiveness of the passing game.
Want your voice heard? Join the Lawless Republic team!
BYU and Cincinnati kickoff Saturday at 1:30 p.m. MDT on CBS Sports Network.
This article originally appeared on