Bret on Mr. Coach Ed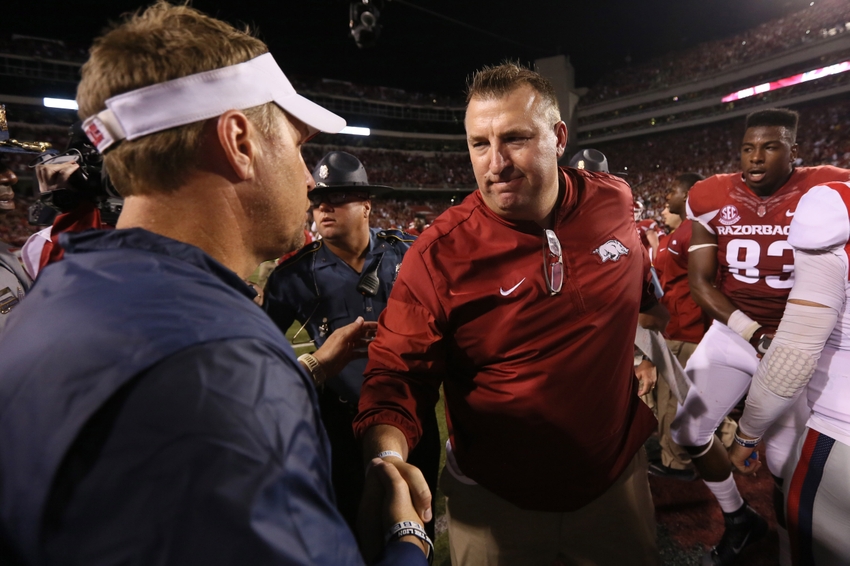 Interim coaches – are they good or bad for the profession? What about for their teams? Bret Bielema seems to think so.
When asked in a recent press conference about LSU Head Coach Ed Orgeron, Bret Bielema had nothing but good words. In fact, most people would deduce that the two are good friends. While I am not certain that is the case, Bielema's kind verbiage to his counterpart does show a good relationship and respect.
Bielema's words were as follows: "I think he's good for us, good for the conference. When I say 'us,' I just mean the profession. He's got a lot of personality."
"People love him and you can see players play for him." – Bret Bielema
It's funny how many people (especially from the cheese state) you hear bash Bielema. Yet when you hear those from the college coaching ranks refer to him you also hear respect from them.
Back to Orgeron, here is what a lot of us noted after the departure of Les Miles from LSU: Orgeron's players do play up for their "new" coach. They have new motivation. They have enthusiasm. Also, they have a much-improved outlook as they have worked their way back into the Top 25. "People love him and you can see players play for him," Bielema stated.
What about Orgeron's loss in Death Valley Saturday?
Yes, the Tigers' loss at home to Alabama was tough, however, they kept Alabama in check almost the entire game. Furthermore, losing to Alabama by only ten points would be considered a victory by countless teams across the nation… perhaps even the stumbling Cleveland Browns. Yes, that was my attempt at humor. No, not really.
Is college coaching a fraternity? Perhaps. Or maybe I should answer with a resounding "absolutely". Is that why Bielema may only sing Beach Boys type vibes for his adversaries? I doubt it. Bret Bielema seems like a truly sincere guy. Just ask the people he stopped to tailgate with one Saturday.
Honestly, I am happy with our current head coach. Meanwhile, I just hope that we never have to worry about an interim coach at Arkansas. Oh, and another quote from Bielema: "Woo Pig!"
More from Razorbackers
This article originally appeared on