Arkansas' Bret Bielema has 'completely bling' Nikes for SEC Media Days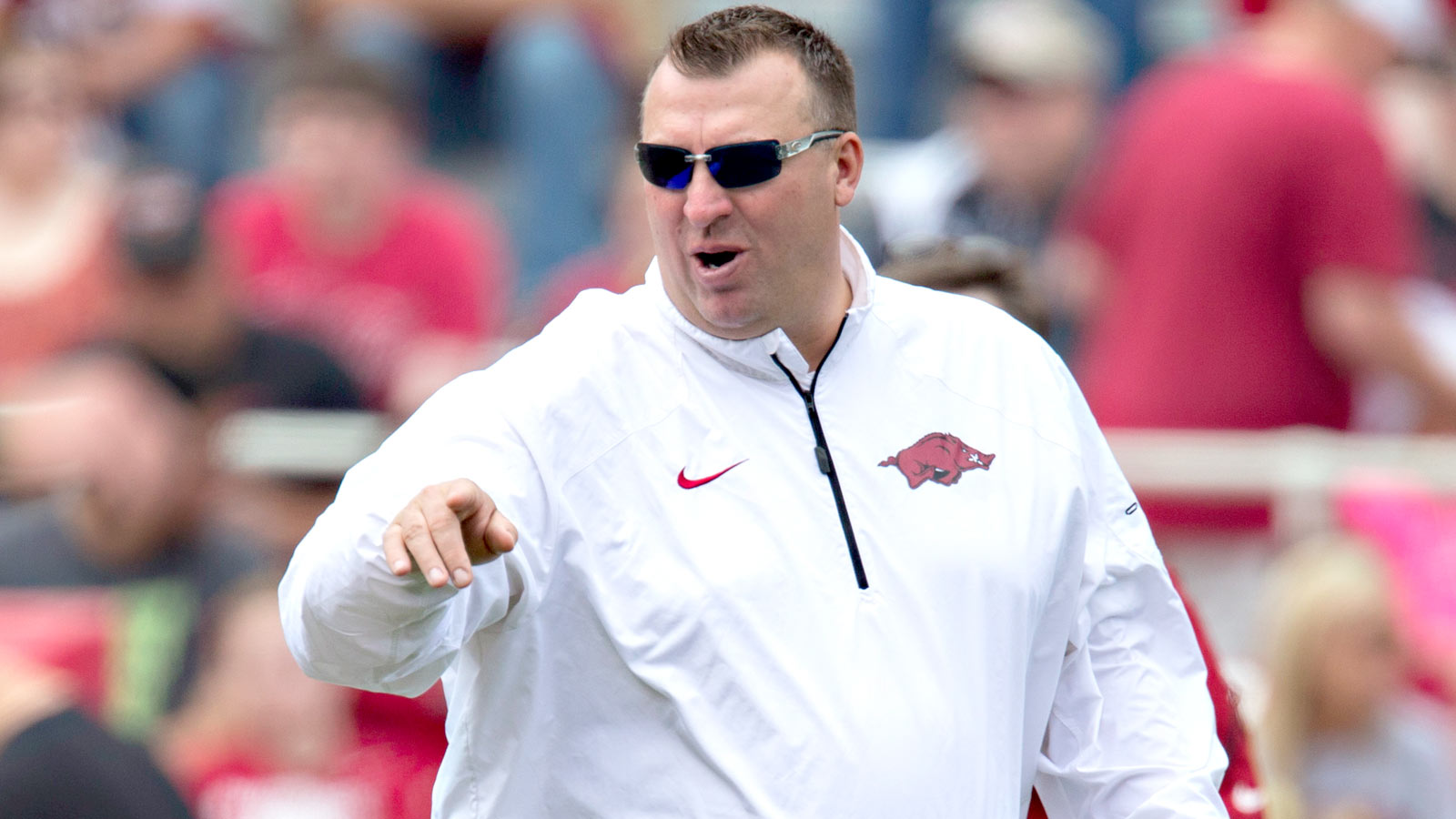 Mississippi State head coach Dan Mullen created quite the stir on social media by wearing his Kanye West-Adidas Yeezy shoes Tuesday during SEC Media Days.
Well, Arkansas' Bret Bielema took notice and brought some swag of his own to Wednesday's session in Hoover, Alabama, wearing these Air Force 1s:
Thanks MJ and #Nike for these great pair of Air Force 1 special Bling/Bling addition for #SEC media days #WoooPig pic.twitter.com/l9UvV04gpQ

— Bret Bielema (@BretBielema) July 15, 2015
First, Dan Mullen. Now, Bret Bielema. You next, @MarkRicht? pic.twitter.com/IfYLRXiJTG

— Morgan Weeks (@morganweeks) July 15, 2015
Bret Bielema chills with his sparkly Nike Air Force One shoes. pic.twitter.com/6YvVY3VKFB

— Jon Solomon (@JonSolomonCBS) July 15, 2015
Has the SEC become so competitive that one coach now attempts to one-up another with his shoe game? It seems so.
"Yesterday I was watching … and I saw Dan wear the Adidas product and the Kanye reference, so I said, 'Well, I'm a Nike school now. Love Phil Knight. Love everything about Nike,' and I said, 'Let's make this a little Adidas-Nike game,'" Bielema said during an interview on SEC Network.
Bielema admits he didn't know how much swag he was about to bring when he ordered the shoes late at night at his office. He expected something "white with a rustic trim." Instead:
"They are completely bling," he said.
The Hogs coach also admitted the shoes are more than a fashion statement.
"It's big in recruiting," Bielema said. "Our kids went nuts when I showed up today for the plane ride."
Gotta love SEC Media Days.