Arkansas coach Bret Bielema claimed he was a history professor when he first met his wife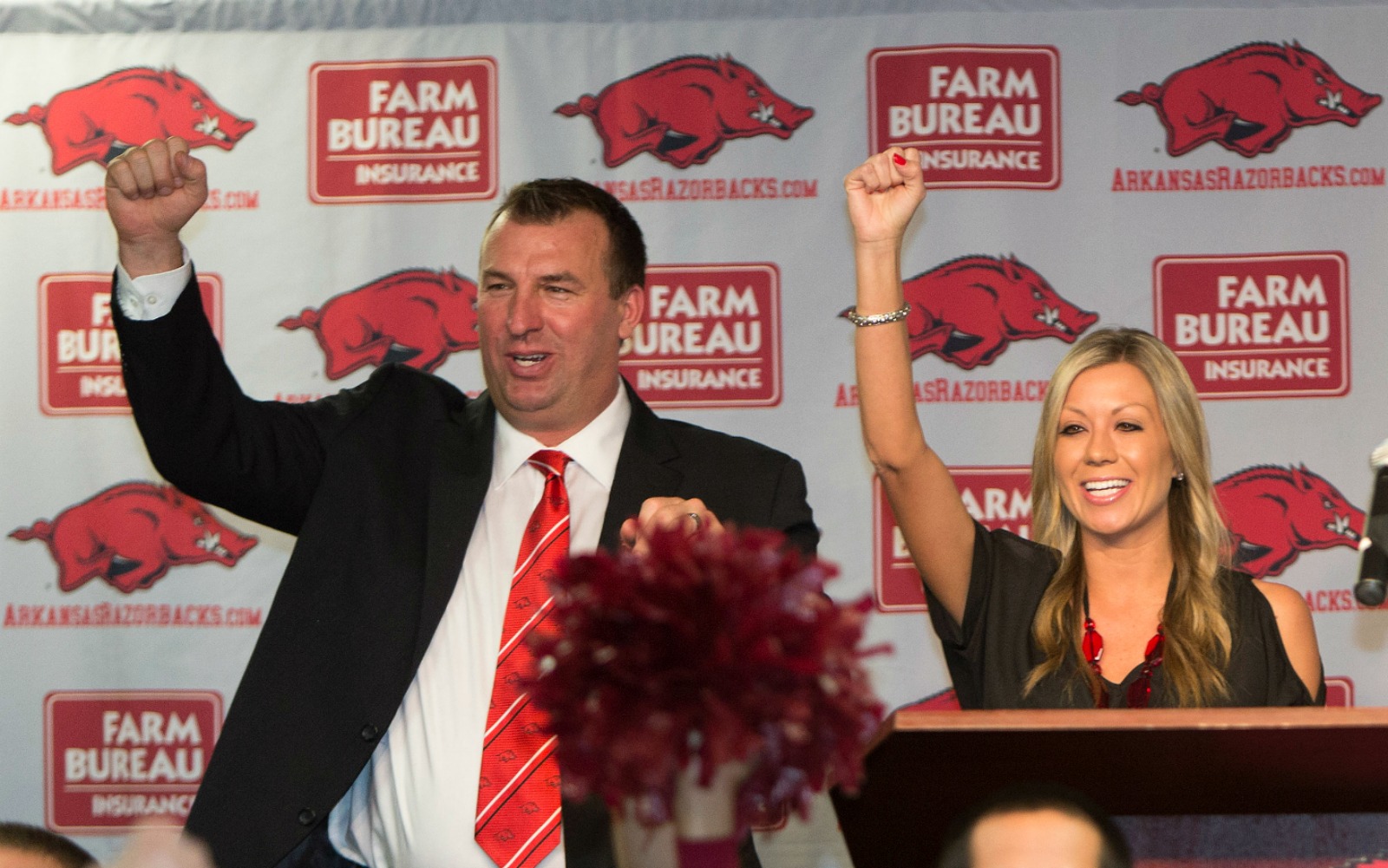 Among all the absurd things that Bret Bielema has said and done through the years, maybe the most bizarre of all is how he met his wife. As legend has it the pair actually met at a casino in Vegas while he was the head coach at Wisconsin.
The two were married shortly thereafter, but on Tuesday we got new, wildly entertaining details of the courtship between Bret and Jen.
Bielema hopped on FOX Sports Radio with Clay Travis on Tuesday morning and began the interview by confirming that, yes, the pair met at the Wynn in Vegas. Bielema saw his now-wife while he was sitting at a blackjack table, and went over to introduce himself at a bar.
So what was the pick-up line that ultimately led to wedded bliss? Travis asked Bielema on Tuesday morning, and he gave an incredible answer.
An MBA history professor? But wait, it gets better.
Thanks to all #HOGS for helping us get a W!
Helped make this ride to Fayetteville with @jenbielema fun!#WoooPig pic.twitter.com/nVjDZRBkX6

— Bret Bielema (@BretBielema) September 11, 2016
Wait, what? A history professor whose focus is on "European religions?" That's insane. And incredible. It sounds like something straight out of an episode of "Seinfeld" or something. Honestly, doesn't that sound like something George Costanza would do?
As it turns out, it was a line Bielema used quite often back in his day.
Of all the insane stories I've heard about Bielema — and there are plenty — this is by far the best.
Here's the other question: Arkansas is currently 2-0. How many wins do the Razorbacks have to get before we can start calling Bielema "The Professor?"
That might be the most intriguing question of this college football season.