Potential 2017 breakout players to watch this bowl season
Bowl season begins Saturday, and I know you'll be glued to the tube for the UCF-Arkansas State Cure Bowl. Or if not that, certainly the Central Michigan-Tulsa Miami Beach Bowl a couple of days later.
I very much enjoy bowl season, but I also acknowledge that most games below the New Year's Six level are seen less as a culmination of teams' current seasons and more as a springboard for next year.
During this bowl season, who should we be watching with an eye on the future, aka potential 2017 breakout players?
— Manfred Heck, Canton, MI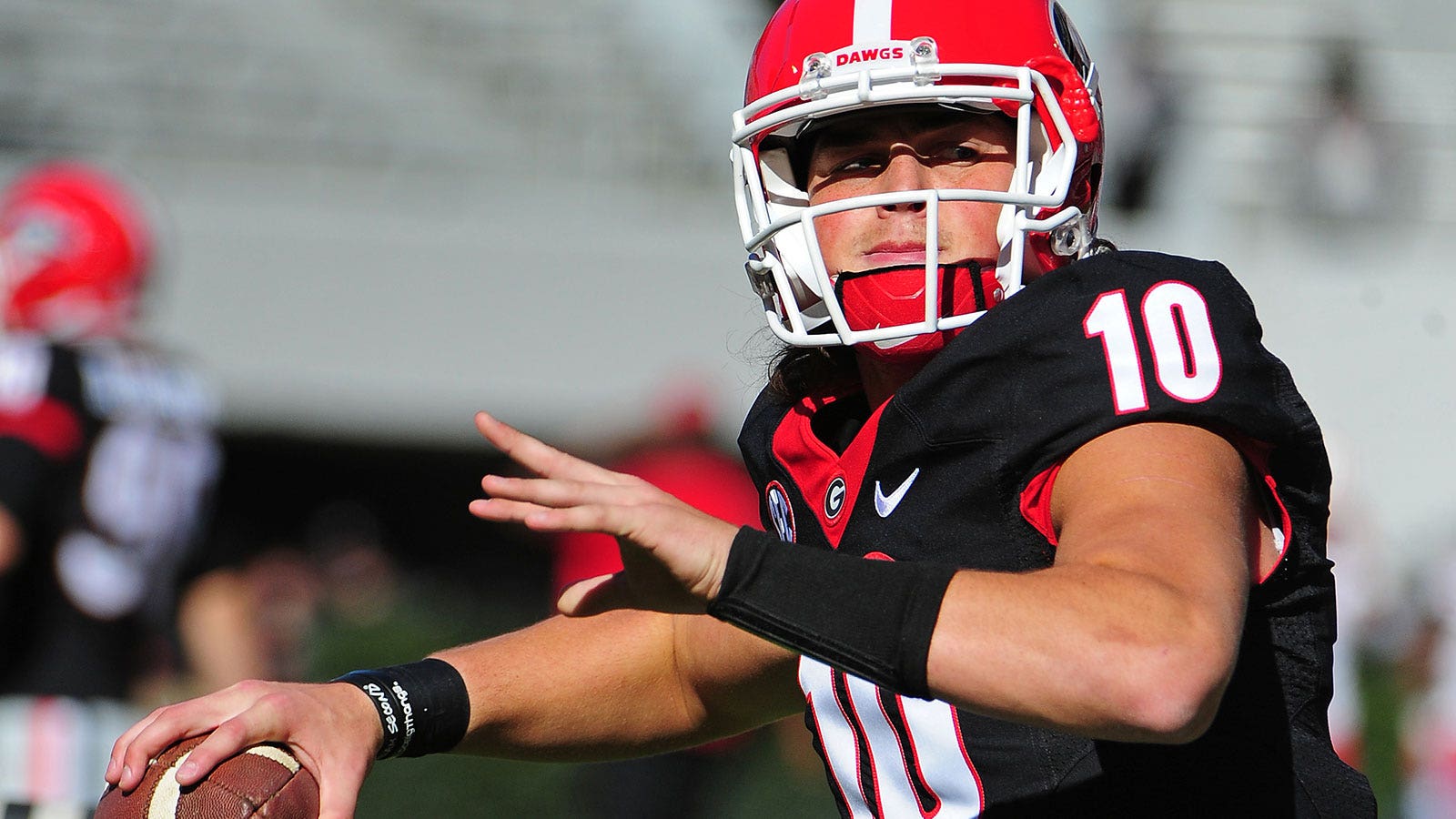 (Scott Cunningham/Getty Images)
This a very timely question in light of Lamar Jackson's Heisman coronation last weekend. His campaign truly began in last year's Music City Bowl, when the then-freshman exploded (227 yards passing, 226 rushing) in Louisville's win over Texas A&M. Jackson himself told me in August that it wasn't until those extra weeks of practice that he truly began grasping Bobby Petrino's playbook.
I'm not predicting any 2017 Heismans for anyone here, but I can certainly identify a few guys who might enjoy a similar breakthrough.
Georgia QB Jacob Eason (Liberty Bowl vs. TCU). The Dawgs struggled through a 7-5 season, but their much-hyped freshman starter performed admirably (55 percent completions, 2,266 yards, 14 TDs, eight INTs). I would not be surprised if coach Kirby Smart lets him cut it loose a bit more in the bowl than he would in an SEC game, especially given TCU has allowed more 30-plus yard passing plays (24) than all but 17 teams nationally.
Stanford RB Bryce Love (Sun Bowl vs. North Carolina). After two years as Christian McCaffrey's speedy but mostly overlooked sidekick, Love will be The Guy for Stanford next year. I can't imagine Cardinal coach David Shaw will grind down NFL-bound McCaffrey with 30 carries in the bowl game. Love, who averaged 7.4 yards on 90 carries, may get more touches than usual against the Tar Heels' 113th-ranked rushing defense.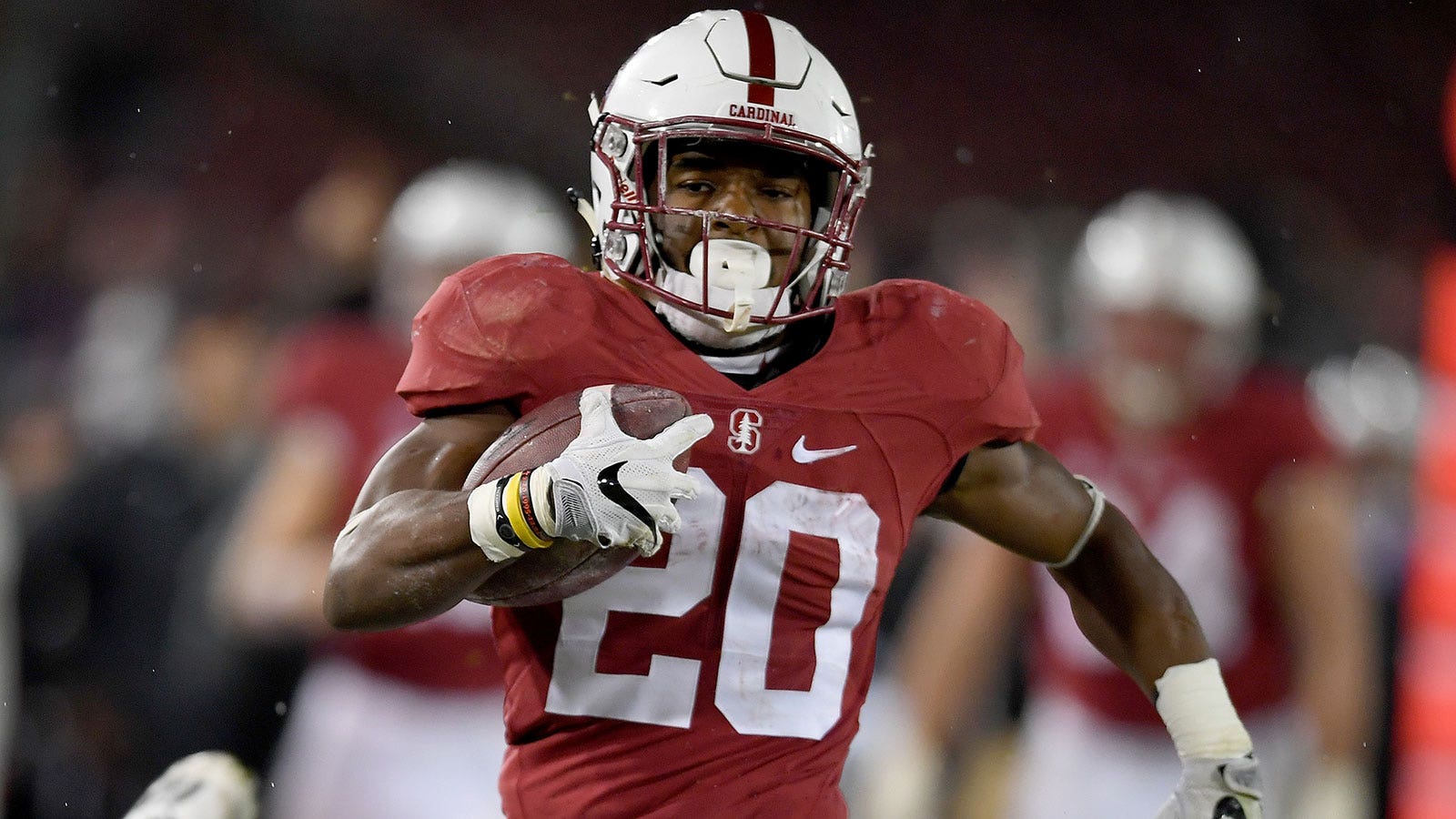 (Thearon W. Henderson/Getty Images)
Kentucky RBs Boom Williams and Benny Snell (TaxSlayer Bowl vs. Georgia Tech). Fans outside of the SEC might be surprised to learn that the 7-5 Wildcats boast a pair of 1,000-yard rushers. They'll get a ton of exposure in this Dec. 31 lead-in game to the semifinals. Williams, a junior, might turn pro, but Snell is a true freshman who scored 13 touchdowns.
Kansas State WR/KR Byron Pringle (Texas Bowl vs. Texas A&M). The JUCO transfer was billed as the latest in Bill Snyder's long line of all-purpose dynamos and wound up leading the Big 12 in kick returns. But the sophomore did not have much impact as a receiver until the regular-season finale against TCU (six catches for 126 yards and a TD). Presumably his role will only increase.
Middle Tennessee WR Richie James (Hawaii Bowl vs. Hawaii). The early bowls are generally the only time when mainstream fans get to see the small-school players who have been tearing it up in their conferences. I could have picked any number of guys here but went with James because he's not only the nation's No. 6 receiver, but when Blue Raiders QB John Urzua went down in the last game against FAU, James lined up in the Wildcat and promptly ran for 207 yards.
Please do that again in the bowl game, guys.
Is this a good move for Lane Kiffin going to FAU? Couldn't he just disappear at that school? What would be wrong with staying as an OC at Alabama or LSU and waiting for a better program to come calling?
— RJ, Wenatchee, WA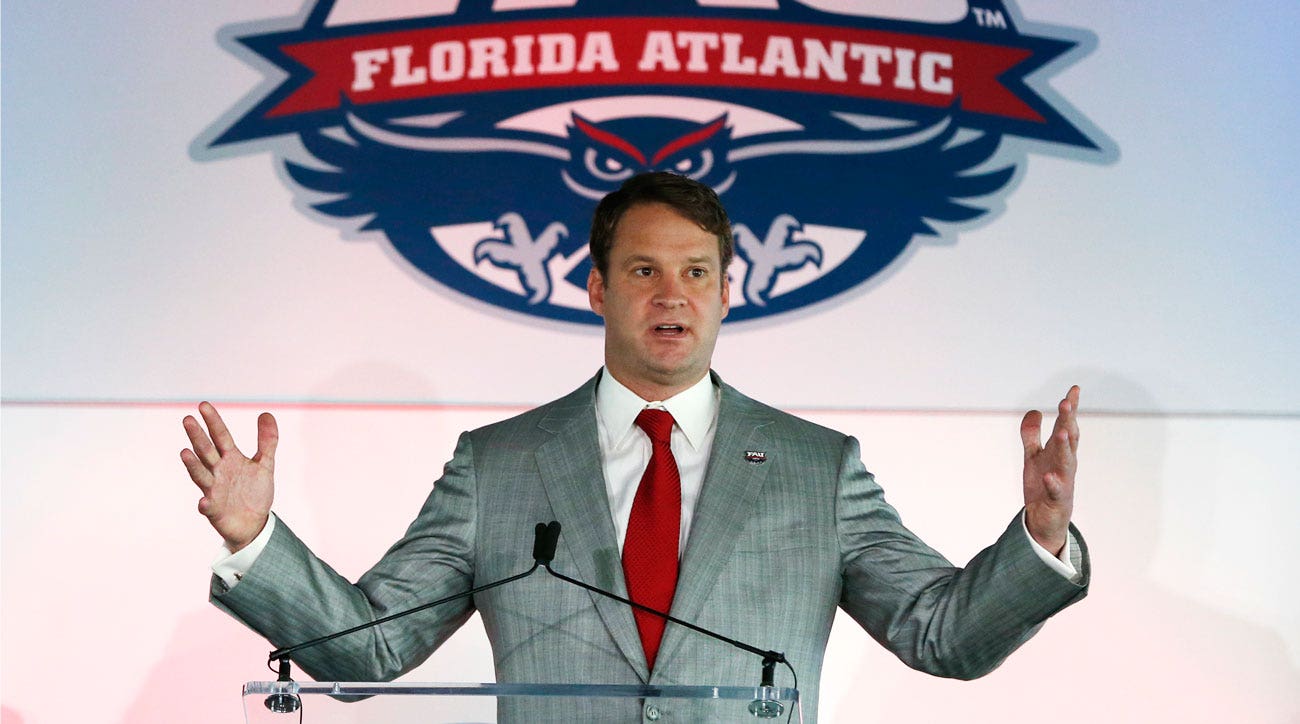 (AP Photo/Wilfredo Lee)
The problem is, they weren't calling. Or, in the case of Houston, they were interviewing him but picking someone else. If even high-level Group of 5 schools still consider him too risky a hire, I don't know why another year behind the scenes calling plays in the SEC would suddenly cause a Power 5 school to express interest.
The only way he could truly prove he's developed the skills to be a better head coach than he was before was to become a head coach again. Even if it meant taking a near six-figure pay cut and slumming it in Conference USA for a couple of years. Does he risk disappearing? Perhaps if he spends two or three seasons hovering around 6-6. But he's going to have to do better than that to move up.
He's such a big name and there's so much curiosity surrounding him that the more likely scenario is more FAU football coverage than you ever could have imagined. He'll inevitably do things — some clever, some stupid — that go viral on social media. If he goes 10-2, everyone will know. Conversely, if he goes 2-10, everyone will also know.
Remember, in 2013, Bobby Petrino spent a year in the same conference after his motorcycle scandal at Arkansas. After one uneventful 8-4 season at Western Kentucky he was back in the big leagues at Louisville. We'll see if Kiffin can take a similar path back.
FAU just hired Alabama offensive coordinator Lake Kiffin and Cincinnati hired Ohio State co-DC Luke Fickell. Do administrators at those schools want the Tide and Buckeyes to lose in their first playoff game so Kiffin and Fickell can get to work sooner, or do they want the prestige of the new guy coming off a national championship? As a hiring manager, I think I would be torn. 
— Jordan M., Orem, UT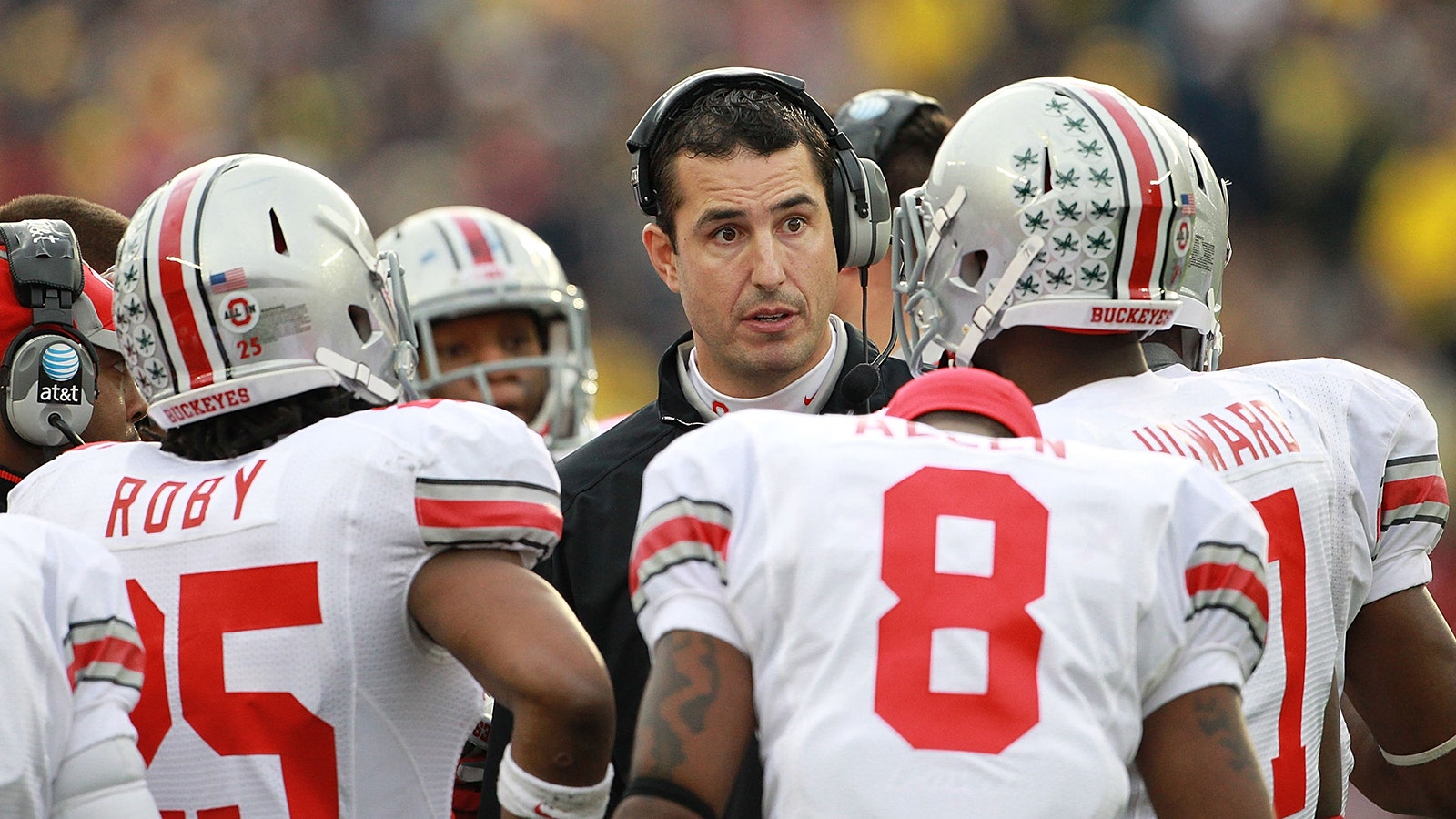 (Leon Halip/Getty Images)
If they're smart, they'll want those guys to go as far as possible. There's no better free advertising for a program. Case in point, two years ago, Houston hired then-Ohio State offensive coordinator Tom Herman in mid-December. When he then helped the Buckeyes make a surprise run through the playoff, Houston became part of the story, complete with a well-placed picture on the field wearing a Houston cap after winning the title.
In the meantime, those guys will be doing plenty of work for their new schools — mainly by assembling a staff — before and during their current teams' playoff runs. It also helps considerably that the NCAA changed the recruiting calendar a couple of years ago. There's now a dead period (no visits) from December 12-January 11, so there's no disadvantage to one's team advancing to the second week.
Hey Stewart: With the way the Army-Navy game being played after bowl announcements nearly threw a wrench into the bowl selections, is there any chance the schools are forced to move the game up two weeks?
— Steve Nitz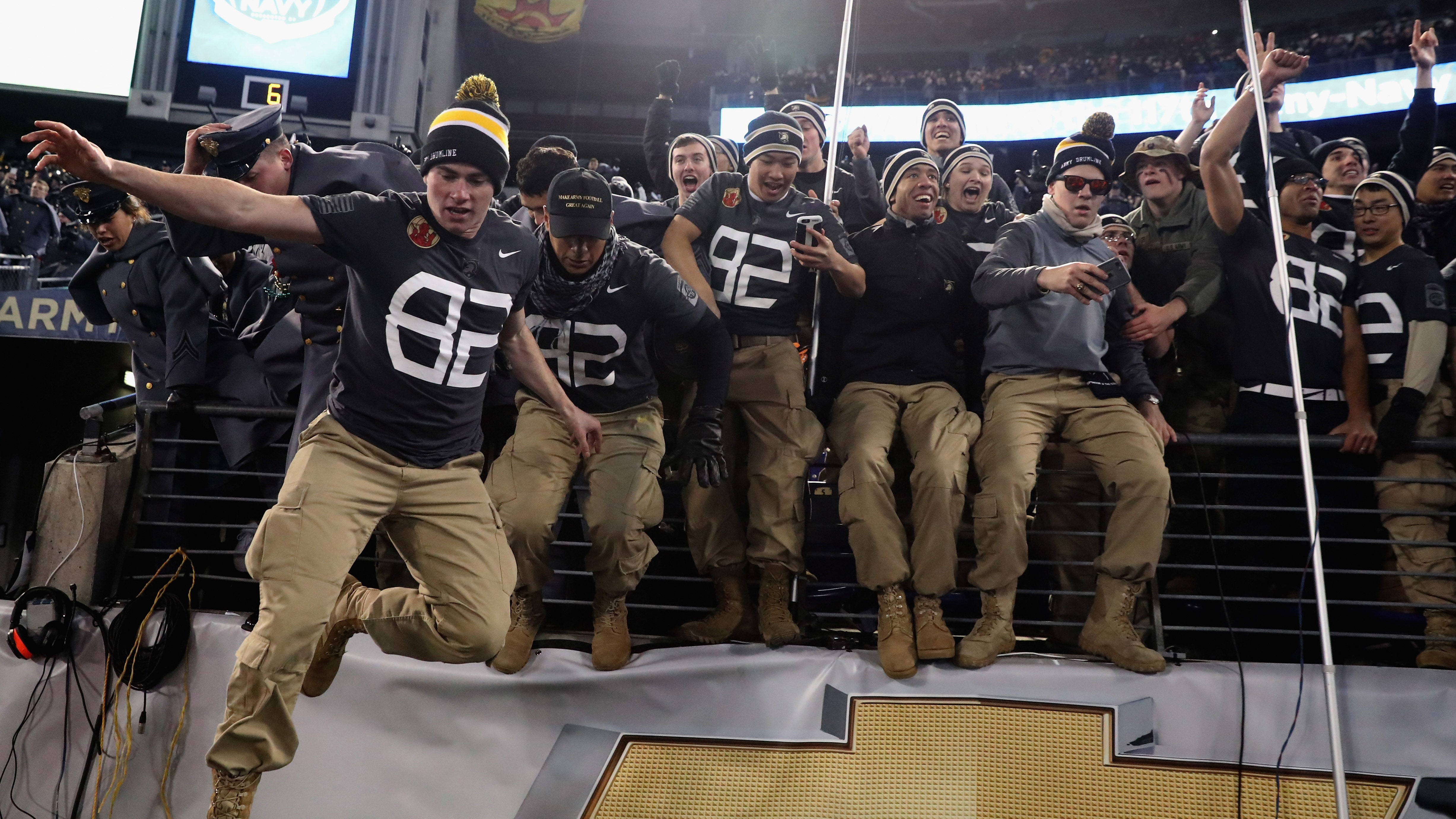 (Rob Carr/Getty Images)
Boy, how relieved must bowl officials be that this did not come to fruition seeing as ARMY WON!
But, no. Saturday's edition was the game's highest-rated (5.6) in 22 years and one of the 10 most watched games anyone has played this season. If anything, Army and Navy will soon be telling the bowl selectors when to have their show.
What happened to the Heisman Trophy over the past 10 years? Has your interest in the race waned. If so, why?  It used to be one of my favorite games within the game of college football.  If someone like me doesn't care anymore, really don't know who would.
— Josh, Tampa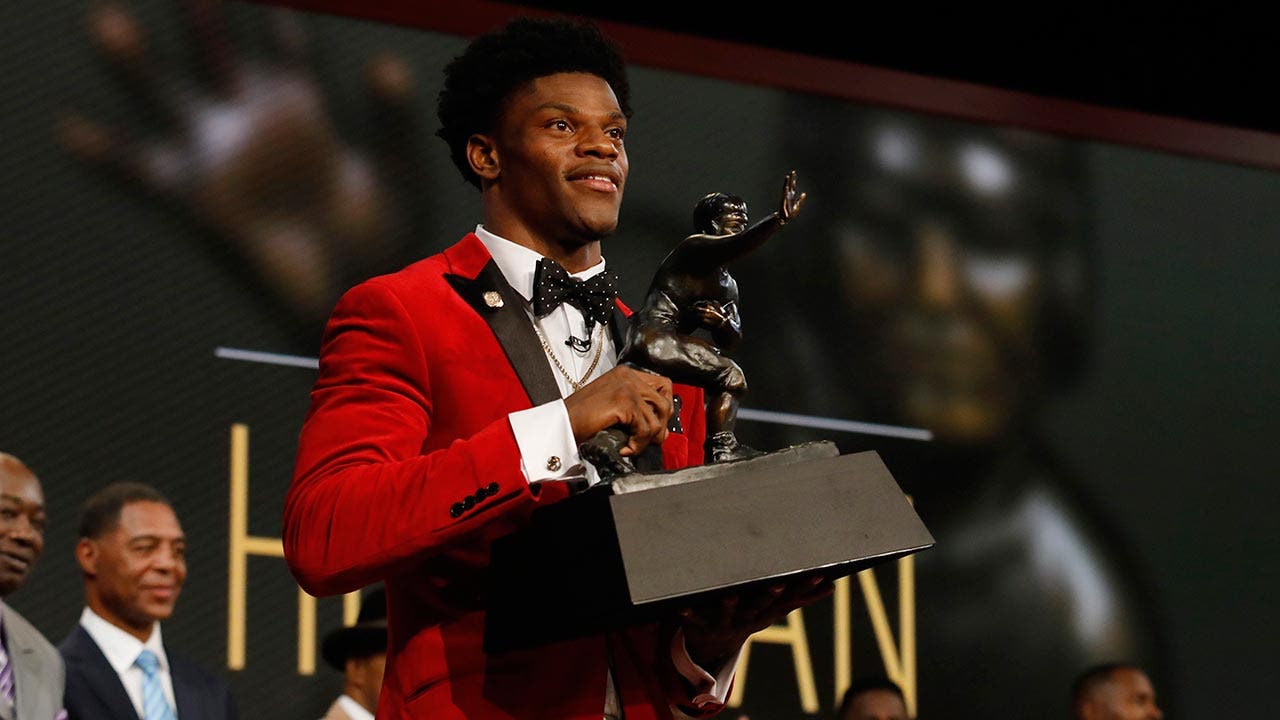 (Todd J. Van Emst/Heisman Trust via USA TODAY Sports)
I've seen and heard this sentiment quite a bit over the past week. I'm not less interested myself, but I'm also a voter with a vested stake in the award. I'd be more curious whether college football fans in general — especially younger ones — feel the same way you do.
But I also wonder whether we're being short-sighted here. This year's race was unusually anticlimactic, with Jackson taking the lead by Week 2 and keeping it, with no real threat at any point. But just a year ago, the season ended in a heated debate over Derrick Henry, Christian McCaffrey and Deshaun Watson. And that was only after Henry overtook Leonard Fournette in early November and McCaffrey broke Barry Sanders' all-purpose record.
That was a much more compelling race than this one. Over the past 10 years, though, it's fair to say there have been more where the winner locked it up fairly early (Troy Smith in 2006, Tim Tebow in '07, Cam Newton in 2010, Johnny Manziel in '12, Jameis Winston in '13) than there were legit debates (like Robert Griffin III vs. Andrew Luck in 2011 or Mark Ingram vs. a whole bunch of guys in '09).
The TV ratings indicate there has indeed been a decline in interest. After peaking at 3.6 in 2009, the audience has dipped each of the past four years, bottoming out at a reported record-low 1.9 this year. Personally, I don't think it's a coincidence that 2013 was also the year the Heisman Trust began enforcing a strict ban on voters disclosing their ballots ahead of time. In doing so, they went from a week's worth of free publicity in the form of articles about who we voted for and why to basically radio silence from the time the finalists are announced on Monday until the envelope is opened on Saturday night.
To this point, I've continued to publish a Heisman Top 5 every Sunday and to talk about the race in articles and on podcasts. I'd be curious to find out if you guys are still interested enough to merit that, or whether I should cut it down.
Dear Stewart: Just saw the Big 12's 2017 schedule.  I know it's hard, considering it's the Big 12, but any earthly reason why Bedlam is on Nov. 4 and not Thanksgiving weekend next year?  Or does the Big 12 just not believe in "Rivalry Week?"
— Leonard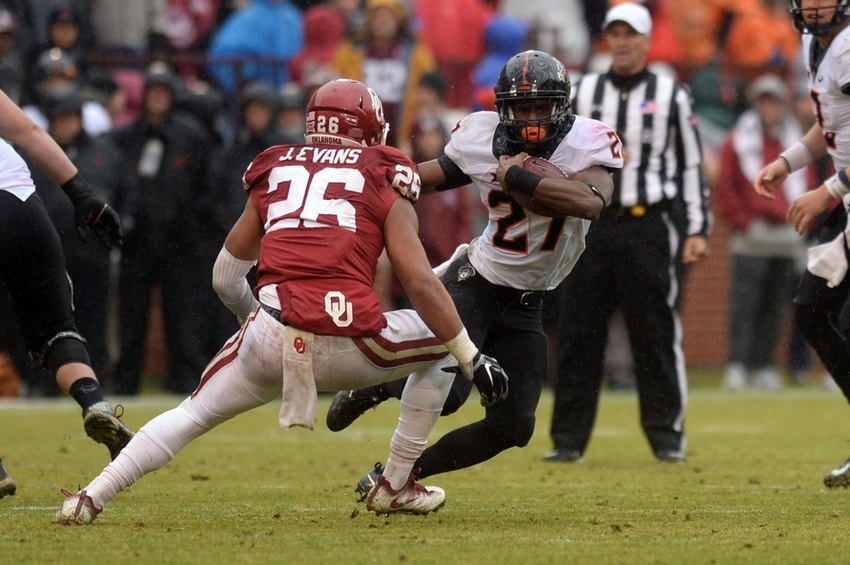 (Mark D. Smith/USA TODAY Sports)
It's because the 10-team Big 12 is bringing back its championship game next year and it's trying to avoid a next-week Bedlam rematch, as would have occurred both this year and last.
This is what we've come to in college football. The only conference that currently determines its champion with a conclusive round-robin schedule feels compelled to add a redundant championship game in order to impress the playoff committee. And now, one of the prices is moving Bedlam off of Thanksgiving weekend.
I'm going to laugh when the championship game next year is Oklahoma-West Virginia — the game the Sooners are playing that weekend instead.
Stewart: I've seen all over the Internet how amazing it is that Bob Stoops has won 10 conference championships in 18 years. But he coaches at Oklahoma, one of the college football's bluebloods, in a mediocre conference, with no Texas A&M and a historically bad Texas the last half-decade. Is it truly that remarkable of an accomplishment?
— Cody, Oakwood, GA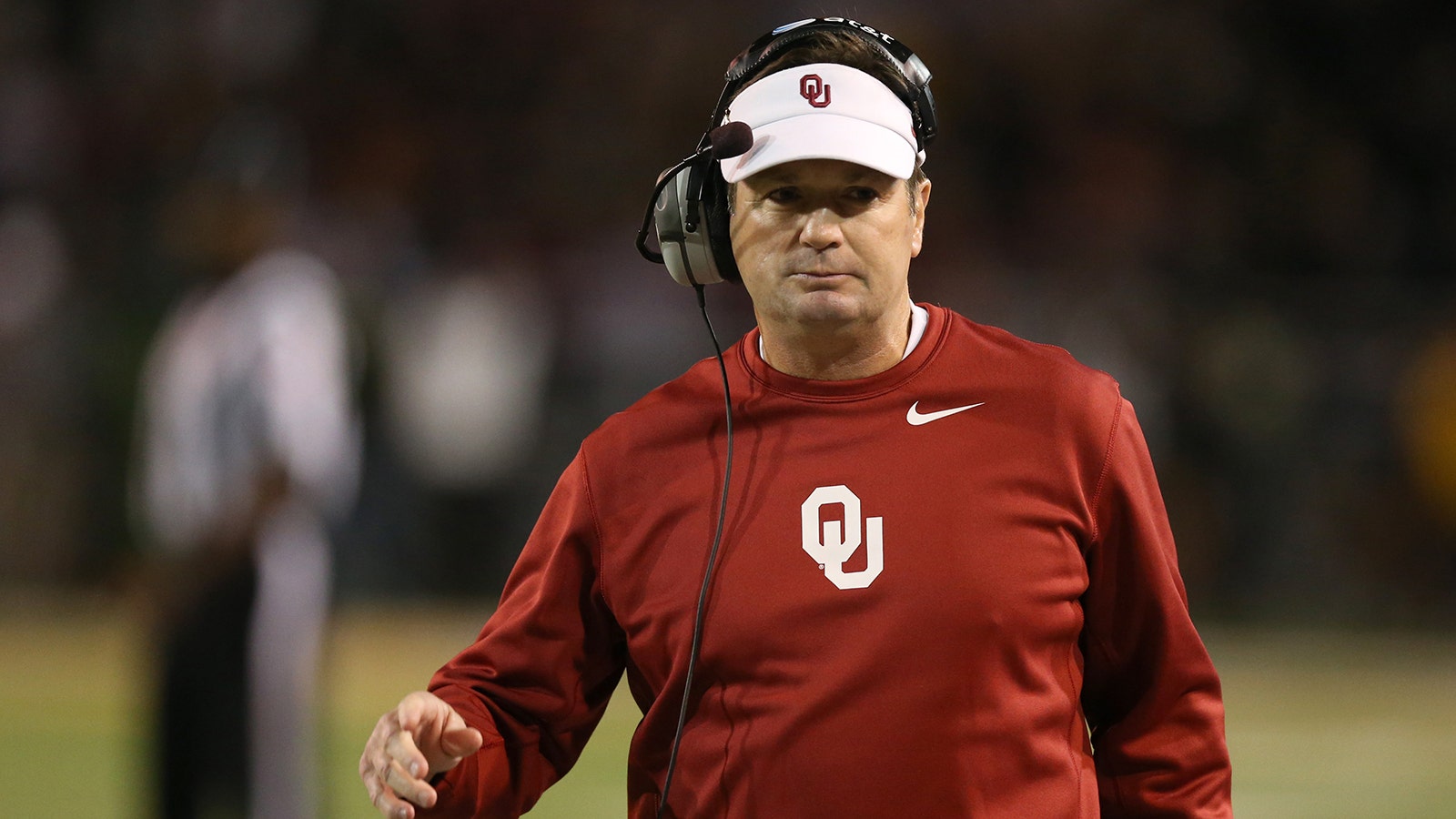 Well, let me put it to you this way. Stoops has won 10 conference championships since the last time fellow bluebloods Tennessee (1998) or Nebraska (1999) won one.
It is truly that remarkable an accomplishment.
Both Indiana and Purdue are going to have new coaches next year.  Indiana has the better recent success, but historically Purdue has had the better football program (IU obviously has the basketball superiority).  Where do you see both in five years?  What is a realistic ceiling for both programs?
— Adam, Washington, DC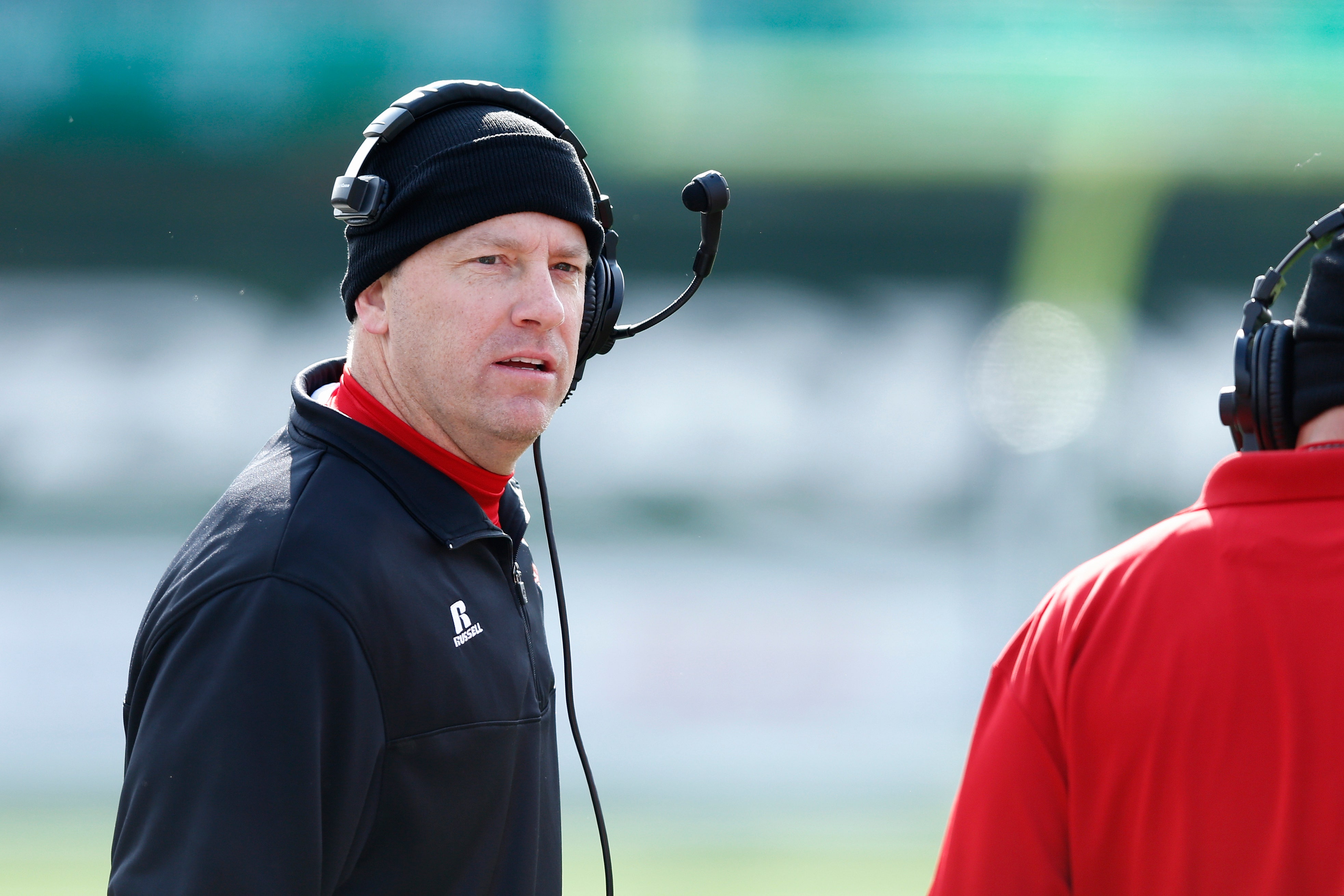 (Joe Robbins/Getty Images)
This wouldn't be an Indiana-Purdue fan question without a basketball reference.
Purdue hiring Jeff Brohm obviously was a much bigger splash than Indiana promoting defensive coordinator Tom Allen upon Kevin Wilson's abrupt "separation" earlier this month. But I recently met Allen at an event promoting the Foster Farms Bowl (Dec. 28, only on FOX) and I give him every chance of elevating the Hoosiers' program. He's a former Indiana high school coach with deep ties in the state and a longstanding familiarity with the university. And this season he became the first coordinator in eons that got IU to play respectable defense (sixth in the Big Ten).
But realistically, Purdue has the higher ceiling simply because of the division it's in. Allen talked understandably and optimistically about trying to "make history" and lead Indiana to a Big Ten championship, but I have a hard time seeing how the Hoosiers ever make it out of a division with Ohio State, Michigan, Penn State and Michigan State. Maybe one or two are down at a given time, as the Wolverines and Nittany Lions were for most of the last decade, but never all four. But I could see Purdue rising up and winning the West one year because outside of Wisconsin, every team in that division has been up and down for years.
I just hope they finally get good at the same time for the first time since … since? … so the Old Oaken Bucket takes on national importance.
Baylor's Matt Rhule has no experience in Texas. What other coaches have gone to a big school in Texas and done well without previous experience there?
— James, Asheville, NC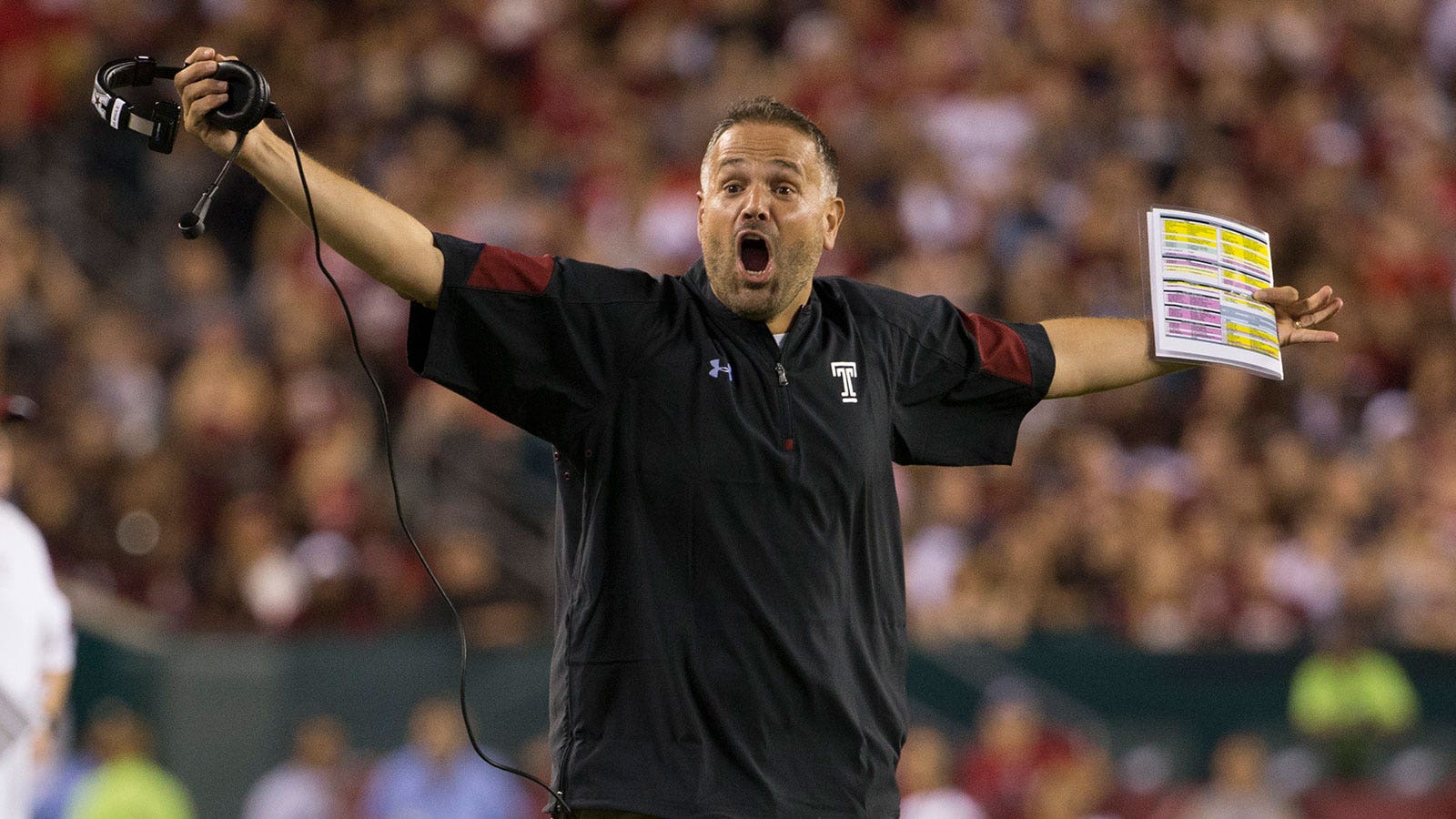 (Mitchell Leff/Getty Images)
Mack Brown had never lived or coached in the state of Texas before taking the Texas job in 1998.
He did all right for himself.
Stewart: Give me your assessment on Jim McElwain two years into his tenure at Florida.  While there are many things to be optimistic and excited about (facility improvements and two straight years in the SEC championship game), there seems to be a struggle in recruiting, which could end up causing bigger issues to the success he might or might not have.  This is perplexing given the brand and recruiting hotbed that is Florida.
— Bob in Houston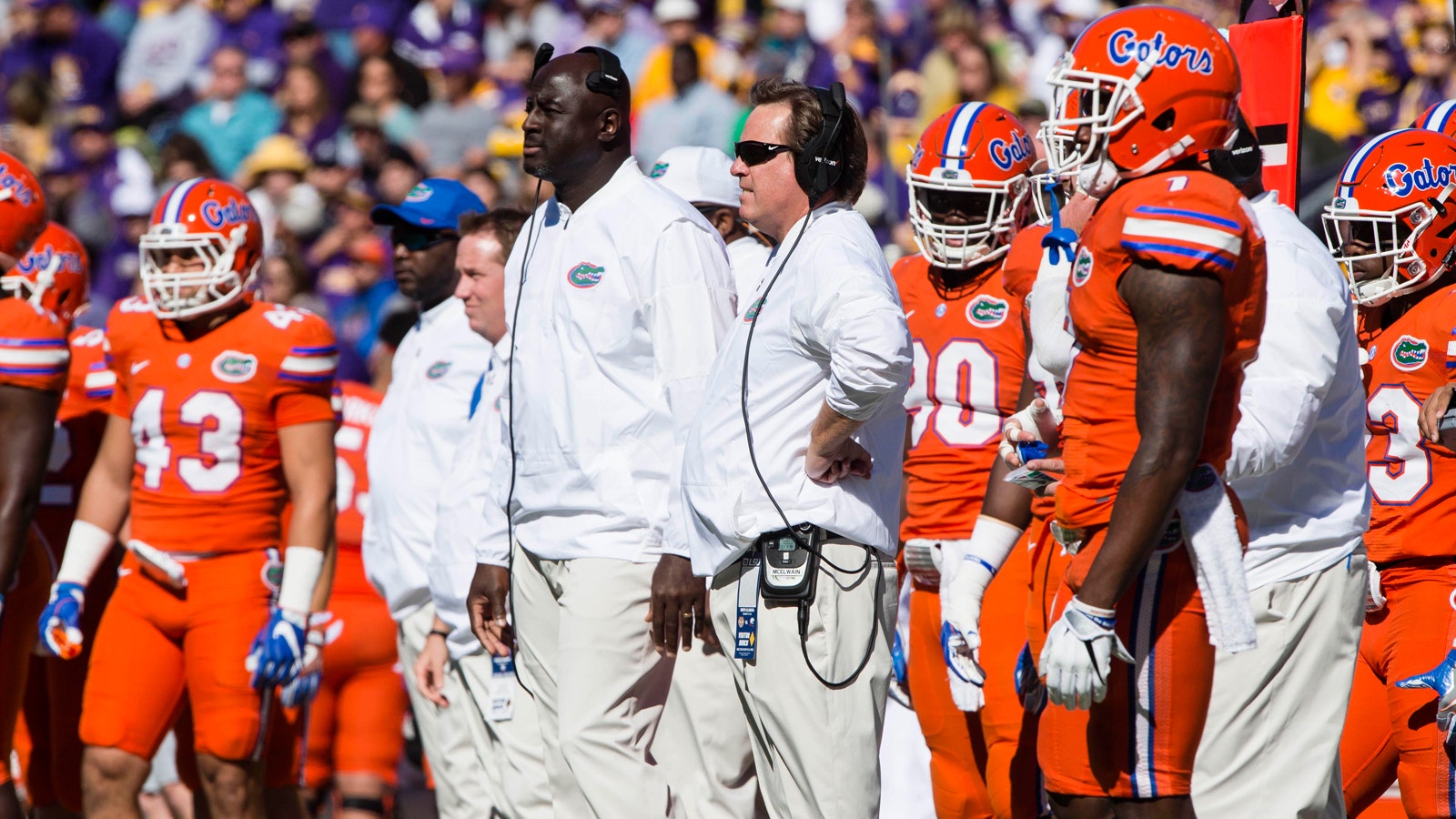 (Jerome Miron/USA TODAY Sports)
Perplexing is a good word for it.
On the surface, McElwain has accomplished what every Florida fan would have hoped for when he was hired — winning back-to-back division titles. Predecessor Will Muschamp never won one. But they do feel like somewhat hollow titles given the Gators still lost four games both seasons and have mostly taken advantage of a watered down SEC East.
And heading into year three, McElwain is still dealing with the same issue that's plagued Florida's program like a curse post-Tebow — finding a quarterback it can have confidence in. Injury-plagued starter Luke Del Rio will be back next year but presumably fighting for his job with someone younger or shinier. There's a reason Florida has been courting grad transfers like Baylor's Jarrett Stidham (who last weekend committed to Auburn).
As for recruiting, I'll hold off judgment until Signing Day, but at this point Florida is in danger of finishing outside of the Top 10 for the third straight season. I never thought I'd see that. McElwain also needs to make an important hire in replacing renowned defensive coordinator Geoff Collins, who just got the Temple job.
For all those reasons, Year 3 will be a big one for McElwain, as we see whether he can take the Gators from good to great.
Stewart: Since 2016 is the year of the blown 3-1 lead, what is the college football equivalent that we can expect one of the playoff teams to blow on the last day of the year?
— Ben, Baton Rouge, LA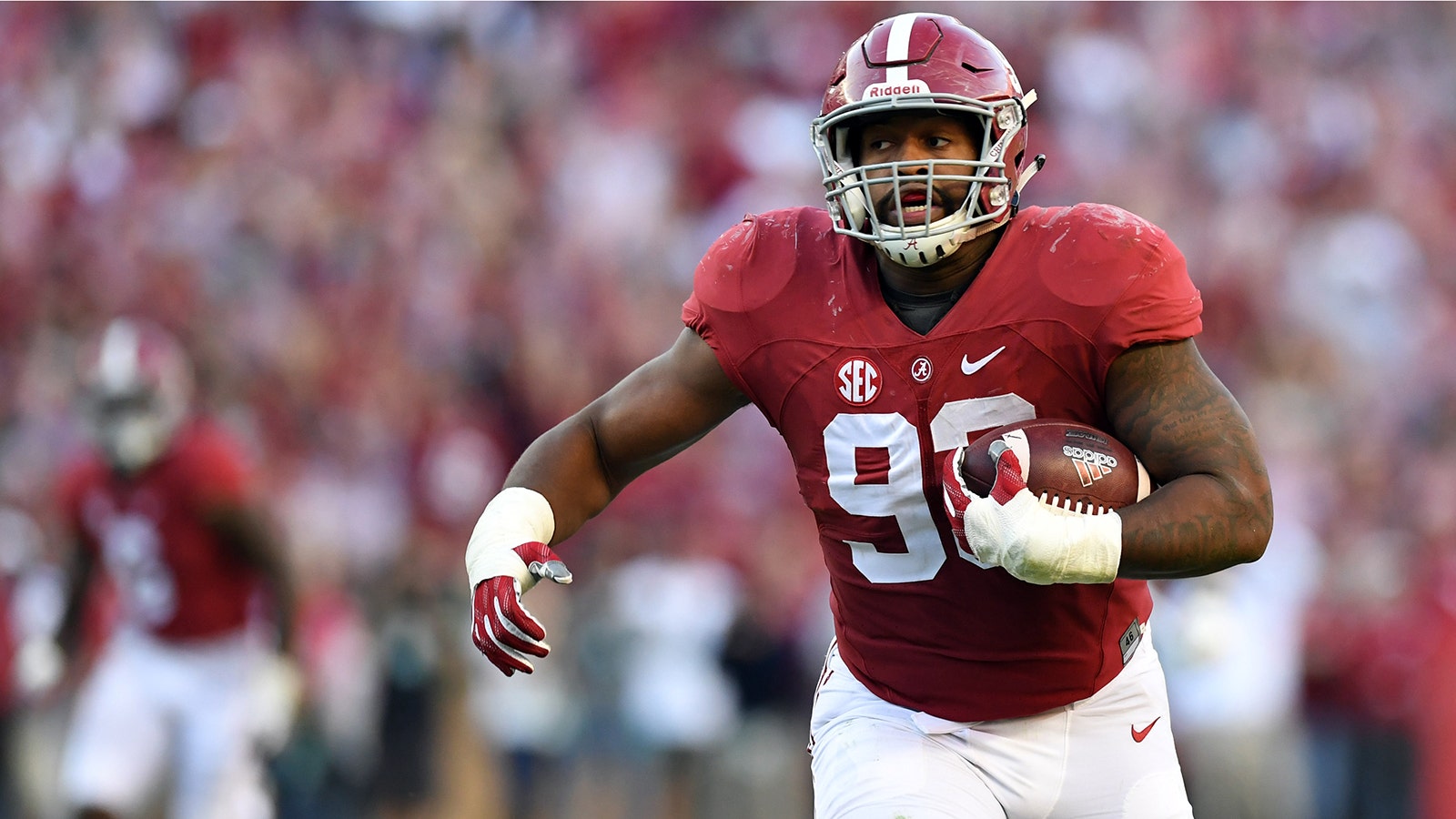 (John David Mercer/USA TODAY Sports)
It would have to be Alabama blowing a 31-point lead in the second half of the national championship game.
The Cubs had a better chance …
No Mailbag next week. Back before the playoff games.
Happy holidays, and be safe, everybody. If someone approaches you with sensitive game-planning materials, be sure to alert Wake Forest.