Breaking: J.T. Barrett Breaks Ohio State Career TD Passing Record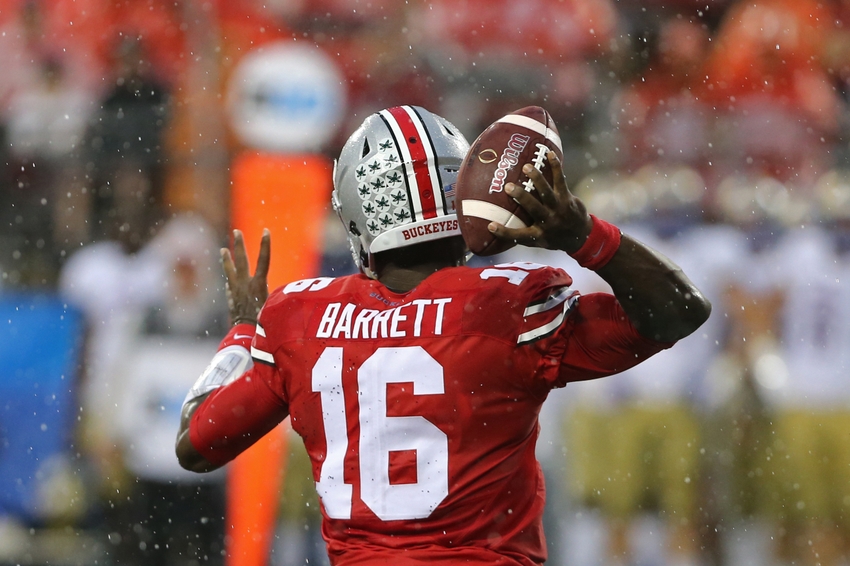 J.T Barrett breaks the Ohio State record for passing touchdowns.
In my short lifetime I have had the privilege of witnessing a handful of skilled quarterbacks line up and play at The Ohio State University. From watching football as a child growing up in the 90's and seeing guys like Rose Bowl MVP Joe Germaine, Heisman trophy winning quarterback Troy Smith, another Rose Bowl MVP in Terrelle Pryor, and Braxton Miller the all-time total yards leader at Ohio State. I have seen some impressive signal-callers suit up in scarlet and gray uniforms.
One thing that those guys can't claim however, is the top spot in the Ohio State record books for career touchdown passes. Not after Ohio State's match-up versus the Scarlet Knights of Rutgers Saturday afternoon, as red-shirt junior quarterback J.T. Barrett tossed the 58th touchdown of his career. He even added another one after breaking the record, and finished the day with four passing touchdowns in his impressive Big Ten conference debut.
What's crazy is that Barrett accomplished this feat after starting in just 21 games thus far in his career, and he's not even halfway through his junior season.
"There's a certain standard at Ohio State" J.T. Barrett said, via Jack McCluskey, The Ringer. "And it shouldn't change for anybody. I don't care how many people you lost." –
Sure, there was already a certain standard at Ohio State when Barrett arrived on campus in 2013, but all the mature-minded, quick-witted Wichita Falls native has done in his time there is raise the bar. Now future quarterbacks can look at Barrett as an example and say to themselves, "Okay, what did he do that made Ohio State offense so dynamic?"
More from Scarlet and Game
Ohio State's mantra for the 2016 season is "The Edge" and head coach Urban Meyer and quarterback J.T. Barrett know what it takes to push through that edge to the other side. They now have the daunting task of preparing the youngest team that Meyer has had during his tenure in Columbus. But thinking back, Ohio State was a young team in 2014, so reaching the four-team playoff is certainly becoming more and more plausible.
With Barrett being the unquestioned leader of the team, it's no surprise that he's not backing down from the expectations at Ohio State. Even after having just six starters return from last year, the Buckeyes have an abundance of talent at nearly every position, thanks to Urban Meyer's' exceptional recruiting . From this point, it's all about pushing beyond that edge for the young players looking to find that championship-level of play.
Having a leader like Barrett at quarterback will only bolster Ohio State's chances of doing just that, What a caereer thus far for that young man.
This article originally appeared on