Brad Kaaya Will Return for Senior Year Per Report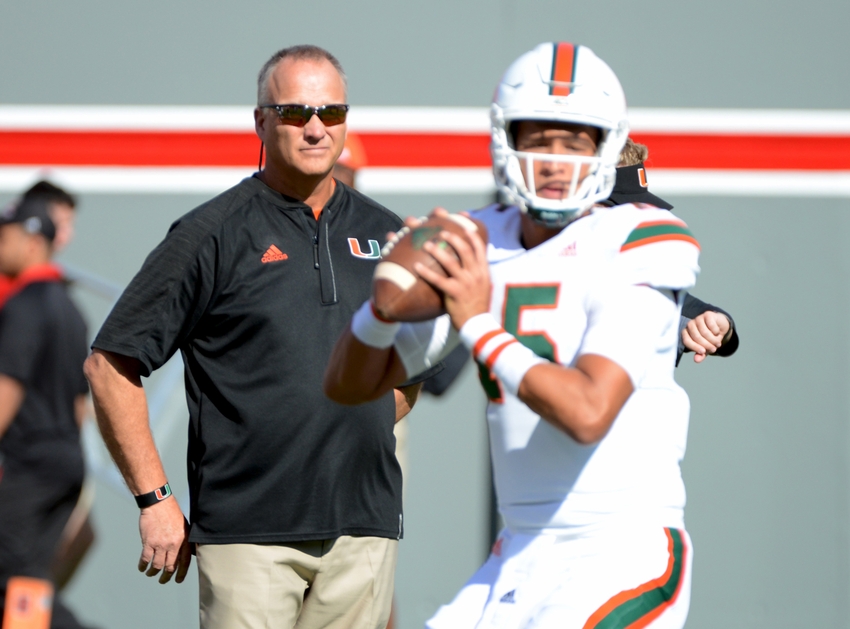 The SportsBank.Net is reporting that Miami Hurricanes Quarterback Brad Kaaya will return for his Senior season per a source "close to the program."  There has been no statement from Kaaya on which way he might be leaning.
Miami head Coach Mark Richt said he would meet with Kaaya and Tight End David Njoku between the end of the regular season the Hurricanes Bowl game. Kaaya is still listed among the best Quarterback prospects for the draft, but his stock has been slipping as the season has progressed. Kaaya has until January 16 to make a decision.
This year's Quarterback class has a strong ACC slant with Clemson's Deshaun Watson and Mitch Trubisky of North Carolina among the Quarterbacks expected to be taken high in the draft. Notre Dame's DeShone Kizer is also expected to be one of the first QB's taken. The Fighting Irish play five games per year against ACC teams.
There were reports last week that the Chicago Bears were contemplating taking Kaaya in the first round. Kaaya's numbers have been consistent throughout his career. His completion percentage has jumped from 58.5 as a freshman to 61.2 last season, and 61.1 this season. His yards per game, attempt, completion percentage and Quarterback Rating are all within a similar range throughout his collegiate career.
After starting as a true freshman with his stardom skyrocketing, Kaaya's future has had some doubts from scouts this season. Former NFL Scouts Daniel Jeremiah and Bucky Brooks who host the Move the Sticks Podcast were told by what they referred to as a "high-ranking NFL official" that there are concerns about some of Kaaya's skills.
From the Move the Sticks Podcast- (There are concerns about) Kaaya's athleticism, poise and awareness… Kaaya (was described) as "slow-footed" and "non-athletic" as a playmaker from the pocket. In addition, he (the NFL official) questioned his pocket awareness by suggesting that he is an "average quarterback" who "needs a clean pocket to throw" from.
Brooks dissented slightly from the unnamed Executive saying:
"He (Kaaya) displays enough of the necessary traits to succeed as a mailman (distributor) for a team loaded with established playmakers on the perimeter… The Canes' star quarterback remains an intriguing prospect to follow despite the executive's opinion."
Kaaya is being projected anywhere from the second to the fourth round and between the fifth and seventh Quarterback taken in the draft. This was after being projected as close to a lock in the first round in the offseason.
Kaaya still has a lot to play for in front of him this season. Miami can finish the season with their second four-game winning streak of the year. He needs 275 yards to break Ken Dorsey's school passing yardage record, among a few other milestones he can reach. The 'Canes will also try to win their first Bowl Game since 2006 next month. Miami has lost six consecutive bowl games.
This article originally appeared on