Bowl picks: Taking winners against the spread for holiday weekend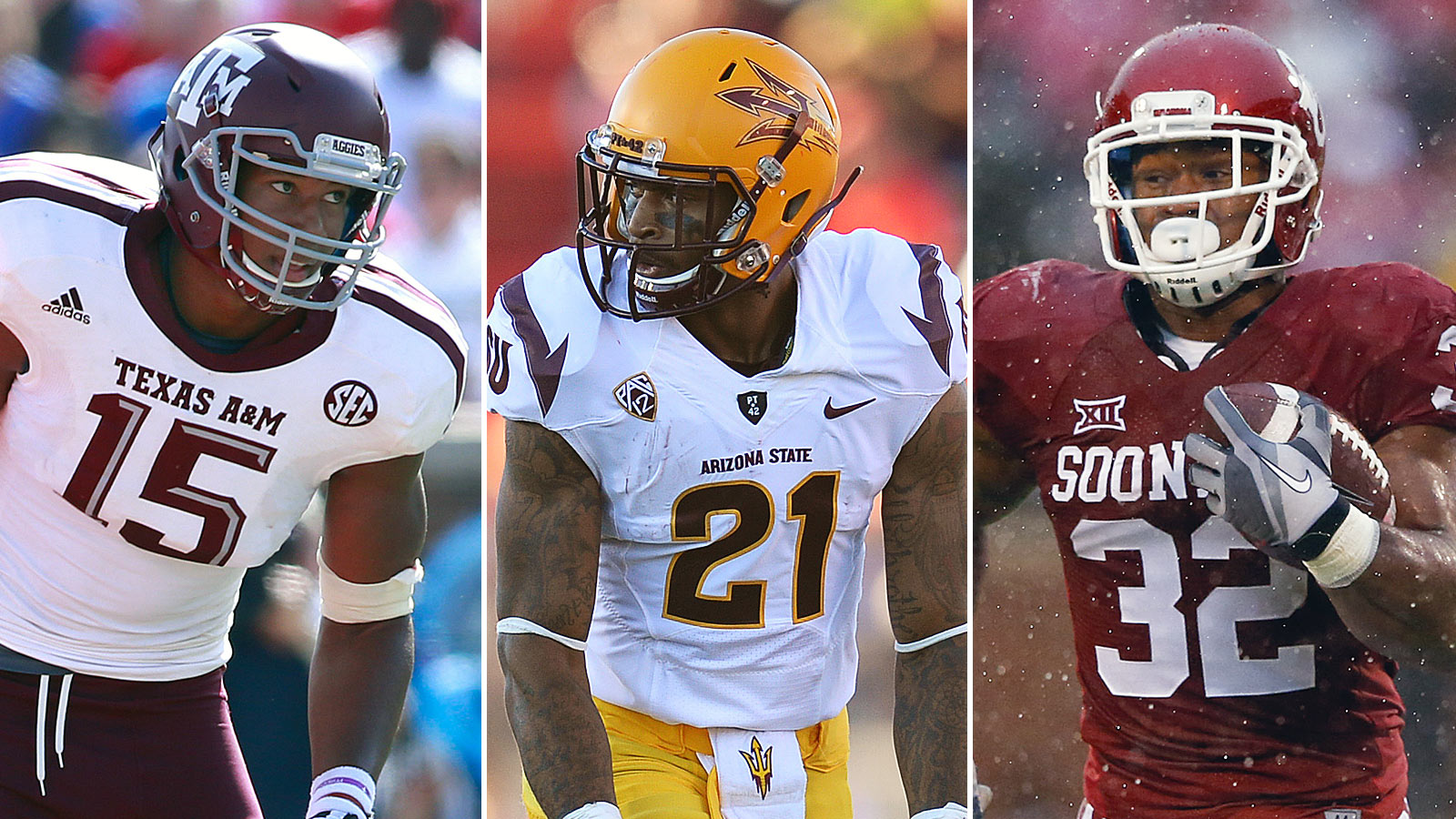 Editor's note: Throughout the season, Bruce Feldman and Stewart Mandel have presented their weekly picks.
Below are their selections for the second batch of bowl games (all times ET). Enjoy.
***
Heart of Dallas: Illinois (+6) vs. Louisiana Tech (Friday, 1 p.m., ESPN)
Mandel: The Big Ten's last bowl team in makes the conference's first appearance of the postseason. The Illini's offense exploded in their regular-season finale, a 47-33 win at Northwestern, but had been largely listless before that. Here's guessing Tech defensive coordinator Manny Diaz has his group ready for Illinois' attack. Louisiana Tech 24, Illinois 20.
Feldman: Manny Diaz's D leads the country in turnovers forced (40), which doesn't bode well for a shaky Illini offense as Tim Beckman's team also has really struggled away from home (1-4). La Tech 24, Illinois 17.
The Result: Louisiana Tech 35, Illinois 18
Quick Lane: Rutgers (+4) vs. North Carolina (Friday, 4:30 p.m., ESPN)
Mandel: UNC was an almost perfectly schizophrenic 6-6 team, so I wouldn't pretend to know which version will show up in Detroit. Rutgers, on the other hand, was incredibly predictable. It beat the bad-to-mediocre teams on its schedule and got trounced by Ohio State, Michigan State, Wisconsin and Nebraska. Much-improved Scarlet Knights QB Gary Nova may have another nice game, but Rutgers' defense won't be able to hold down the Heels. North Carolina 40, Rutgers 27.
Feldman: Two really mediocre defenses and UNC's is in flux, too, amid a staff shake-up (Vic Koenning is out and has left for Troy), so I'll go with RU. Rutgers 28, UNC 24.
The Result: Rutgers 40, North Carolina 21
St. Petersburg: NC State (+2) vs. UCF (Friday, 8 p.m., ESPN)
Mandel: If not for one inexplicable loss to 2-10 UConn, UCF would be 10-2 and possibly back in a major bowl for the second straight year. Instead it stays close to home and plays a 7-5 ACC team. Wolfpack QB Jacoby Brissett quietly threw for 22 TDs and just five interceptions this season, and he exploded for 167 rushing yards in NC State's season-ending 35-7 rout of North Carolina. But he's running into a top-five national defense. UCF 20, NC State 13.
Feldman: The Knights have the tougher D (17.9 ppg allowed) and the most dynamic playmaker on the field in WR Breshad Perriman. UCF 21, NC State 13.
The Result: NC State 34, UCF 27
Military: Cincinnati (-3.5) vs. Virginia Tech (Saturday, 1 p.m., ESPN)
Mandel: The stakes are considerably lower than when Frank Beamer and Tommy Tuberville last met in a bowl game 10 years ago. Tuberville-led Auburn beat Beamer's Hokies to complete a 13-0 season. Beamer will be in the press box for this one following throat surgery, but he'll be pleased with what he sees. A mostly putrid Virginia Tech offense decimated by injuries all season will come out fresh and find success against Cincinnati's 101st-ranked defense. Virginia Tech 34, Cincinnati 23.
Feldman: Tommy Tuberville's team is a lot more explosive (35 ppg), and even though it's facing one of the nation's better defenses, I'm still going with the Bearcats due to the edge at QB. Cincy 23, Va. Tech 14.
The Result: Virginia Tech 33, Cincinnati 17
Sun: Arizona State (-8.5) vs. Duke (Saturday, 2 p.m., CBS)
Mandel: The Sun Devils laid an egg in last year's Holiday Bowl against Texas Tech. The Blue Devils very nearly upset Johnny Manziel-led Texas A&M. If ASU has spent the past month mired in a funk from missing out on the Pac-12 title game, then Duke is plenty capable of pulling the upset. But with the Sun Devils' two biggest stars, QB Taylor Kelly and WR Jaelen Strong, playing their last college games, ASU should be plenty motivated and extra explosive. Arizona State 45, Duke 30.
Feldman: The Blue Devils D is pretty good statistically (20.6 ppg allowed), but it hasn't faced many teams as explosive as ASU. ASU 33, Duke 21.
The Result: Arizona State 36, Duke 31
Independence: Miami (-3.5) vs. South Carolina (Saturday, 3:30 p.m., ABC)
Mandel: "They're 6-6 just like us," Steve Spurrier said upon arriving in Shreveport this week, "so somebody is going to be a winner and somebody is going to leave a loser." Miami could not have played much worse down the stretch, but assuming this is RB Duke Johnson's last game before turning pro, he'll go out with a big finale, while freshman QB Brad Kaaya gives Al Golden and 'Canes fans something positive to talk about this offseason. Miami 31, South Carolina 30.
Feldman: The Canes have more speed, the South Carolina D has been awful trying to contain running backs (nine went for 100 yards against the Gamecocks) and UM has an outstanding one in Duke Johnson. Miami 27, South Carolina 20.
The Result: South Carolina 24, Miami 21
Pinstripe: Boston College (-2.5) vs. Penn State (Saturday, 4:30 p.m., ESPN)
Mandel: Penn State fans are expected to turn Yankee Stadium into a mini-Beaver Stadium after waiting three years to see their team in a bowl. Unfortunately, their sanctions-riddled team is down to 41 healthy and available scholarship players, coach James Franklin said this week. That's not a good recipe against a physical BC team that held opponents below 100 rushing yards per game this season. Yet for some reason I just have a feeling Franklin's going to pull this one off. Penn State 24, Boston College 22.
Feldman: Neither team is very dynamic on offense, and while James Franklin doesn't have enough horses up front on his O-line, he has the tougher D. Penn State 13, Boston College 10.
The Result: Penn State 31, Boston College 30
Holiday: Nebraska (+7) vs. USC (Saturday, 8 p.m., ESPN)
Mandel: Even if Nebraska wasn't playing with an interim coach, this isn't an even matchup. USC was inconsistent but talented enough to beat Arizona and Stanford and clobber Notre Dame. Nebraska managed to win nine games without beating a single respectable opponent. Ameer Abdullah may well go off, but Cody Kessler and the Trojans offense are more potent as a whole. USC 42, Nebraska 21.
Feldman: Even if Bo Pelini were coaching the Huskers, the Trojans have too much firepower and too much speed for Nebraska. USC 35, Nebraska 17.
The Result: USC 45, Nebraska 42
Liberty: Texas A&M (+3.5) vs. West Virginia (Monday, 2 p.m., ESPN)
Mandel: Mountaineers coach Dana Holgorsen was A&M coach Kevin Sumlin's offensive coordinator at Houston, and Sumlin's current OC, Jake Spavital, used to work for Holgorsen. I fully expect it to be a four-hour, no-huddle shootout, with Aggies freshman QB Kyle Allen trading touchdowns with West Virginia veteran Clint Trickett. Ultimately another A&M freshman, defensive end Myles Garrett, will help Sumlin's team make a few key stops. Texas A&M 44, West Virginia 40.
Feldman: The Aggies have half a coaching staff to get ready for this one, and that's too tall an order for such a young team. WVU 27, Texas A&M 23.
The Result: Texas A&M 45, West Virginia 37
Russell Athletic: Oklahoma (-3.5) vs. Clemson (Monday, 5:30 p.m., ESPN)
Mandel: While Oklahoma gets back starting QB Trevor Knight, Clemson will be without injured freshman Deshaun Watson. The Tigers' offense has not performed well with Cole Stoudt at the helm. It's also their first game without former play-caller Chad Morris. Bob Stoops' longtime former coordinator, Brent Venables, now oversees the nation's No. 1 defense at Clemson. He should have some answers for Sooners standout RB Samaje Perine. But OU has more options. Oklahoma 17, Clemson 10.
Feldman: Tiger DC Brent Venables faces one of his old mentors, Bob Stoops, and he has plenty of impact guys on his D, but he will be really tested by the physical OU run game. Clemson was not a good team away from home (2-3), and I think they'll miss OC Chad Morris (off to SMU) quite a bit. Oklahoma 21, Clemson 17.
The Result: Clemson 40, Oklahoma 6
Texas: Arkansas (-6) vs. Texas (Monday, 9 p.m., ESPN)
Mandel: How seriously are the teams' fans treating this Southwest Conference reunion? They sold out an NFL stadium for a matchup of 6-6 teams. Charlie Strong's Texas defense is well suited to contain Bret Bielema's run-heavy offense, but the Razorbacks' own defense is much better than most realize. QB Tyrone Swoopes won't fare much better than he did in the regular-season finale against TCU. Arkansas 24, Texas 17.
Feldman: Both teams made some nice strides in the second half of the season, but the Hogs have more of an identity on offense and are more physical. Arkansas 20, Texas 12.
The Result: Arkansas 31, Texas 7
Mandel this season: 122-69 straight-up; 94-97 vs. spread
Feldman this season: 122-69 straight-up; 95-96 vs. spread