Border Battle: History of Wisconsin Badgers-Minnesota Golden Gophers Rivalry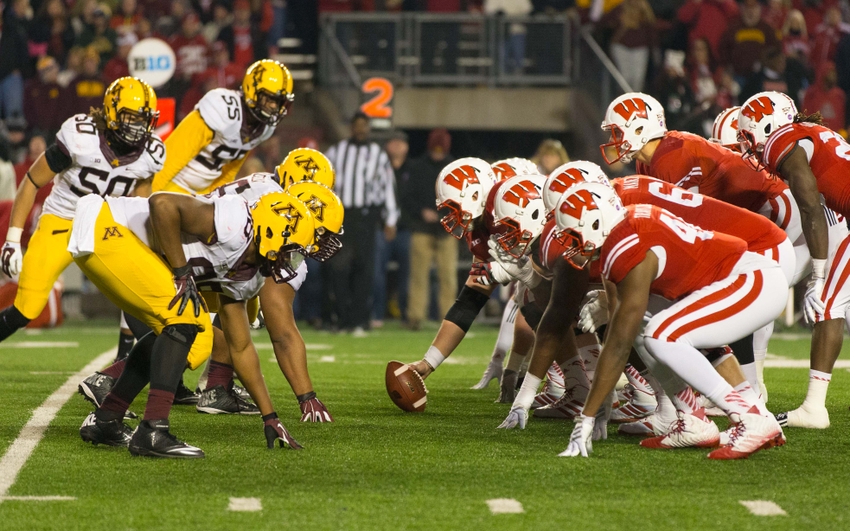 Wisconsin and Minnesota have the longest running rivalry game in FBS history.
The border battle between the Wisconsin Badgers and Minnesota Golden Gophers dates back to 1890 and totalling 125 games to date, making it the most-played rivalry game in NCAA FBS history. But they didn't always play for Paul Bunyan's Axe. In fact, it's not even the only trophy these two teams have battled for.
It was November 15, 1890 when these two teams met for the first time. Unfortunately for the Badgers, it did not end well as they were blown out by the Gophers 63-0 in Minneapolis. It would take four years after that first game for Wisconsin to get their first victory in the now long-running border battle.
Many think the one and only trophy that these two teams battled for was Paul Bunyan's Axe, but that is not the case. In 1930 the Slab of Bacon was introduced as the first trophy to help intensify the rivalry. Created by Dr. R.B. Fouch, the trophy was a piece of black walnut wood with a football in the middle with the letters 'W' or 'M' depending on how it was held. Scores of each game were kept on the back. The Badgers would go on to win the very first game for the Slab of Bacon. But, following Minnesota's victory in 1943, the trophy went "missing." Oddly enough, almost 50 years later in 1994, the trophy was found while an intern was cleaning out a storage closet. What makes this strange is it seemed someone was keeping preserved over the years as scores through 1970 were written on the back.
Athletic director and then head coach Barry Alvarez joked in the early 90's, "We took home the bacon, and kept it!"
Fast forward to 1948, when the Axe was created by the National W Club and is the trophy today that is up for grabs. The Gophers won that contest 16-0 as the Badgers would not carry the Axe until a 14-0 victory in 1950.
These games have provided plenty of excitement over the years. From blocked punts to last second field goals, close games and everything inbetween these two have provided some great games despite the rivalry currently being one-sided. Here's hoping Paul Bunayn's Axe, arguably one of the best rivalrly trophies in college football, sticks around for a while longer in this border battle. 
Meetings: 125
All-time series record: Minnesota leads 59-58-8
Trophy record: Paul Bunyan's Axe- Wisconsin leads 41-24-3
                             Slab of Bacon- Minnesota 10-3
Largest victory: Minnesota 63-0 (1890)
                               Wisconsin 39-0 (1897) and 56-17 (1983)
Longest win streak: Wisconsin 12 games (2004-current)
Last meeting: Wisconsin 31-21
Last Minnesota win: November 8, 2003 Minnesota-37 Wisconsin-34
More from Badger of Honor
This article originally appeared on